IT CAN be tough to catch everyone you'd like to see during the narrow weekend of Savannah Stopover. Lucky for us, the fest tends to be an introduction to a music-loving city for a number of up-and-coming bands; after March, many make sure to fit a Savannah date on their upcoming tour.
Mobley took over Club One during Stopover VI, entrancing the audience with his spindly, grooving blend of R&B and electro-pop (think along the lines of The Weeknd, TV on the Radio, and Thom Yorke's solo stuff). With velvety vocals and tight beats, songwriter/multi-instrumentalist/mastermind Anthony Watkins II is sure to thrill the crowd in his return.
Watkins is currently touring in support of a new EP, Some Other Country. Through eight tracks, Watkins ensnares the listener with contagious hooks and a dialogue about what it means to be black in America in 2016.
We chatted about his innovative blend of film and music (check out the latest Mobley video, "Solo," co-choreographed by Watkins), politics in pop music, and how a mobile childhood broadened his worldview.
You were just in Savannah! How was Stopover?
I had a great time. Savannah is a lovely city and the people with Stopover were great about making sure I was taken care of well.
Mobley used to feature multiple people. How did the project become what it is today?
Well, I still play in band form live for most of my shows (my drummer had a conflict during Stopover so I played it alone). In terms of the songwriting, Mobley has always been a more or less solo project.
You studied film. Which came first, film or music? How do they impact and inform one another?
I did. I'm not sure I recall which came first—I don't think I'll ever feel like more than a highly-motivated novice when it comes to either.
In terms of their impact on each other, there are the more obvious things, like the fact that I direct my music and produce visuals for my live show, but I also think that having a conceptual vocabulary for film impacts the way that I think about and make music. I think that holds true across most of the things I've learned in life: having access to different frameworks and perspectives as you move through the world really changes you.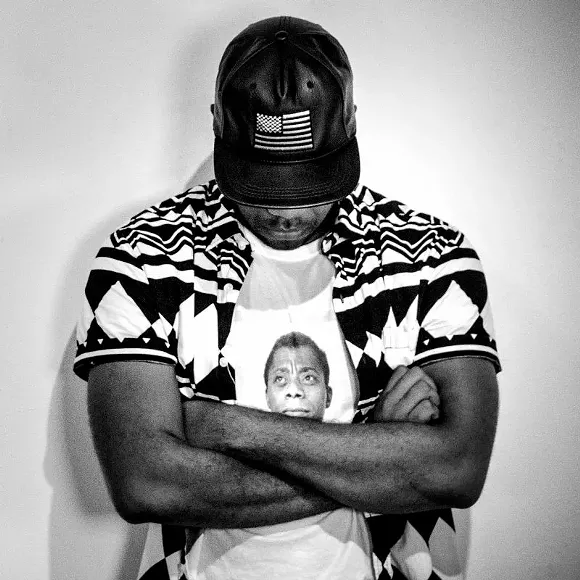 You grew up all over the place—do you find that had an effect on your art (film and music) and/or stylistic influences?
I think the last thing I said applies. Seeing the ways that people in different places interact with and think about things makes you more aware of the aspects of your worldview that you take as fixed or granted (even if they aren't). My hope would be that all of that moving about has made me more open and nuanced in the way I see the world and, consequently, a better artist.
You have an incredible voice, particularly the way you alternate between belting and keeping that breathless, more intimate sound. Did you grow up singing? How has your vocal style developed?
I really appreciate you saying that. I didn't start singing until I was in college. I think the development of my vocal style could be described as torturous, protracted trial and error. It's gratifying to hear that people find anything pleasing about my voice because, whatever it is they like, I'm confident that very little of it was there at the start.
What are you hoping listeners take away from the lyrical content of Some Other Country?
I firmly believe that the meaning of my songs isn't something that I make for the audience, but rather with them, through them, so it's really not for me to say in any specific sense. Generally, I hope that people find that meaningful thoughts and emotions are provoked when they interact with my words.
There's been a lot of talk recently—particularly around Beyoncé's Super Bowl performance—of pop music being unnecessarily politicized. I was recently reading some comments from Bruce Springsteen's announcement that he wouldn't be playing North Carolina in protest of the recent "Bathroom Bill"—one that particularly stood out was "SHUT UP AND SING!"—suggesting a performer exists merely to perform, and that taking political or social stances is in conflict with their role as an entertainer. You meld many genres into your own, but it's certainly heavy on pop and dance music. As you prepare to release something that's distinctly influenced by current events, what are your thoughts on the idea that politics should stay out of pop music?
I think that the notion that politics can stay out of pop music (or anything, for that matter) is, at best, poorly considered and, at worst, self-serving. From the standpoint of the artist, one may or may not explicitly address current events or the contemporary political climate, but they will always inform what one creates and inflect the ways in which the work is interpreted by the audience.
If I write a song called "Life is Good" from my mansion in The Hamptons, it will mean something different to me and everyone else than if I write exactly the same song from a prison cell. That's political—in the one instance, I may be interested in upholding the status quo and, in the other, resisting it.
If I choose to make art (or move through the world) in a way that I believe will be interpreted as 'apolitical,' I'm doing just that: making a choice. That choice sends a message and the message is political. That choice reflects things about my priorities, my social position, etc. Taking NC HB2 as an example, I'd imagine that there are many people who would love to stop talking about it, but feel so directly impacted by it or so convicted by their consciences that they feel compelled to do so.
To put it more succinctly, nothing is happening in a vacuum—anything anyone says, makes, does (and the way that is interpreted by others) is shaped by everything happening around us.
You've said the lyrics on your upcoming LP,Fresh Lies, are a metaphorical conversation between yourself and America as lovers in a dysfunctional relationship. If America was a person and you were dating, how would you describe the mechanics and timeline of your relationship?
Well, one of the limits of applying a metaphor to something so large as my relationship with my country is that the metaphor can only accurately capture and characterize certain aspects. We often save our very best and our very worst for those closest to us. What I hoped to capture through the metaphor was the complex, often confusing, ways that affection, loyalty, conflict can act on two people when they feel bound to each other.
CS