Everyone knows at least one Old Crow Medicine Show song. "Wagon Wheel" is arguably the band's most recognized song, thanks in part to Darius Rucker's mega-hit cover of it from several years ago. It actually had quite a life of its own before Rucker tackled it, becoming a popular cover tune years after Old Crow first released it.
Old Crow, however, is much more than "Wagon Wheel." They're a band of lyrical and musical depth and boundless creativity, and they're still going strong. They're known for instrument hopping and weaving throughout different areas of American roots music like bluegrass, country, old time, and folk.
All of that is evidenced on their latest studio release, 2018's Volunteer—which was produced by in-demand country and alt-country producer Dave Cobb.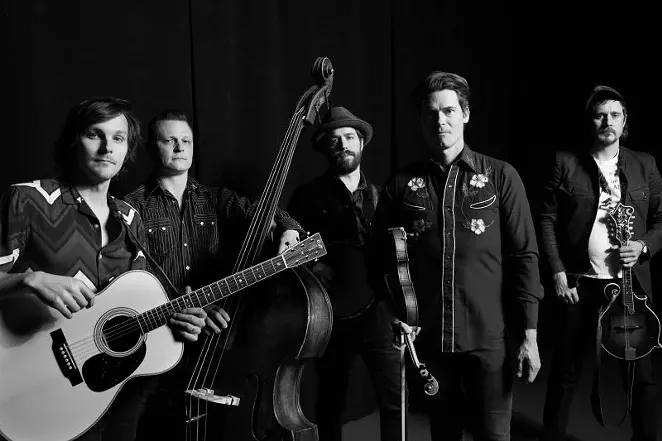 The band is currently supporting that record on the road, and is set to hit the Johnny Mercer Theater on Sat., September 7. Ahead of the show, we spoke to multi-instrumentalist Cory Younts.
You've been with the band since 2009 and first appeared on 2012's Carry Me Back. How did you end up playing in Old Crow?
I had actually met them when I was in another band with Justin Townes Earle called The Swindlers. This would've been '99 up til '02, maybe. They were busking on the streets of Nashville, and we used to do that as well. They were just so incredible to watch. They had so much energy and they were killing it. I kind of made friends with them around that time, and used to go see them at the Station Inn, which is a tiny little place in Nashville. They had many a residency there over the years. I went to as many shows as I could.
Eventually they just asked me to go on one tour. It was a west coast run, and it was great. It worked out perfect because at the time, I was touring with Justin as a duo. He went to Australia for the second or third time, but they couldn't afford to bring me over at that time. Willy Watson was still in [Old Crow] at the time, and he called me and said, "Do you want to go on the road with us?" I said, "Absolutely."
I've always been an Old Crow fan, so one day I'll give lectures to college kids and say, "Hang on to your dreams, kids. It can happen!"
One of the things that draws me to the band's records is the instrument hopping aspect of it—everyone plays a lot of different things. How do y'all go about deciding who plays what? Is it very spontaneous and kind of on a song-by-song basis?
It is! A lot of it has to do with us at soundcheck, just playing around and discovering things. Rather than us trying to figure it out in the studio. I think we figure a lot of that stuff out on the road, and also in pre-production when we do albums that involve pre-production. It kind of happens where someone will say, "I'm not really comfortable playing banjo on this one." The response is like, "Well, try something else."
When everything's set up already in soundcheck, we're kids in a candy store, basically.
I'd imagine these days a lot of the productivity happens on the road, especially because when you're home it's family time. Is there something about being on the road that lends itself to the creative process?
That's definitely a question for Critter [Fuqua] and Ketch [Secor], but they definitely get different vibes from being on the road. "Crazy Eyes," for example, is about a guy who Ketch met at a bus station one day just roaming around in some town. A lot of that is verbatum. The guy calls himself "Crazy Eyes."
The last record was done with Dave Cobb, who's sort of the guy right now in the American world. What do you think he brought to the recording process that stood out from previous experiences?
I'd definitely say that Dave is very spontaneous. In the past we had Ted Hutt Dave Rawlings and people like that, who were really big on pre-production. A lot of editing, cut-and-pasting. Dave is completely the opposite of that. He wants no pre-production whatsoever. We wrote all of the songs for Volunteer a long time ago. We were supposed to do two nights of the Blonde On Blonde record at the Country Music Hall Of Fame & Museum, and then go into the studio that summer with Dave Cobb. That all got put on hiatus because everyone wanted to see the Blonde On Blonde show. We ended up touring that show for a year and a half.
We asked Dave if we should be practicing these new songs on the road, and he said, "No, forget them. Don't worry about them." When we went in, we had forgotten a lot of those songs. We went in, and Dave was very much like, "Three takes. That's it, and then let's move on." I loved working with Dave because it was like, "See? We don't need to do [a bunch of takes]."
If you could pick out one song from the Old Crow catalog that you feel really exemplifies the band at your most creative, what would that be?
Younts: That's a hard question—I think "Tobacco" from Carry Me Back is really, really strong, and I think "Brushy Mountain" is a very strong song, too. I remember working with that song, and we were trying all of these different drum beats with it but I couldn't figure out what to do. Somebody was like, "Just let it go, Cory." Coming up with this tribal drum beat that we ended up doing, some of the guys were like, "That is the most 'heartbeat of the dinosaur' shit we've ever done. We have to keep that drum beat!"
With the success of "Wagon Wheel," the Opry induction, winning Grammys, and all of the incredible achievements you've had, some bands in your position might just rest on their laurels. But you guys always seem to be striving creatively. Are you always looking towards the next thing?
Ketch's brain is just unbelievable sometimes. Sometimes he'll say, "Let's stay home and open a restaurant," and then the next day he'll say, "Why did I even say that? Let's get back on the road and go play in Savannah." I think we realize that we're probably not going to get another "Wagon Wheel." So it's not like we're trying to [do that]. It's all about winning these awards, but that's really not for us.
cs