THERE are eight monuments in Johnson Square, Savannah's main slave auction site prior to the Civil War.
The square is dominated by the obelisk marking the tomb of Nathanael Greene, who owned hundreds of slaves on his nearby Mulberry Grove Plantation.
The square's namesake, Gov. Robert Johnson of South Carolina, was the man arguably most responsible for bringing slavery into Georgia over the wishes of the colony's founder, Gen. James Oglethorpe.
There's a nice little bench dedicated to Johnny Mercer. There's a marker about "Washington's Southern Tour." There's a sundial commemorating William Bull, for whom Bull Street is named.
But there is not a single marker explaining the Johnson Square slave auctions to passing tourists, nor dedicated to the enslaved people from at least 14 African tribes who were bought and sold there for decades, their real names lost to history, numbers in a ledger book.
Master storyteller and local historian Patt Gunn — known as "Sistah Patt" to most — is determined to right this wrong.
"You will not find one marker in Johnson Square that this was a slave auction block. We have to do something about that. Our job is to get a marker here!" Gunn tells a group of local students during a recent edition of her popular Underground Savannah tour.
As she leads the tour, Sistah Patt's constant refrain is that she and her guests are walking on what she calls sacred ground:
The place on the Savannah River where slave ships docked. The bricks imprinted with the names of the plantations where they were made by enslaved people. The whipping posts.
The building on River Street where buyers got flyers describing people for sale at the next auction. The building at 25 Bull Street where they bought insurance for new slaves. City Market is where sales closed – and where newly arrived Africans were given their slave names.
Gunn describes a line item on a slave ship manifest about a woman called "Sarah" captured at about age 20, along with her two children.
"They have a dash-BR7 in one column. What does dash-BR7 mean? It's a number for breeding. She looks as if she could breed seven more. You're not just purchasing Sarah, you're purchasing ten people: Sarah, her two children, and the seven more they think she can have."
Even the ballastones on River Street she calls sacred ground. Many have been traced directly to West African origin — used as ballast for slave ships, then offloaded at journey's end after the miserable six-month trans-Atlantic passage.
"I cannot imagine the pain and suffering they endured on the way here, lying side by side in someone's urine," Gunn laments.
"I don't know the strength that you had to have to endure. But what we know for sure is there must have been a higher source of power. Because they endured 116 years of slavery in Savannah."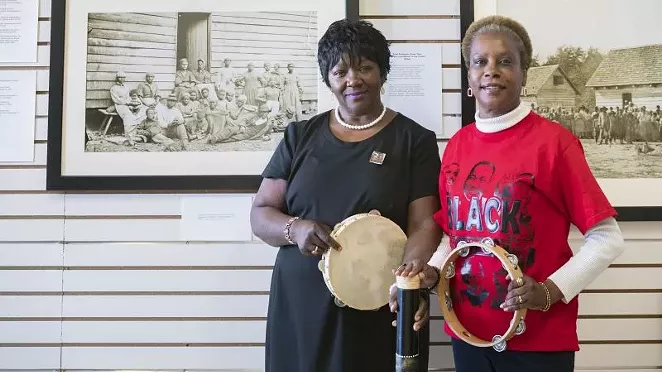 WITH CO-OWNER Roz Rouse, Gunn has expanded on her popular Underground Savannah tour to open the Savannah Gallery on Slavery and Healing on Martin Luther King Jr. Boulevard.
Since opening this past November, the Slavery and Healing Gallery has served as home base for Gunn and Rouse's continuing efforts to not only tell the true story of slavery in Savannah, but to spread awareness of the rich Gullah-Geechee culture, unique to the Georgia and South Carolina coast.
The Underground Tours have garnered a huge word-of-mouth following, but that turned out not to be quite enough.
"We end our tours in Johnson Square, and people just don't want to leave," Gunn says. "They'll stay an hour, an hour and a half, still wanting to talk about this history, and learn more about it."
The "Healing" part of the gallery's name, Sistah Patt and Sistah Roz say, was the missing piece of the puzzle.
"Our focus is absolutely about healing," says Gunn. "The story of slavery is a hard story, so we tell that story with a lot of grace and respect. We promise that you will not leave our tour or our gallery sad, because we also talk about and share the human spirit of those enslaved Africans who dwelt here in Savannah."
Gunn says a visit to the Simon Wiesenthal Center in L.A., with its emphasis on healing deep societal wounds, was an inspiration to try and do something similar with slavery and its legacy in Savannah.
The Gallery uses a combination of historical images, donated artwork, and performance to get its message across.
Archival photos elucidate the brutal reality – and brutal business – of slavery, from ship to plantation. The contribution of African American soldiers to the Civil War is also highlighted.
"And we mustn't forget the Abolitionists," Gunn says of images dedicated to figures such as John Brown. "They are a very important part of the story of freedom."
Part of the Gallery's mission is to help guests make a personal connection to the faces in some of these photos of newly emancipated African Americans.
"Look at the face of this young woman here," Gunn says, pointing to a photo of a group of freed slaves taken right after Emancipation.
"It's a look that says, 'OK, what now? What do I do next?' They've been freed, but have nowhere to go. No money, no education. A promise was made to them for land, but that promise was quickly broken. What would you do next?"
ONE OF Gunn's efforts is her ongoing struggle with the City of Savannah to tell what she insists is the true history of the so-called "Cluskey Vaults" on Lower Factors Walk right beside City Hall.
A series of cheery markers attempts to explain the four deep, arched vaults directly under Bay Street as harmless storage spaces for dry goods.
Gunn says there's more than enough evidence to prove their actual purpose – as places where slaves were kept after coming off ships on River Street, on the way to auction in nearby Johnson Square.
"If you were on a slave ship and you're disembarked, and they had 5, 6, 7 days to get ready for sale, they had to fatten their slaves," Gunn explains.
As evidence, she says most of the archaeological artifacts found in the vaults were some kind of eating implement, like water jugs and wooden troughs.
If only dry goods were stored here, she asks, why would there be so many feeding utensils? And why would the vaults have vents all the way up to Bay Street?
Other evidence she mentions includes tribal markings on the interior walls, some of which she says have been etched away in an effort to remove for sale on Ebay, and some of which have been plastered over.
Gunn shows Google images of identical-looking, identical-sized arched limestone slave pens in Ghana today, at the departure point of the trans-Atlantic journey.
Gunn has also done detective work that would make Sherlock Holmes proud.
She cites a documented slave sale in June 1842.
"The slave manifest said the ship came to the Savannah docks on June 4 from Zambia with 300 slaves. We also know that on June 12, 300 slaves were sold in Johnson Square," Gunn says.
"The question I asked City officials was, can you tell me what happened to 300 slaves from June 4-12? Did you have 300 slaves just waiting around on the river for eight days? And this vault is one block away from the auction," she says.
"If it looks like a duck, walks like a duck, and quacks like a duck.... It's a duck!"
Citing the potential sale of the adjacent Gamble Building, Gunn says "we need to find a way to get some federal or state protection for these vaults, or else they could become a parking lot again" — a veiled reference to the fact that until recently, high-ranking City officials had been allowed to park their cars inside the vaults every day, on that sacred ground.
EDUCATOR Kat Robertson works with Gunn and Rouse to help bring tours to life. She says it's vitally important that all Americans know the true and full history of slavery, but especially for African Americans to understand the sacrifice of their forbears.
"I feel strongly that my ancestors are speaking through me today. I do this to connect with them," Robertson says.
And as an educator, Robertson sees the value in teaching this history to all young Americans regardless of background.
"I want them to be hungry for this," she says. "I want them to be so excited and interested in learning about this that they go home and make their parents come here."
Still, it's been an uphill struggle getting the local public school system interested in bringing students to the Gallery to learn more about their own history.
The day I visited, two buses of private school students from Savannah Country Day came, eager to see the gallery and take Gunn's tour.
One hopes that in a public school district that is about 70 percent African American, there will eventually be the realization that a community resource like the Slavery and Healing Gallery could be an irreplaceable teaching tool — not just in Black History Month, but throughout the year.
As is her way, Sistah Patt remains optimistic, but undaunted.
"If Savannah, Georgia won't tell our story, we'll tell our own story," she says.
cs