After a tumultuous year beset by the ongoing COVID-19 pandemic, celebrating New Year's Eve this holiday season may be a treacherous undertaking. Welcoming 2021 in an outdoor environment can make all the difference – so the Ossabaw Island Foundation has come up with a shindig where open-air social distancing won't be a problem. During the organization's "Wild Night on Ossabaw" celebration, participants will spend the night of New Year's Eve out on Ossabaw Island, one of Chatham County's largest uninhabited nature preserves. A world removed from Savannah's downtown scene, Ossabaw will welcome fresh-air fanatics to learn about the island's conservation efforts, history, and natural habitat while staying at camp-like accommodations until the first morning of 2021. The journey will begin on the afternoon of Dec. 31 at Delegal Marina on Skidaway Island, where a pontoon boat will transport guests from the mainland to drop them off at Ossabaw Island's north end. There travelers can check into their quarters and either take part in an interpretive walking tour led by party host and Ossabaw Island Executive Director Elizabeth DuBose, or explore the island on their own.
"Ossabaw is Georgia's first heritage preserve, and that designation gives it the highest level of protection afforded by Georgia's Heritage Preserve Act of 1975," said DuBose. "It's 26,000 acres − and it's clearly undeveloped − and it was set aside for natural scientific research, cultural research, and educational purposes."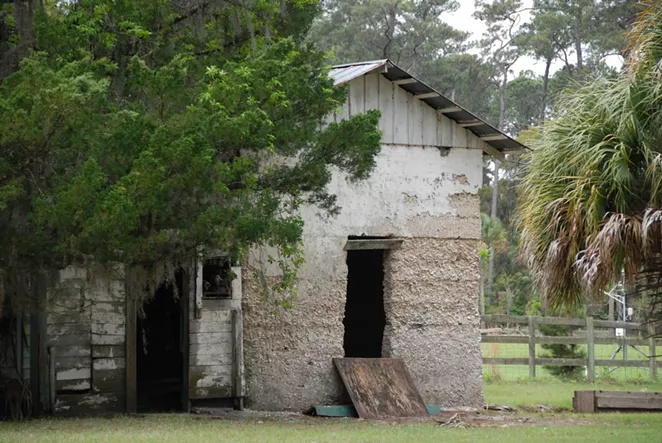 These distinctions make the island a difficult place for just anyone to visit. DuBose and the Ossabaw Island Foundation feel that putting on events such as the "Wild Night on Ossabaw" and others, are a good way to educate people and bring awareness to the island while raising funds for conservation efforsts. "It's really a taste of Ossabaw, hoping that they will want to come back," said DuBose. "Whether it's a photography workshop or maybe a turtle overnight stay − spend two nights on the island and learn about the nesting sea turtles − or indigo-dyeing workshop. It's kind of like the introduction to Ossabaw, but staying overnight." After spending the last day of 2020 enjoying the soothing peace of nature, guests will savor a sundown farm-to-table dinner featuring varied Southern side dishes, cake for dessert, s'mores by the campfire, and a champagne toast to celebrate the New Year. Everything to be experienced on this excursion will have a nugget of history attached to it, even the food.
Back in 1924, Ossabaw Island was purchased by Dr. Henry Norton Torrey and Nell Ford Torrey, a couple who lived in Michigan and wanted a Georgia home for spending their winters. In 1978, their daughter Eleanor "Sandy" Torrey West led the family's negotiations in selling the island to the state of Georgia for $8 million, half of the appraised value. After the sale, Sandy lived on her 23-acre estate on the island from 1987 until 2016, when she moved to Savannah, where she still lives at 108 years old. "We'll have traditional greens for money and black-eyed peas for good luck, and we also serve a mystery cake, which was the favorite dessert served by Sandy West's mother," said DuBose. Due to the pandemic, "Wild Night on Ossabaw" accommodations are limited to ensure social distancing, but campers can bring tents and camp at a designated campsite. Visit ossabawisland.org/visit/overnight-trips for more details on this event and future Ossabaw Island Foundation excursions.