Painting en plein air is the practice of painting landscapes or cityscapes out-of-doors, in a loose, faster style than can be accomplished in the studio.
Pronounced like the "plen" in "splendid", plein airs are more impressionistic, vibrant, and immediate—capturing the sunlight and shadows at a particular moment in time.
In the 1880's, Monet, undoubtedly the most famous outdoor painter of all, began to carry several canvases at once and would paint the same subject at a different time of day, continuing to work on them on subsequent days, in succession, as the appropriate light appeared.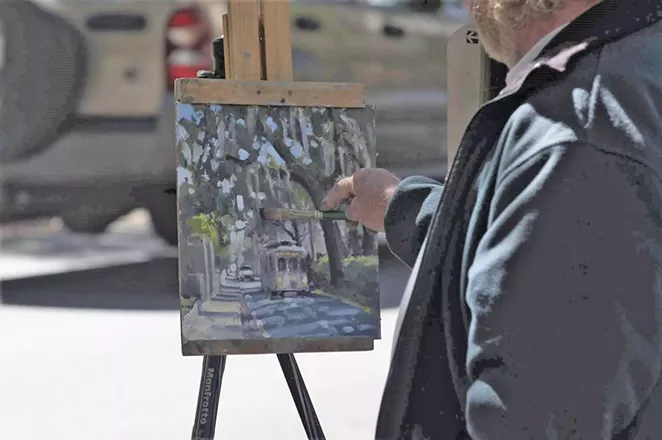 Painters either love or hate plein air given the time constraints (usually two to three hours), it is necessarily more unforgiving, and the recognition of colors and how they compare to each other must be almost immediate. And, of course, the genre requires the cumbersome schlepping of easel, canvas, paints, and all other supplies to the outdoor locations of choice.
Despite these challenges, or perhaps because of them, juried plein air painting competitions attracting hundreds of painters are hugely popular and are held all over the world.
So, next week's plein air event hosted by the Savannah Art Association is deserving of our attention and support.
Paintings created will be available for sale during the post-event reception at the Green Meldrim House and the public is warmly invited.
Newcomers to our city may not be aware that the non-profit Savannah Art Association (SAA) is the oldest in Georgia, operating continually since 1920 - a point of pride reflected in their website's URL: savart1920.com. Currently, members' work is featured in the Savannah/Hilton Head International Airport Gallery, at Pace Lighting on Chatham Parkway, and in the wonderful new Alexander's Bistro (featuring the best chocolate chip cookie I've ever tasted) located at 1205 Bull Street, across from Local 11ten. There is also a show of members' work in La Terra Natural Oils at 1520 Bull Street during March and April.
Immediately before the pandemic closed the city in the spring of 2020, Telfair Museums recognized the contributions of the Savannah Art Association.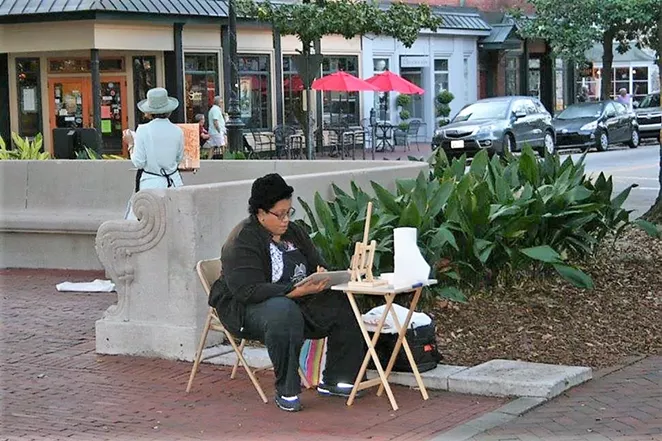 Holly Koons, beloved past curator, returned to the Jepson to open the show "Launching Savannah's Art Scene: Founders of the Savannah Art Club" in celebration of SAA's 100th anniversary. She highlighted the founding members of the club, including local favorites such as Lila Cabaniss, Anna Hunter, Mary Comer Lane, Juliette Gordon Low, Christopher A. D. Murphy, Hattie Saussy, Margaret Gray Thomas, and others.
For many, Koon's was the last non-virtual art lecture we attended since COVID hit, and it seems more poignant and important than ever to offer our support as the Savannah Art Association revives their wonderful springtime plein air event, Paint Out Savannah!
Open to painters in oils, acrylics, watercolors, or pastels, participants have the time between registration on Thursday to the judging on Saturday to paint up to two paintings within Savannah's city limits.
There is also a Quick Draw competition to capture a scene in or near Madison Square within two hours. The full schedule is as follows:
Thur., March 24, 8-5pm:
Artists check in to receive their swag bag, information packets and to get their canvases or papers stamped at the Jepson Center for the Arts, 207 W. York Street. Marc Hanson will provide a painting demonstration in Telfair Square at 5:30 pm.
Fri., March 25, 8-5pm:
Registration continues at the Jepson. Artists interested in participating in the two-hour Quick Draw will check in at the Green-Meldrim House, 14 W. Macon Street to have their paper or canvas stamped and create their work of art between 10am and noon. Judging is at 12:30 pm and paintings are available to the public for purchase at that time.
Sat., March 26:
Registration is available at 8am at the Green-Meldrim House for late arrivals. Finished work must be returned there before 3pm. At 4pm the Paint Out event concludes with a public reception and awards ceremony, raffle drawing, and sale.
I met with the Paint Out Savannah! lead volunteer Martha Love who is excited to attract and welcome painters from other states to our city.
As we know, in less than two square miles they can portray a river landing, bluff, cargo ships, historic stairways, cemeteries, colonial squares, and iconic landmarks such as Forsyth Fountain.
And just a few miles from downtown, they can choose to focus on saltwater marshes, shrimp boats or palm trees. Love also tells me that anyone can visit the SAA's website to purchase $10 raffle tickets for paintings, jewelry, tours and a two-might stay on Tybee Island.
As noted above, Marc R. Hanson (b. 1955), a Master Signature Member of The Oil Painters of America (O.P.A.), will provide a painting demonstration on Thursday evening and serves as judge for the event.
A resident of Tybee Island, Hanson is a very accomplished plein air painter who has shown nationally and internationally since the early 1980's.
He regularly hosts landscape painting workshops throughout the U.S. and says, "I love working with other painters in their pursuit to better their craft. My goal is not to have them assimilate my style and technique, but to teach them how to more closely examine the subject and apply the principles that representational painters must follow to become effective visual communicators."
Locally, you may view Hanson's work at Salt Marsh Studio on Johnny Mercer Blvd. in Savannah where he shows with wife Dottie T. Leatherwood, also a superb plein air painter who is represented by the Mansion on Forsyth Park's Grand Bohemian Gallery.
If you are an artist, gather your paints and brushes and participate in this fun event that offers no location restrictions.
There are prizes for Friday's Quick Draw event, a $600 first prize for the Paint Out, the opportunity to fellowship with other painters from across the country, and to sell completed work after the Quick Draw and during the closing reception on Saturday. Non-artists are encouraged to purchase raffle tickets, watch the painters, and, of course, to attend the closing reception.
What a wonderful event for the Chamber and City to promote and to recognize as we grow our art tourism, a piece of the pie they so often overlook. I, for one, would rather live in city where a vibrant local art scene is considered an essential part of its identity, and where tourists leave with a piece of original art rather than a tee-shirt or a to-go cup!
The Paint Out Savannah! public reception, raffle drawing and sale is at 4 p.m. on Sat., March 26 at the Green-Meldrim House, 14 West Macon St.
Registration forms, link to buy raffle tickets, and full details are available at savart1920.com