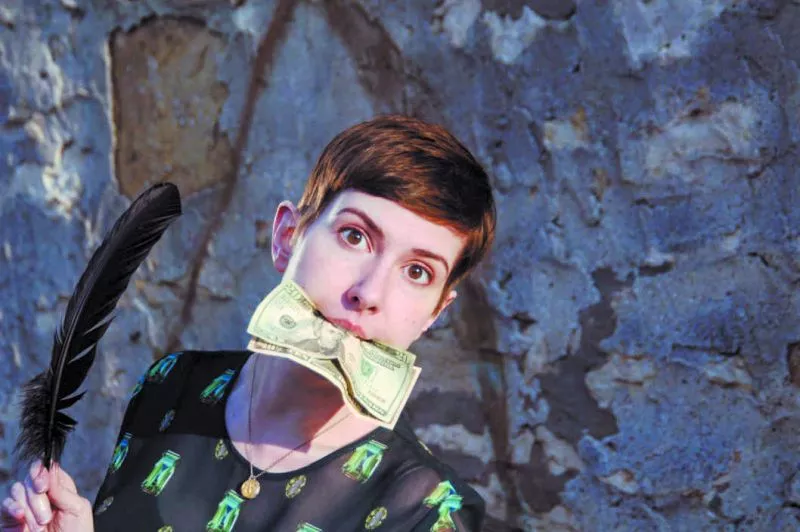 AT THIS month's edition of Seersucker Live, the literary nonprofit offers three chances to fall in literary love.
The "part literary reading, party variety show, part cocktail party" welcomes former Savannahian Zach Powers, back-in-Savannah poet and memoirist Patricia Lockwood, and Savannah spoken word poet Shaniqua "Neka" Brown. Both Powers and Lockwood will celebrate the release of new books at the event.
Powers, a co-founder of Seersucker Live who led the writers' workshop at the Flannery O'Connor Childhood Home for eight years, is a Savannah native and recently relocated to Fairfax, Va. Powers celebrates the release of his debut book, Gravity Changes, right at home with Seersucker.
Published by BOA Editions, the collection of stories won the BOA Short Fiction Prize and is already earning widespread praise. Fellow magical realist Karen Russell, author of St. Lucy's Home for Girls Raised by Wolves and Swamplandia!, heralded the debut as "a wonderfully vertiginous, through-the-looking-glass story collection, packed with Powers' one of a kind humor and insight."
Seventeen stories comprise Powers' first release, each delving into beautifully dark and soaringly fantastic corners of the imagination. From flying children to lightbulb matrimony, Powers pushes his reader into a new universe, but his masterful tone makes these strange little worlds feel all too familiar.
As Kirkus Reviews says, "If some of the stories require a second reading, it's not because Powers strays too far down the rabbit hole but because they're too provocative to release their hold on the reader all at once."
Patricia Lockwood lived in Savannah as she was making headlines as the "Poet Laureate of Twitter" and gaining noteriety for her wonky sexts debut poetry collection Balloon Pop Outlaw Black.
But it was in 2013, when she and husband Jason Kendall moved back to Kansas, that Lockwood's name became one of the hottest in literary and internet culture circles.
In the middle of the summer, The Awl published "Rape Joke," the prose-poem to end all rape jokes that reinvented the way we talk—and joke about—about sexual assault. Immediately, the piece went viral with over 10,000 Facebook likes within hours of being posted.
Over the following weeks, "Rape Joke" sparked discussion across the Internet about who is and isn't allowed to joke about rape, the power of humor and the very definition of poetry. According to The Guardian, Lockwood's work reignited a generation's interest in poetry.
The next year, Lockwood released a second collection of poetry, Motherland Fatherland Homelandsexuals, via Penguin Books. The Stranger considered it "the first true book of poetry to be published in the 21st century."
The release landed Lockwood on Rolling Stone's 2014 Hot List and was named a Notable Book by the New York Times.
Always one to surprise her audience, Lockwood returned this month with a memoir, Priestdaddy. Published by Riverhead Books, Priestdaddy gives curious and fascinating insight into Lockwood's life as the daughter of a Catholic priest (her father, who was, for years, an atheist, was converted to Catholicism while serving on a nuclear submarine watching The Exorcist), a background that's long intrigued fans of her unapologetically smutty verse.
Spoken word poet Shaniqua "Neka" Brown rounds out The Freefall Episode. A poet attending Savannah State University, Brown is currently working toward her BIS with a focus in English & Foreign Languages. The accomplished spoken word poet has won several awards at her university, including the Intellectual Freedom Essay, Education Matters Essay, and first place for Paint Chip Poetry. The latter was featured on "Poetry in the Air" on WHCJ 90.3 SSU Radio.
Savannah loves to celebrate its literary children's achievements, so it's highly recommended to get a ticket in advance. Score one via seersuckerlive.com.
CS