WHEN Moon River Brewing Company brewmaster and owner John Pinkerton was asked to create a special beer in memory of a customer who was killed while riding a bike, he knew he could do much more than that.
Matt Kohler, 22, was hit by a driver on U.S. Highway 80 near Bloomingdale in July 2012. The request for a brew in his memory was made by his widow, Kori, and her story resonated with Pinkerton.
"Matt was killed on one of the roads I used for training," he said. "I wanted to turn the opportunity to remember him into something further reaching."
That something became the annual Matt's Moon River Cruise, an event aimed at increasing awareness of how to safely share area roads with people who ride bikes.
Pinkerton's leadership will be recognized at the Savannah Bicycle Campaign's Fourth Annual Pedal Medal Award Celebration on Feb. 19 at 5 p.m. at ThincSavanah.
Previous Pedal Medal recipients are Sean Brandon, City of Savannah Management Services Bureau chief, Jane Love of the Coastal Region Metropolitan Planning Organization and Jim Morekis, editor in chief of this publication. The Pedal Medal Award Celebration is sponsored by SouthCoast Health.
Pinkerton started riding bikes after he moved to Savannah in 1999. He promised a friend he'd participate in a long distance ride and began training for it, first alone, then with others on rides sponsored by the Bicycle Link, and eventually with the Savannah Wheelmen. He became closely acquainted with the conditions people on bicycles face.
The third Matt's Moon River Cruise will be held on Saturday, May 2 and Pinkerton has specific goals in mind for this year's event.
"I would like to see greater participation from elected officials at the local and state levels. We lend our voices to what we think should happen, but they are the ones who are in a position to affect real change," he said.
Caila Brown, vice chair of the Savannah Bicycle Campaign board, said Pinkerton's efforts to educate the community and develop solutions made him an ideal candidate for the Pedal Medal award.
"He's a steadfast supporter of the rights of people who ride bikes and has shown great dedication to increasing awareness of those rights through Matt's Moon River Cruise," she said.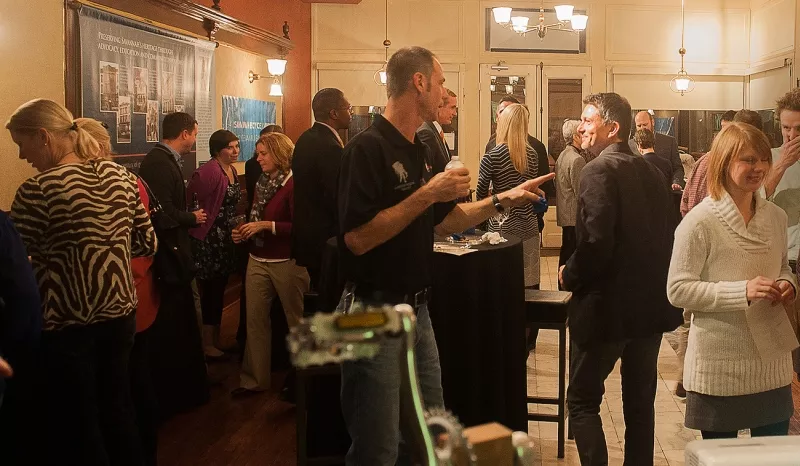 Brent Buice, executive director of Georgia Bikes! and an SBC board member said leaders in the business community, like Pinkerton, can be especially effective.
"We can count on citizen advocates and right-minded transportation professionals and elected officials to push for better bicycling," he said. "But we'll only see meaningful change happen quickly when business leaders start demanding safer cycling opportunities for their employees and customers."
SBC's volunteers of the year, Louisa Winsor Williams and John Wesley Norvell, will also be recognized at the Pedal Medal Award Celebration. Williams manages daily operations and personnel at Biblia, Inc. Marine Towing & Transportation. Norvell works in the financial sector.
He said volunteering has given him the, "opportunity to leave a lasting impact on the place I call home. Knowing that I have made a difference and the feeling you get from volunteering is my favorite part of the SBC experience," he said.
Williams agreed, saying she liked being able to "meet great people with similar interests and trying to leave things a little better than how we found them."
Brown said their passion for bicycling is evident in their approach to volunteering. They frequently serve as marshals on group rides, working to improve participant safety and modeling best practices for safe cycling.
"They are always willing to lend a hand and eager to find new ways to contribute to the organization and the community," she said.
Daniel Piatkowski, Ph.D., an assistant professor of urban studies and planning at Savannah State University, will deliver the Pedal Medal keynote address on emerging trends in research on bicycling and implications for Savannah. Piatkowski is an interdisciplinary urban planning scholar interested in sustainable, healthy, and active transportation.
One of Piatkowski's current research projects, a survey that seeks to understand transportation systems and "what factors might correlate with different behavior patterns" in people who ride bikes, has been reported on by the Washington Post and other national media organizations.
The Pedal Medal Award Celebration also includes a silent auction featuring prizes from Tim's Beach Gear of Tybee Island, Ocean Lodge on St. Simons Island, Club at Savannah Harbor golf and Spa Bleu. Beverages and hors d'oeuvres will be served.
Tickets for the Pedal Medal Award celebration are $50 and are available at the door and online. Proceeds from ticket sales and silent auction benefit Savannah Bicycle Campaign.
cs