BEFORE Savannah Pride was a weekend-long, rainbow-filled affair, it was a low-key get-together in the roundhouse of the Georgia State Railroad Museum.
In 1999, First City Network, the oldest LGBTQ organization in Georgia, chose to start hosting a Pride festival in Savannah.
"At First City Network, we were more of a social organization, and we never did a real Pride event," says Pam Miller, former co-chair of First City Network. "We were always looking for ways to enhance or improve things, and there were members of the community that really wanted to start a few Pride events that came off the whole Stonewall thing."
The Stonewall riot just recognized its 50th anniversary this year and inspired the first Pride in New York City in 1970.
The first Pride for Savannah was at the roundhouse at the railroad museum because of its discreet location, shares Miller.
"We chose that spot because of its somewhat isolated and secure area, because 20 years ago, we weren't really sure what the response from the community would be," remembers Miller. "Maybe there would be troublemakers."
At the roundhouse, First City Network grilled hamburgers and Club One offered BBQ. There were seven vendors. Then, as now, there were no troublemakers.
"It just shows the evolution here in Savannah of where we were twenty years ago," says Miller.
Over its tenure, Savannah Pride has grown into a major event for the community, bringing people from all over to enjoy the festivities.
The festival eventually moved to Forsyth Park, which is during the time Mark Hill was in charge of it. In those days, the Pride board charged attendees because of the incredibly high cost, which Hill estimated to be over $30k.
"The group of ladies who had it before me actually went into debt to make it happen," remembers Mark Hill, who began his involvement around 2012. "They took on personal debt to make it happen, because it was important to the community. It was evolving. It took many years for the Savannah community as a whole to buy in—gay folks got it, but straight folks didn't. And it was those girls that were brave enough, Heather Byer and Maria Waller."
"It was Regan Drake and Dusty Church that set the scene for what you see today," says Hill. "They got corporate sponsors that I would never have dreamed of touching."
Today, Dusty Church, the executive director of Savannah Pride, has been able to secure those corporate sponsors to allow Pride to be free to everyone. He's also fostered educational opportunities along with the party.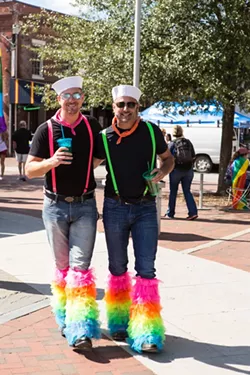 "What always gets me excited is the opportunity to educate and to activate, to speak on important issues within our community and tell people the work we're doing and to encourage them to get involved," says Church. "All the party and celebration is great, but I'm not a party planner—that's not the point."
This year, for the first time, Pride is throwing a parade, a decision that Church calls a little terrifying.
"We do so much, and we're an all-volunteer organization," he reminds. "Any time we take on something of this scale, it presents a real risk for us. We decided that it was important. This is about being visible and allowing people to come out and participate in a way that the festival doesn't [allow]. At the end of the day, it's great to participate, but it's hard to place yourself in a spot where you can say, 'I support this community, I'm part of this community,' and the parade gives people the opportunity to do just that."
At the heart of Pride, through the years, is that community.
"I think Pride has taken on a different meaning now than it had in the beginning," says Miller. "In the beginning, it truly was looking for someone of my kind. 'Look at me, I'm out, I'm okay.' For me now, Pride is a sense of accomplishment, a sense of carrying on the fight for all these years, and being proud of the collective us."
This year's Pride is also notable in that it's the first festival after the merger of Savannah Pride, First City Network, the LGBT Center, and Jeffrey's Place.
"There are a handful of individuals, myself included and a couple of donors and board members from other groups, who felt this has long been needed," says Church. "We struggle to communicate and make sure we're working towards the same goal. It's costly for us to work separately; we're wasting donor dollars. At the end of the day, we knew this had to happen."
The merger will help consolidate the efforts of all four organizations.
"Because of our merger, there's now no-cost mental health care, no-cost HIV testing, all sorts of things in the community that are really valuable and important," says Church. "That's an important piece for me."
Another point of pride for Church in this year's festival is the inclusion of a quiet room, provided by Hotel Indigo. The conference room in the hotel's basement serves as a respite for anyone who needs to get away from the party atmosphere.
"We know we have a lot of folks who are on the autism spectrum. As it turns out, folks who are on the spectrum actually identify as trans or non-binary more than the general population," shares Church.
He credits the diverse Pride board for bringing up an important perspective, but it's clear that others are appreciative for his work as well.
"I don't want to say I'm the grandmother—I'm the great-aunt of this community," laughs Miller. "I look at all these people that I know who came up after me and are doing wonderful things for the community. That's where my pride comes from; I'm proud of watching Dusty Church. I'm proud to see what he's done."
CS