The 15th year of Telfair Museums' annual PULSE Art + Technology Festival returns March 2-5 at the Jepson Center.
Guests will get to experience fun, interactive events and pieces for all ages to enjoy.
Previous festivals were held in January, but organizers said the event was moved to March so as many people as possible would be able to attend.
"We're thrilled to be able to offer the PULSE Art + Technology Festival, for the first time ever, in March," said Ben Simons, Telfair's executive director and CEO. "With more and more people getting out and enthusiasm building for things to explore and do, it's an exciting time for the city of Savannah."
Mind-bending illusions, lectures, performances, curator and artist tours, workshops for students and a free family day will be presented during the four-day festival.
This year's theme is "Beyond."
"We are excited to return to in-person programming for PULSE in 2022 to allow audiences of all ages to experience art and illusions," said Harry DeLorme, the festival's curator. "We used the theme 'Beyond' because we all want to try to envision a place beyond the pandemic and the other challenges we've been living through lately."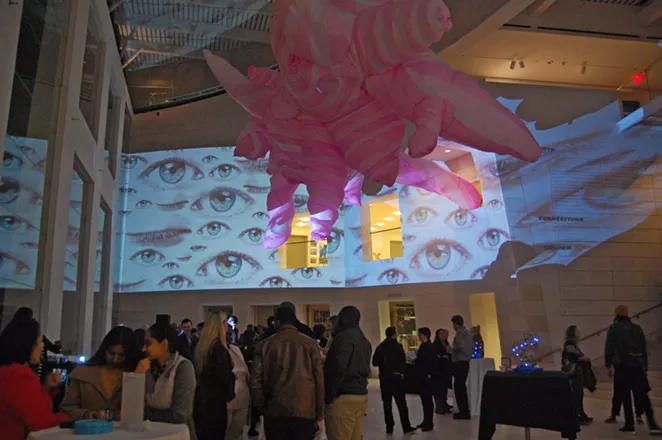 Throughout this year's festival, for three nights, March 2-4, the Jepson Center's atrium will be lit by the digital art installation "Return" an immersive cinema installation, by artist John Colette.
Organizers call it "the most immersive projection project yet presented at PULSE."
"It's a large work and quite complex in execution, so you need to be involved with many many aspects of its realization, technically and physically, as well as in terms of the overall production and creative work," said Colette.
Colette's "Return" is about very contemporary experiences, particularly after the last 2 plus years of the pandemic.
"Around this long-shared experience of what can only be termed 'cultural dislocation,' where our personal and shared experience of the world was fundamentally altered. At the same time, there have been a number of changes in the society at large that have continued or even accelerated, unabated," said Colette.
The other transition that is reflected in Colette's work is the increasing march of algorithmic systems and artificial intelligence.
Systems like this do everything from decide what Netflix will put into production to full automation of jobs.
"Much of this work I am showing was developed in conjunction with different systems of artificial intelligence, using remote networks to process and in most cases, generate images based on nothing more than written inputs. This practice is not unique, it has exploded in the last 6 months, but it raises serious questions about creative labor," said Colette.
On Thursday night, lead PULSE artist Chul Hyun Ahn will discuss how he developed his illusions of infinity, including works currently showcased in the museum's galleries.
"Chul-Hyun Ahn makes these incredible Infinity mirrors, but that's really kind of not doing them justice as they are these light sculptures that have this really incredible illusionistic quality to them," said DeLorme.
The exhibition "Chul-Hyun Ahn: Beyond" focuses on the illusionistic light sculpture of Baltimore-based artist Chul-Hyun Ahn, whose work invites viewers into contemplative infinite spaces.
Ahn's pieces are light boxes made from LEDs, one-way mirrors, and sculptural materials create the suggestion of infinite space, whether the illusion of a railroad track curving into the darkness or geometric abstractions in vibrant color.
"At the root, my art is about space," said Ahn. "Without light, the space was not visible, so I brought light to my artworks so people would experience a sense of deeper space in the direction of the fading light."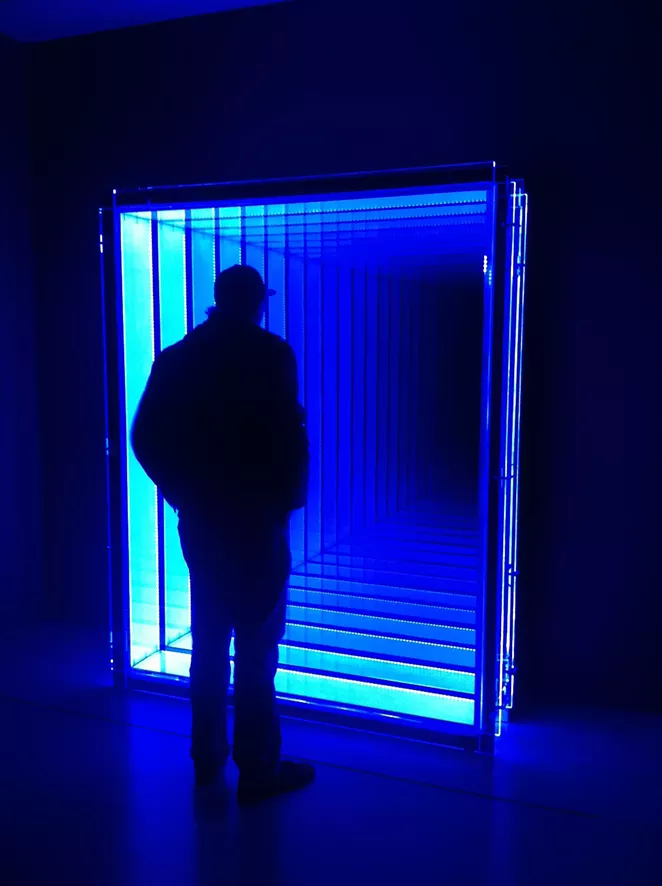 Thursday and Friday mornings at 11 a.m., visiting artists will discuss their work at the intersection of art and technology in programs open to students and visitors of all ages. Including some artist with work that compliments Chul-Hyun Ahn's work.
Complementing installation features Ryan Buyssens' prismatic light sculpture "Chromatica," Aidan Lincoln Fowler's video infinity mirror and video sculptures, and other works by artists including Max Almy, Teri Yarbrow, Greg Finger, Zhou Fan, Kelley McClung, Guanzhi Kou, and Skye Hu.
Greg Finger is a local artist who created work about eradicating COVID.
Chinese artist Zhou Fan created a game-like interactive video installation in which participants can unpack "worlds" that look like Buddhist prayer wheels and then use their hands to wipe covid off the planet.
Friday night will feature a multidisciplinary performance by Tybee Dance Theater's Britt Bacon and Kate Petit, with audiovisual artist Vinay Arora.
The performance is part of a free Friday night at the Jepson that will put the emphasis on fun and creativity with activities including a 360-degree video photo booth and an LED pin making workshop. And Saturday's Free Family Day will open the Jepson Center to the public with the return of hands-on activities for the whole family.
The festival, which usually takes place in January and draws several thousand participants, was rescheduled this year to increase access and to promote public health.
"With more and more people getting out and enthusiasm building for things to explore and do, it's an exciting time for the city of Savannah. People can enjoy SCAD's wonderful deFINE ART series, stop by the Jepson and see us. We have Savannah Stopover and St. Patrick's Day events and the Savannah Music Festival to look forward to later in the month. All of March really is a celebration of the city's creative spirit," said Ben Simons, Telfair's executive director and CEO.
For more information and to register for individual PULSE sessions, visit telfair.org