EVERY YEAR, PULSE Arts & Technology Festival challenges viewers with interactive and innovative works of art from around the world.
The creativity goes beyond what's hanging on the gallery walls—the Jepson crew loves to engage the crowd with an unforgettable musical show that blurs the line between tech, visual, performance, and sound art.
From Gil Weinberg's robotic musician at the 2011 festivities to last year's stunning performance from Helado Negro and his tinsel-suited dancers, PULSE's musical guests boast a whimsical sense of discovery and, most importantly, fun.
2017's musical artist Little Paw, the solo project of Nick Maynard (formerly of Nintendo rock band Revingineers) will introduce audiences to the glitchy, thrilling wonderful world of chiptune music.
Chiptune, also known as chip music or 8-bit music, uses the sound chips found in vintage computers, gaming systems, arcade machines, consoles, microcomputers, and more to create a style of synthesized electronic music.
We chatted with Maynard about his musical origins, live show, and what audiences can expect from his performance with Matt Akers.
Tell us a little about your musical journey. How did you start playing? How did you find your way to chiptune music?
In high school, I took a Music Theory class. I would always finish my assignments early and our teacher let me use the ancient computer in the back of the room to experiment with the music notation software it had. This allowed you to write out sheet music and assign different instruments to the parts and listed to your song. I fell in love with this program, as basic as it was, and began writing for it constantly, coming down to that classroom during my study hall period and lunches.
When I got to college, that's when I was exposed to more advanced computer programs like Reason (version 2) and Ableton Live (version 3). I began playing in bands and incorporating programmed music into my live performance.
Years later, I found bands like Anamanaguchi and Bit Shifter and fell in love with chiptune music. For a while, I emulated it with the computer programs I'd been using but eventually I began using Nerdtracker II, then Famitracker, and finally LSDJ.
Were/are you a gamer? If so, how does that influence your compositions and tone?
I would definitely not call myself a 'gamer.' I definitely enjoyed video games as a kid and owned an NES and eventually a Nintendo 64, but never more than a handful of games. After getting into chiptune music, I've become more aware of classic video game soundtracks, but I don't think they've had any significant impact on my music.
What is your gear setup like when you play live? Is it similar to your recording setup?
My setup will change drastically from show to show but always includes electric guitar. More often than not, I'll bring a synth as well—the Moog Sub 37 or the Juno 106. I recently began using a midi pickup for my guitar (the Fishman Triple Play) so I can perform synth parts via my guitar, which has worked out really well.
Recording is a different process. At this point, I have a pretty extensive collection of synths and guitar gear so I'll experiment for a long time to get the sounds exactly how I want them. I could never bring all of the equipment I use while recording to a show.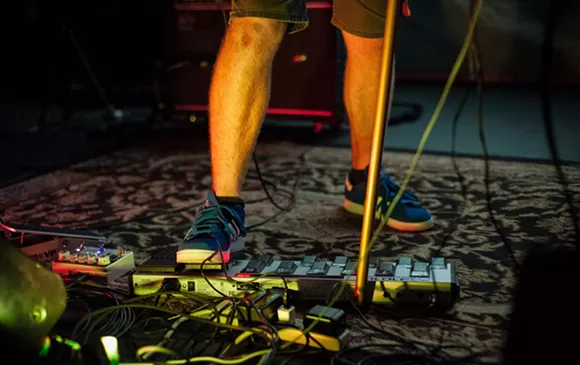 What's the process like when you sit down to write new material for Little Paw?
It varies from song to song, but for my last album, most of the songs followed a similar pattern. I began by composing the full song in LSDJ on just a single Gameboy. I would then record this into Ableton and cut up the audio so that every instrument was on its own track. Then I began to record additional synths, guitars, drums, and sound effects overtop of this Gameboy track.
What do you feel electronic tones and arrangements can capture that distinguishes them from "traditional" instruments?
The main thing that I feel distinguishes electronic instruments from 'traditional' instruments is their ability to be programmed and sequenced. Composing and recording music is what I love the most and if I was able to plug a cable into a clarinet and make it play music via my computer, then I totally would.
Does the Little Paw live experience feel different in arts spaces like PULSE, music venues, or chiptune-centric environments?
The Little Paw live experience can definitely feel very different from venue to venue. At chiptune festivals, so many people attending are familiar with the basic concepts I'm using and therefore are able to appreciate the music on its own merits more. I've played shows for non-chiptune crowds and after I perform, I'm always greeted by dozens of questions from well-meaning people and I have to go into 'teacher' mode and explain exactly what was happening. I'm always happy to talk about what it is I'm doing but I'm always surprised by people's need to understand how the technology is working. No one questions a drummer after a show about how his kick drum pedal works!
CS