State Farm Agent Meridth Lamas is organizing the Purse-fully Inspiring purse drive fundraiser to benefit Savannah's SAFE Shelter in time for Mother's Day. The center is a domestic abuse shelter that provides housing and counseling to help victims and their families find places to stay and employment. The Purse-fully purse drive is now accepting new or gently used purses and accessories at two locations: the State Farm office and the Wilmington Island Methodist Church, until May 7. The bags and purses for donation can include any coordinating items such as sunglasses, scarves, compact mirrors and nail files. "The goal of the purse drive is for the residents transitioning to pick out something that suits their style and help them to feel more confident," Lamas said. "These purses will help them to feel better emotionally. The purses can be new, gentle used, or paired with things that come in a purse such as a wallet, jewelry, or new lotions and cosmetics."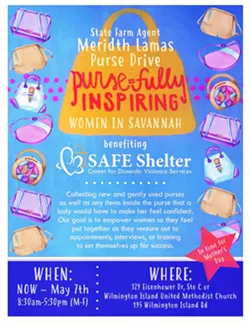 Four local women, Lucy Brannan, Norma Brewin, Harris Lentini and Caroline Armstrong, founded SAFE Shelter in 1970. They shared a dream that no one deserves to live in fear and that everyone deserves respect and compassion. In 1979, the shelter was established as a safe haven for victims and their children to find refuge from at-home violence. The average stay at the facility is 90 days. SAFE Shelter is one of the largest domestic violence shelters in the state of Georgia. To learn about the organization, visit safeshelter.org. Domestic violence affects more people than most people realize. Lamas' annual purse drive keeps it at the forefront of conversation. The Purse-fully Inspiring purse drive promotes positive change in women's lives as they get reintegrated back into the workforce at training, appointments, and interviews. "Collecting new and gently used items is our goal to empower the women when they go to interviews to get back out into the community to put their best face forward," Lamas said. Often, there is an overabundance of specific donated items, but a lack of purses and women's accessories for donation. The collection of these accessories ensures a successful transition with a complete look. Donations can be dropped off at one of the two central locations: State Farm office at 329 Eisenhower Dr., Suite C, open 8:30 a.m. to 5:30 p.m. and Wilmington Island Methodist Church at 195 Wilmington Island Rd.
Another great way to get involved is by holding a collection drive. If your office or group wants to put together a collection site, contact Meridth Lamas by calling 912-354-2390.