FOR HER final show in Savannah, Heather MacRae decided to try something a little different.
The veteran of the art scene is typically a landscape painter, but for the source material for "pedal," opening Tuesday at Sulfur Studios, she had to go into the metaphorical back room.
"I was thinking about public and private and consent and buildings, and this concept of internal vs. external," explains MacRae.
"I started thinking about places we can go, and the body as permission and consent, and this idea of permission of entry into a body. That's where this conversation started to become more erotic, and that's where the source material came from."
To explore the body and its entry points, MacRae began buying porn magazines—she admits she's probably the only one who does anymore—and drawing what she saw.
"These are women who embrace this lifestyle and this public presentation of what we'd consider a more private practice," says MacRae.
"When you're looking at these images extensively, you start to contextualize the body, and that's when I became more interested in this idea of how females are portrayed as sexual objects, but they're always so innocent and demure."
The female porn star has long been a point of contention depending on which wave of feminism you ride, but MacRae sees it as empowerment.
"I've done a lot of reading about how feminists have put down porn for so long, but are starting to realize that women who want to take control of their sexuality and say, 'Yeah, this turns me on, I like this,' and don't allow a straight male gaze to control what they appear as," explains MacRae.
"There's more of a dominant female presence and a claiming of their own sexuality. It plays into that concept of power and I think that's where porn can be really interesting, because there's a shift in the sense of power when women feel like they can take control of their own sexuality."
In "pedal," the figures are all in control, strong and fearless. They're also all without faces.
"That's consent," she says. "I was really focused on line and the body, and also the expression of the female body actively engaged, and I really feel like it all goes back to body as structure and consent."
Perhaps one of the reasons porn is still seen as so damaging is because of consent.
"I think a lot of people see porn as damaging or adverse, but that in turn creates a society where we repress or pusdh down any human feelings we have surrounding sexuality. This can lead to a lot of trauma," she muses.
MacRae admits she was nervous to show this series because some of the work expresses the human body in ways that can be misconstrued as graphic or vulgar.
"My intent is to explore the body as an expression of these ideas of access, permission and public and private consent. However, I'm trying to embrace the Billy Porter quote about, 'It's not my business what someone else things of me.' But I don't know what it is about our culture that there's that very Western idea of Protestant modesty. How do we advance from that?"
One way, obviously, is to hold more shows like "pedal."
The paintings in this show, done in acrylic paint on wood panel, use floral fabric patterns as a backdrop for the figures to comment on domesticity.
"There's no reason to doll up the bodies, because they're all very feminine and strong in their own way anyway," says MacRae, "but it felt like they had that space for that and that weird plastic feeling of domestic intimacy on a public surface. It's all about internal vs. external, public and what happens at home—how these relationships or what we do at home dictates how we are out in the world and what we bring out into the world."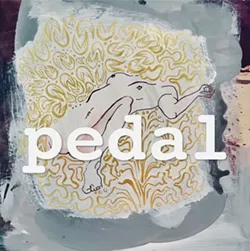 MacRae will also exhibit her "build" series, which she first exhibited in South Carolina.
"I'm obsessed with nun and verb. They're all verbs and nouns, so it's an object and it's an action," she says.
"I also feel like that relates to the body as well, so the object and the body in motion. I used the word 'pedal' because it's both the object that is stepped on to create motion, but it is also the motion of changing things. It's the concept of, 'Here's this platform we're standing on to change things or create motion or progress.'"
"Pedal" might create some of that progress, but MacRae won't be a Savannah resident to see it.
"I'll be back," she promises, "but it's like drop the mic and walk away. I'm literally leaving the next day. Our van is going to be packed for this show."
MacRae has been in Savannah for ten years, where she was a major part of Art Rise Savannah and director of Non-Fiction Gallery. In my opinion, that makes her perspective on the changes in Savannah's art scene, and in general, an important one.
I worked alongside MacRae at Art Rise Savannah for a few years and learned a lot from her perspective. We both came here in 2011 and met a few years later, when the art scene felt very different than it does now.
"I kind of miss back when. 2013 is when it felt like so much was going on," she remembers. "I know there is still a lot going on. Maybe I'm just too busy to go be at it."
Still, the changes have been pretty noticeable for MacRae.
"Savannah has definitely changed a lot since I've been here, a ridiculous amount," she says. "I remember when Foxy opened their doors. It was as if the whole neighborhood changed overnight. I lived on Bull and 37th."
As happens in Savannah, our conversation drifted to the gentrification of the Starland District without ever actually saying the word.
"That's the crazy experience of watching things—all these intense conversations about how that may or may not be damaging," she says. "It damages the people who have lived here and grown up here being able to live or pay their property taxes."
MacRae is moving to Decatur, Ga., so she's not too far to come back and visit, but she might be coming back to a different Savannah than she knows.
"You know the Keep Austin Weird thing? I want Savannah to be kind of weird still," she says, "but I understand that once they put that direct flight in from New York to Savannah, that kind of cracked open an artery. There are some places I'm like, 'Wow, is this Charleston? This is not the city I thought.' Nobody wants it to turn into Charleston, but there are definitely some places you can't tell the difference. We'll see what happens."
CS