IF YOU love My Fair Lady, you'll love Pygmalion. Just don't expect any singing.
My Fair Lady, of course, was written in the 1950s by the all-star musical theatre duo of Lerner and Loewe. It is based on George Bernard Shaw's 1913 play Pygmalion, itself inspired by the ancient Greek myth about a sculptor who falls in love with his own marble creation.
The film version of the musical, starring Audrey Hepburn as Eliza Doolittle and Rex Harrison as Henry Higgins, is one of the most widely beloved movies ever made.
While Shaw's play isn't a musical, the characters are virtually identical, as is the core transformation of Eliza from a humble but street-smart Cockney girl into what seems to be an upper-crust aristocrat.
Local theatre standout April Hayes plays Miss Doolittle in Collective Face Theatre Ensemble's production of the Shaw play, opening this weekend.
"When I was a little girl I saw My Fair Lady. I watched it with my grandmother. I remember when Eliza Doolittle came down the stairs in that ball gown. I said to myself, I'm going to be her one day," Hayes recalls.
"Also I love doing accents, I love Shaw, and I love classic theatre, so I couldn't turn it down!"
Director David I.L. Poole explains the decision to stage Pygmalion.
"Though My Fair Lady has been called the most perfect musical ever made, there's a reason we chose this and not the musical. It's a great addition to our season, and sort of our second delving into classical theatre," Poole says, Death of A Salesman earlier this year being their first.
"Also, it's hard to do a musical without a cast of 40. We are doing this play with like 12 people. If you like My Fair Lady, it's wonderful to see the source material. It's been interesting to see how easy it is to fall in love with this play."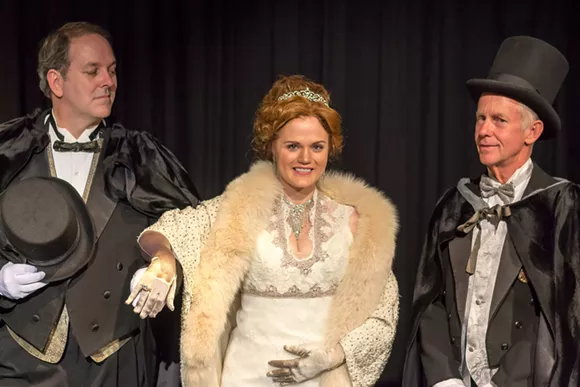 As you might expect from a writer and social critic of Shaw's caliber, his play delves more deeply into the thorny issues involved with Eliza's metamorphosis, and what it says about Britain at the turn of the 20th Century.
"It's interesting to see how much more independent this Eliza is than in My Fair Lady," says Poole.
"This is set during the suffrage movement, so it's about early feminism. It's also about the morality of the middle class, as seen through Eliza's father Alfred."
Also, this: Pygmalion is really funny.
"I don't think people realize how funny this play really is," says Hayes. "It's a social commentary on the British class system, and also a social commentary about women's independence. It's political and social satire, and very much a comedy. It's not dry or didactic at all."
Poole says another key point about Pygmalion is "it's more about the Henry Higgins story than Eliza's."
Local theatre veteran Mark Rand plays Higgins.
"You really do get to see a little more about him. In comparing the two, I feel he comes across a little better in Pygmalion," says Rand.
"In My Fair Lady some of the material makes him seem more misogynistic, which I don't really think he is in Pygmalion," he says.
"I think Shaw put a lot of himself into character of Higgins. A lot of the social commentary in the play reflected Shaw's own views at the time," Rand says.
"He was somewhat socialist, and had the belief that everyone should be treated equally. He was proud of the fact that he treats a duchess the same as he would a flower girl."
That said, Rand also describes Higgins as being in a form of arrested dveloipment.
"He's a little bit of a savant. Childlike in some ways. We all know people like that — they're brilliant in one area but socially inept in others."
Rand says he's been in two previous productions of My Fair Lady in years past.
"I auditioned for Higgins twice before, but didn't get it either time," he laughs. "I was always a fan of the story."
While this isn't a musical, Hayes says, "the beautiful thing about this play is there is real singing in the language. I'm trying to do this portrayal as Eliza almost singing the words."
Hayes says Poole's direction has made all the difference.
"David pressed the point that we shouldn't be afraid to make mistakes in rehearsal. He wanted us to play with this, to bring the play to life. Of course there are several adaptations and you can get lost in the different versions. Our version gives you a lot of freedom," she says.
Community theatre rarely has the luxury of something as exotic as a dialect coach. But for Pygmalion, Collective Face utilizes the talents of Jeffrey DeVincent to help Hayes navigate Eliza's transition from her native Cockey accent to "RP," or Received Pronunciation, i.e., the stereotypical upper crust English accent you might hear on the BBC.
"Jeff DeVincent is fantastic. I did a lot of listening. It's like learning songs — you have to use your ear. Same thing with Cockney and RP," says Hayes.
"It's especially challenging with the Cockney accent. In the play, I am low class and no one can understand me. Yet of course I have to be understood by the audience. That's the balancing act."
Hayes is doing another balancing act: she's the mother of a son who's a little over a year old.
"I had just given birth, and David called and said, 'I know you've got a lot on your plate right now, but I have the perfect role for you,'" Hayes laughs.
"So I took the summer off to prepare for Eliza. We started rehearsal in October, right after my son's first birthday! Our children are our greatest motivators. I feel like I'm setting an example though he's only a year old."
Rounding out the cast are Eric Salles as Mr. Doolittle, Gary Shelby as Colonel Pickering, Julie Kessler as Mrs. Pearce, and Dandy Barrett as Mrs. Higgins. Additional cast members are Nory Garcia, Casey Bessette, Kevin Santana, Lisa Buse, Corey Hollinger, J Frank Lynch, and Garrett Ward.
For Collective Face, this production is a bittersweet one, as it's the last show the troupe will perform in Muse Arts Warehouse before the lease is up and the building is renovated into residences.
"For the time being, we'll be moving our shows into the Kennedy Fine Arts auditorium at Savannah State University," Poole says, adding that the space will probably allow a wider range of material anyway.
Echoing many other observations about the changing character of Savannah, he says, "The rents downtown have gotten so insane, they're beyond the reach of just about any arts organization."
cs