YEARS AGO, Heather Provoncha found herself right in the heart of Atlanta's glitzy LGBTQ performance art scene. From burlesque to drag to spoken word to comedy, Provoncha was enchanted and inspired by the strong Southern artists living their dreams and felt driven to tell their stories.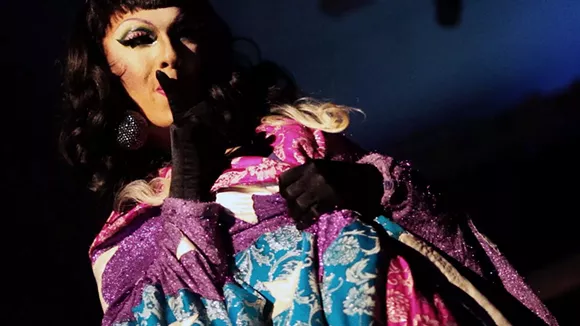 Queer Moxie is the result of seven years of filming, compiling archival footage, interviewing legendary drag stars and up-and-comers, and showing all that Atlanta's performers have to offer.
The film screens at Armstrong State University this weekend and will kick off with real, live performances from Savannah's own Dax Exclamationpoint and Rita D'Lavayne. A Q&A session with the filmmakers will follow. Afterwards, the party continues at Club One.
We chatted with the passionate Provoncha about reaching multiple generations through movies, the power of positive filmmaking, and the magic of cultural revolution through art.
Are you from Atlanta?
I'm from Vermont originally. Not much actually stays in Vermont; people go chase their dreams in other places, and that happens in Atlanta, too. At first, I was going to make a film looking at different areas and regions—South versus Northeast, the Bay Area—and that's really large. I moved to the South a little over a decade ago, and it's got my heart, and folks here have my heart, and it's a little harder. So that became really important, and I wanted to celebrate folks who stayed in the South and continue to make art. That's how [Queer Moxie] evolved.
How did you discover the Atlanta performance scene?
I always chase things that are fabulous and interesting. In Vermont, I had some friends who performed, and I stage managed for them. So I had some connection. I courted a burlesque dancer when I first moved here and helped her and her friends, was a cheerleader for them. That naturally evolved to a cabaret. I noticed a lot of stages and opportunities for drag queens and songwriters, but not as many who didn't fit inside that.
I said, 'Hey, tell you what. You work on the great numbers, and I'll put on the show.' The more I did that and the more I traveled around and connected with all these amazing artists doing amazing things, I had an amazing opportunity to be backstage and in the audience. I saw what the audience doesn't see, and I got to experience firsthand what performers don't get to feel from in the audience.
I'm also 43, so I feel like a pivot generation, and I recognize that folks before were really about overcoming adversity, and a lot of it was coming out. That was really important. Now, there's this wave. We stood up and walked for power and positivity. Now, it's not about coming out, it's about showing out. A lot that is explored in these shows.
You've been working on Queer Moxie since 2009. How did the project evolve?
It took seven years to make. I thought it'd feature a few performers, show a classic documentary style, behind-the-scenes—and then I realized it was evolving into a celebration of an entire community. Everybody has their moment where they go out to a show and see the different ways to be represented and be and find themselves, and I found that really exciting. The more I gathered, the more people wanted to talk. It evolved to this evolution of art, coming out, but as an evolution of queerness, before my eyes.
First, we gave them the stage—there were some campy queens and classic queens—then added some drag kings, then added burlesque and sexuality performers, comedians, and it started to queer itself up on top of that. Even as drag becomes mainstream, there's still art that is fringe and continues to be performance-based. There's a lot to be done with it; it can be funny, it can be serious, it can have a point, or no point.
How did you balance the history of Atlanta queer performance, what's happening right now, and what's ahead?
I didn't want to say or define anything. People thought I would have to define the word 'queer,' and I refuse to. We showed the art, people getting onstage, then we continued to overlap the experiences they had. It's kind of in chronological order as I experienced it. As each is introduced, there's some core topics that the queer or performance art community deals with—being onstage, being of size, of color, or queerness or varying gender expression—all these different elements, their voices add to the conversation.
The goal was to show people that have shows on a regular basis, lots of folks taking up space in a positive way, using their voices and art to make a statement. Some are just chasing fabulousness and being a local celebrity...we talk with a lot of people who were the 'firsts' in the area, like the first drag king troupe in Atlanta. We see how they experienced it.
These are original moments within Atlanta, and especially since I'm not from here, this is a universal story told in a specific place. I call it a love letter to Atlanta. There's something really righteous about it. New York, The Bay Area, their queer revolution was quite a while ago. This fabulousness is happening in these areas right now, and people are still making a mark.
You mention being in a pivot generation. How do you speak to an older and younger generation through the film?
I want you to see the older generation who fought to see that [they've] done some good work. Look at all these people who now strut down the street because of what you did! We're just far enough away from some history and the way that we consume information now is so quick, these kids actually grew up with RuPaul's Drag Race on television. Orlando was a real shock for this generation. We want to make sure they knew where we came from, and we are writing our history and we are telling the stories that are happening.
It comes from this place, but it doesn't have to stay here. It's no longer, 'We're here, we're queer'—it's 'we're here, we're queer, and we really care about racism.' A marginalized group advocates for itself. We want to have a conversation and have it safe for everybody.
The film's received wonderful praise. What's it been like hearing from your audiences?
It's fantastic. I've had some older folks cry in feeling this wonderful release of power. Much like me, most of the films we had growing up were hardship films: dying, discrimination. Things that were very, very real. There's real power in feeling positive. I want to show that we can talk about that while celebrating.
It was important to me that people that are not represented are represented, equally representing folks of color, folks of different gender expression, different ages, really just all the ways you can be. The emotional pride comes back out.
CS