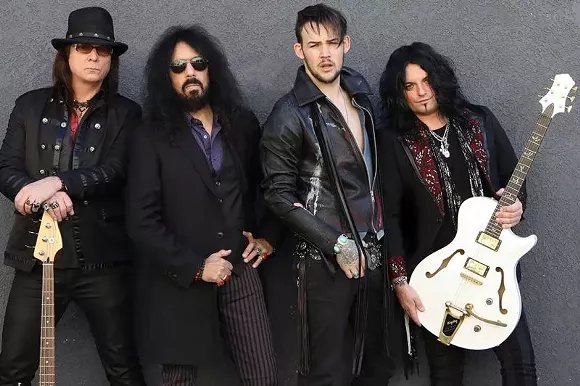 Often called the first metal band to top the pop chart, Quiet Riot helped define rock 'n' roll in the 1980s.
Founded in 1973 by legendary guitarist Randy Rhoads and bassist Kelly Garni, the band debuted as Quiet Riot in 1975 along with vocalist Kevin Dubrow and drummer Drew Forsyth. The band released two albums through Columbia Records in 1978 and 1979. After Rhoads left to join Ozzy Osbourne's band, Quiet Riot broke up and Dubrow began a new project under his own name.
After some time, he took the Quiet Riot mantle back up, hitting the studio with guitarist Carlos Cavazo and bassist Rudy Zarzo to record the band's signature record, Metal Health. The 1983 album produced the iconic single "Cum on Feel the Noize," (originally recorded by the band Slade in 1973) dominating the charts and going platinum five times.
The band's gone through many brief breakups, reformations, and lineup changes throughout the years, continuing to record with Dubrow until his unexpected death in 2007. After his passing, several singers were brought in to replace Dubrow, and Savannah can catch fresh talent James Durbin taking the reins at The Stage on Bay.
Durbin was a finalist on American Idol and a fan favorite; he'll record the new Quiet Riot album Road Rage with the band. The album is set to be released sometime this summer. The young singer has expressed a desire to help elevate the band to its original glory and honor Dubrow's legacy.
In collaboration with Rock 106.1, The Stage on Bay is hosting a free Battle of the Bands on Thursday, March 23, at 7 p.m. The winner, determined by the crowd, will earn the opening spot at Quiet Riot's concert. Local bands Lindsy Says, Street Clothes, and Groove Town Assault are competing.
Friday, March 24, doors at 7 p.m., show at 8 p.m., $25 via savconcerts.com, all-ages