IT'S Thanksgiving tradition to express gratitude for shelter. After Hurricane Matthew, Tybee Island residents have an even deeper appreciation for such a seemingly simple blessing.
Many locals, like Tybee Post Theater Executive Director Melissa Turner, suffered tremendous loss in the storm.
"A lot of people don't realize how bad Tybee got hit," Turner shares. "My house got flooded and displaced and taken down to the studs. We lost an awful lot."
In addition to her home, the theater that Turner and a number of residents have worked so hard to restore was subject to damages.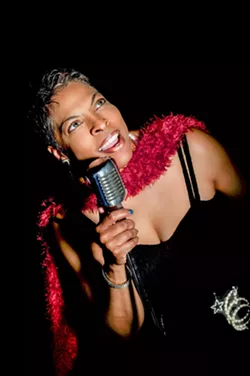 "It's one of those really unfortunate, unforeseen circumstances," she says. "You think the Theater has weathered it pretty well—let's face it, this building has been around for 75, 80 years, and withstood everything! This was actually the first real hurricane."
Thanks to a small business administration loan through FEMA, the theater's roof shingles, ripped off in the storm, are currently being replaced. But the organization has been set back $22,000 by Matthew's destructive path.
Jim Wann, composer and leading man of Broadway's Pump Boys and Dinettes, part-time Tybee resident, and early supporter of the theater, was heartbroken to hear the news. Before the storm, he and Turner were in talks for a holiday concert scheduled some time between Thanksgiving and Christmas. Once the roof was patched and the inside of the theater was dry, Turner announced that the theater would proceed with November programming.
"I said, 'I think we should do it as a benefit, don't you? Wouldn't it be timely and helpful? '" Wann recalls. "She loved the idea, and I started talking to some musician friends, all of whom are local."
Wann has crafted a diverse, fun-for-the-whole-family program that shows off the talents of songstress Kim Polote, Steven Bryan, and The Tradewinds Rhythm and Blues Band.
Wann met Polote while he was judging the American Traditions Competition (Polote won a gold medal and $10,000 in 2001).
"We met there and I've heard her sing at some of their events and other places," Wann says. "She's a terrific singer."
He praises the great musicianship of Tradewinds and his next-door neighbor, Bryan, a former player with The Coasters and Little Anthony and The Imperials.
Programming a Thanksgiving concert seems a little more difficult than, say, picking out songs for a Christmas-themed concert, but Hann stepped back to look at the broader scope, remember Matthew, and remind people of life's joys. He'll open the night himself, singing his original song, "Surviving the Storm." Taken from a show he wrote about Tybee Island ten years ago, the song was inspired by a friend who visited the island after a major tragedy.
"She walked on the beaches, eventually bought a cottage, and did a lot of her healing and starting over on Tybee," Wann explains. "There was something healing about Tybee from the beginning to my wife and I. It's a good song to start off with—a lot of people, like us, lost a big tree in their yard—we were lucky ours didn't fall on our house, but others weren't so lucky. They've been flooded out and essentially had to go down to studs and rebuild. Everyone's really counting their blessings."
The program is peppered with optimistic numbers like "Sunny Side of the Street," and Polote will remind everyone of the reason for the festivities with "Up On the Roof."
"Mainly, the show is American Songbook, standards and R&B," says Wann. "It's such an excellent combination of musicians."
Turner, too, is excited to hear such talents unite for a good cause.
"We're just real pleased that all these musicians were willing to come together and help support the Post," she says. "It's going to be a great show, like nothing we've done here, This show shows the breadth of what we do here—we did Girls' Night Out At the Movies last night, then we've got The Lion, The Witch, and The Wardrobe stage play put together by a great children's theater. Sunday, we've got Tybee City Limits. So it really shows the entire spectrum of what we can do here. We're just so excited to have a show with this caliber of entertainment and to have Jim produce it."
A part-time Tybee resident for 12 years, Wann has witnessed the theater's impact firsthand.
"I think it's been very welcoming to the musical community in the greater Savannah area," he says. "There are not a lot of spaces that are that size and have that kind of nice, welcoming vibe. The audience is really enthusiastic and in a place that size, those dimensions, when the audience cheers or claps or reacts to something that's onstage, you really notice it. They're right there with you. I think it encourages community by its size and style."
Wann looks forward to raising funds and spirits at the theater, and he knows his fellow Tybee folks will deliver with their signature enthusiasm.
"There's going to be dancing in the aisles!" he laughs. "Really, that's a tradition at the Tybee Post. I think with this combination of musicians, it'll be a big celebration, and hopefully we can raise a little money for the Theater."
CS