RAYMOND GADDY is the first to acknowledge the precarious nature of truth.
"I don't think there is any such thing as a purely truthful story," Gaddy says.
"I think there is always a bias. We tend to exaggerate stories, particularly when we are telling them to our friends. They become tall tales."
It's such stories that visually play out in Gaddy's work. A collection of his recent mixed-media drawings, "Tall Tales", is currently on view at the Cultural Arts Gallery through August 28.
Gaddy's interest in storytelling stems from diverse sources—his family, science fiction, Renaissance and Baroque paintings and medieval art, which he relates to other influences, like comic books.
"I enjoy looking at artists like Caravaggio, who was very much, in my opinion, a storyteller," says Gaddy.
He tugs at these threads and intertwines them with his own experience and that of his extended family—friends, colleagues, students, and others with which he has formed lasting connections.
"They're always my stories but my family, my friends and my kids' friends, all those sorts of things, they are supporting actors in the stories," Gaddy says. "I pull from everywhere. If it's happened to me, it's fodder for use."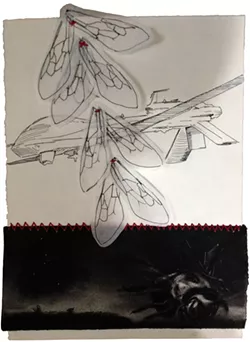 Gaddy's works play with point of view; the images often appear to come from a child's eyes. While the stories he tells are his, he is in some sense a mediator.
"I have two kids and I'm watching them grow up and living vicariously through them," Gaddy says. "Right now is a good opportunity to re-tell and re-see things through their eyes."
His own childhood growing up in a large tight-knit Alabama family, has always informed his work, and now these experiences merge with observations of his own children.
"I think about them a lot when I'm making work," Gaddy says. "I've watched my work change as they've gotten older. So while my work always had that kind of childlike quality, I steal from them too. Things have changed over—well, my son is 10—so over the last 10 years."
Normally an oil painter, the new works are all on paper and utilize a quilting technique. This shift in materiality is a nod to his roots.
"It's a bit of a departure for me, but the mediums are very important. The quilting part—a lot of my family members sewed. I'm from an area near Gee's Bend where the famous quilts were done, so I grew up looking at those things. But the paper certainly plays into the things too. My family was tree farmers. We grew trees in Alabama to make paper out of. So definitely medium was part of the message here," Gaddy says.
In this exhibition, the work is nearly monochromatic—another departure for Gaddy, usually a color enthusiast. He employs his quilting technique to piece together bits of drawn imagery with colored thread—a drawing instrument in his mind.
The small drawings he patches together are minimal and simple, emphasizing form through stark line. He depicts fish—a seeming homage to the classic tall tale—cars, moths and other emblems of Southern living.
Larger drawings, onto which he often stitches the quilted paper tapestries, are bold and dramatic, revealing his admiration of the Baroque through his use of light and darks.
These larger images evolve from smaller "stream of consciousness" pieces, which form intuitively from doodles and experimentations.
"I see two images that kind of work together and put them together. Then later on I'll add something to that. So they can take months to do. Those pieces, they often get stories after the fact and lead to the bigger pieces," Gaddy says.
His process is revealed in the exhibition through a sampling of the smaller experimental works and a handmade book of sketches.
The process-oriented pieces compliment the epic scale of the other drawings, where audiences are overcome by masterfully articulated scenes. An astronaut floats far above the viewer in one. In another, an isolated Death Star like planet hangs in expansive space.
"I am a bit of a nerd, so Star Wars and comic books pop up," says Gaddy with a grin.
The large-scale drawings have a gestural quality in juxtaposition to the smaller bare-bones renderings, where he frequently repeats imagery.
"Repetition is a big aspect of my work. Part of it is things like quilting—repetitive motion of the stitches. You'll see that in a lot of the work. Counting things," says Gaddy.
The repetition feeds the childlike perspective of the works, and calls to the evolution of the tall tale.
As stories are repeated they morph. The memory of telling the story often overpowers the initial memory. Repetition allows for great stories to flower, while also distancing it from original experience.
In "Tall Tales", Gaddy embraces this human tendency and celebrates its place in personal historical tradition.
cs