FORTY-FIVE years ago, the United States Supreme Court shook the nation with its decision to outlaw restrictions on abortion, Roe v. Wade. While the phrase weaved itself into our cultural lexicon in those years, it has again regained relevance as our administration considers the repeal of the decision.
As far as medical procedures go, abortion remains as vilified as it is misunderstood. In addition, many women are shamed for getting abortions and don't feel comfortable talking about it.
That leads to the outdated ideas we hold about abortion—think Penny's abortion in Dirty Dancing and the whole baby fingernails thing in Juno—which doesn't accurately represent the modern procedure.
That's where Sulfur Studios comes in with their juried show, "Roe v. Wade," on display Sept. 20-29.
Sulfur put out a national call for entry asking artists to respond to the theme of Roe v. Wade. They used three guest curators—Heather MacRae, Chela Gutierrez, and Jeremiah Jossim—to select the body of work.
"In selecting artwork for Roe v. Wade, I was looking for a holistic view of the subject matter," Jossim explains. "We all know the clothes hangers as a mode of abortion-themed art. I wanted work that found its own language to speak about abortion, but maybe just what it's like to be a person in our society who may need an abortion and the state of being that produces."
Jossim makes two stellar points in that statement: hangers are a heavily utilized visual trope about abortion, and a person experiences a complex state of being after discovering the need for an abortion.
Hangers as a visual trope for abortion simultaneously pay homage to the struggle of illegal abortions and reinforce the misunderstanding of what abortion is today. Sure, coat hangers were previously one of the only ways to terminate a pregnancy, but that's inaccurate for post-Roe abortions. Today, the procedure can be either medical or surgical, and neither requires anything close to a coat hanger. The artists of this exhibition utilize, but don't rely on, the traditional imagery used to portray abortions, which creates a more thoughtful and nuanced exhibition.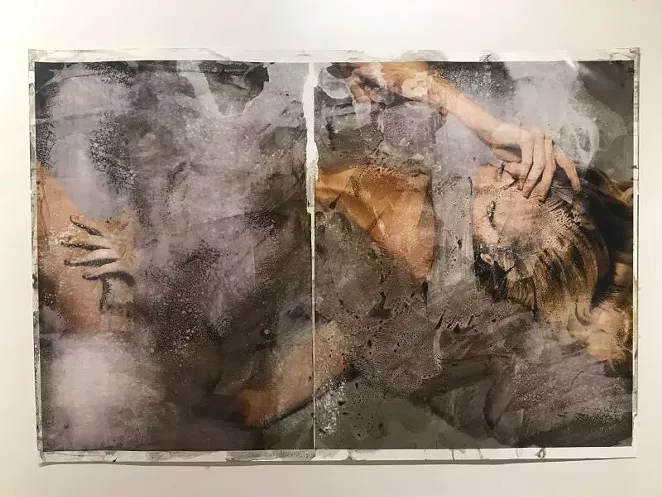 The artists also turn the focus away from the procedure itself and onto the person needing the procedure. Susanna Deal's photograph, "I Voted Today," features a woman with voter stickers stuck all over her body; Rebecca Slivinsky's painting, "Eradication," strategically obscures the woman's image. The inclusion of this type of work does a lot to humanize the person needing the abortion.
It's clear that the jurors intimately know and are passionate about Roe v. Wade, which helps the show to be even more powerful.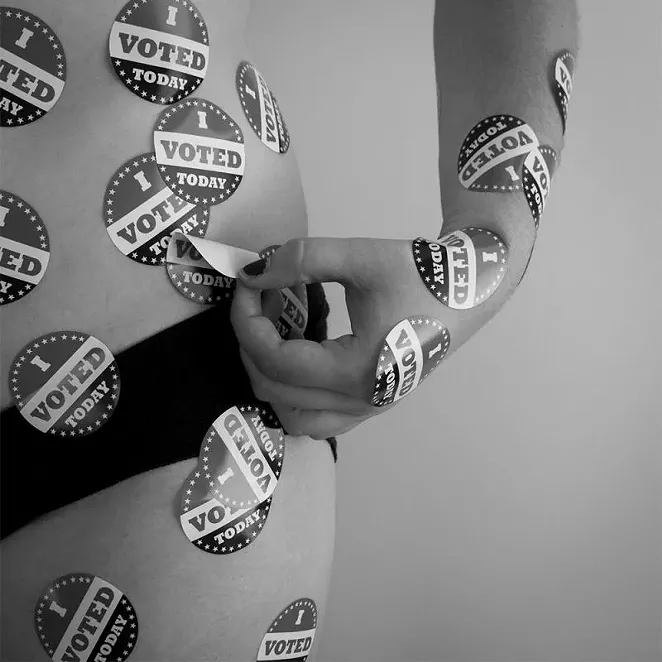 "Roe v. Wade and [Planned Parenthood vs. Casey, 1992] mean exactly what the court stated as a central tenet of the Roe v. Wade ruling: 'Matters, involving the most intimate and personal choices a person may make in a lifetime, choices central to personal dignity and autonomy, are central to the liberty protected by the Fourteenth Amendment,'" says Jossim. "Abortion and guarantees to healthcare for women fell to the court because of a failure of our legislative and executive branches to protect women's rights and their healthcare."
Planned Parenthood vs. Casey was a decision affirming Roe v. Wade and called into question the constitutionality of Pennsylvania's statutory provisions about abortion.
"Roe v. Wade as a judicial decision represents freedom for a woman, the empowerment of women's ability to make decisions for themselves about their body, their future, their health, and safety," adds MacRae.
"Truly, each piece has a different element of complexity that weaves itself into the show overall. I think that they all work together very well and create an active dialogue about a controversial topic."
cs