Ralph Waldo Emerson once said, "Live in the sunshine, swim the sea, drink the wild air."
Those of us fortunate enough to live on or near Tybee Island know and appreciate the beauty of these poetic words in relation to our own coastal jewel.
Before the coronavirus pandemic, Tybee Island welcomed more than a million visitors to its sandy shores, shopping in the local spots and filling the many area restaurants. Today, island authorities are prepped for another full summer of visitors and vacationers.
David "Matt" Bowen, Special Operations Captain for the Tybee Fire Department is also responsible for the lifeguards.
He is poised with a team of expertly trained lifeguards to do everything in their power to keep the beaches and their inhabitants safe.
The full-on lifeguard season typically runs between mid-May to October.
"However, due to how busy things have been, we started having skeleton crews on early," says Bowen.
Things are in full swing for a fresh season for the Tybee Lifeguards.
"There's a lot more to [being a lifeguard] than just swimming," Captain Bowen said. "These guys have a vast knowledge of many things they may encounter daily. Every guard has basic CPR training, basic lifeguard certification, and open water ocean skill training."
He paused and stressed, "They're training daily. They get here at 9:00 a.m., get set up, have some downtime, and from 9:30-10:00, they're getting training, doing anything from [rescuing] simulated victims, running up and down the beach, and going on quick break swims. We also do a 30–45-minute session on pure medical training covering anything they could encounter… CPR, drownings, basic first aid, and things of that nature."
"We recruit to an extent, but the majority of our guards are locals. We have some college kids and others coming from surrounding [towns and counties] areas, but it's not nationwide, yet. We'd love to get to that place where we can promote our program and showcase the beauty we have here on Tybee," he explained.
Bowen has been in the fire service for ten years.
"I started in Augusta in a small department. I became an EMT basic and firefighter at [age] 19 and then slowly climbed the ranks as I started getting experience." Through a bright smile, as he maneuvers his emergency vehicle on the pristine beach," he said, "I moved to Tybee Island about two years ago and I haven't looked back since."
The captain continued to further his education and put in the time on the job.
"Now, I'm the special operations captain. I've taken over the lifeguard division here on Tybee which is part of the fire department. I've also taken over training and the medical division. All the medical, fire department, and lifeguards… all of their training, I do it. I'm very blessed with this opportunity."
Currently, the Tybee Lifeguards have 33 guards and are still accepting applications.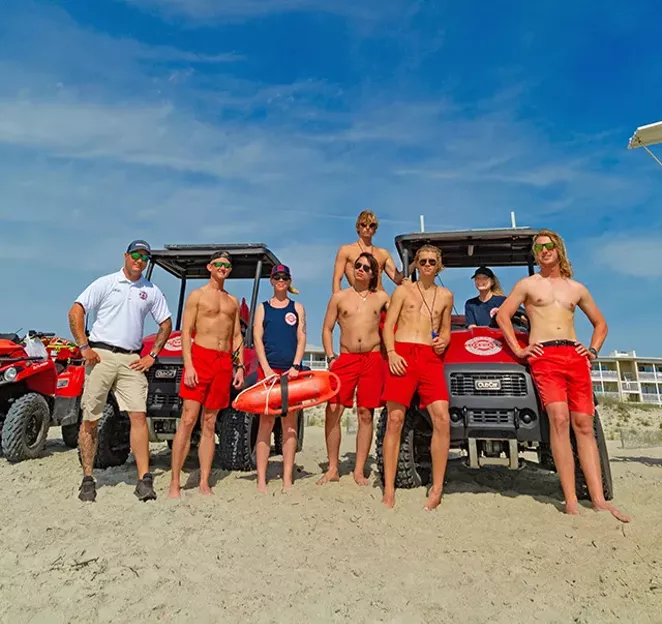 "We're also hiring dispatchers to support the lifeguards themselves," Captain Bowen explained. "We have our own communication center that dispatches us directly, so we're hiring folks for that. We've had dispatchers in the past, but had never advertised it before. We've made that application available to be strictly dispatch, which is new and a key feature we kicked in this year. We're excited to hire people for the positions."
Todd Robbins, a 33-year-old registered nurse from Savannah, is one of Bowen's well-trained brigade. In his third year, Robbins said he gets personal satisfaction out of the job.
"I was looking to expand my nursing skills outside the emergency department and this kind of gave me a way to further my duty to rescue which is important in nursing. I found the work similar to the water rescues," he explained.
"We do drills and rescues on a weekly basis and just try to be in the water as much as possible," Robbins said. "We also have a yearly swimming and running tryout to keep everyone up to date with our [two year] CPR certification."
The captain noted, "We have some guards who are EMTs as well, state and nationally certified. We have paramedics, as well. Some of the fire guys come out and help occasionally. They have to have EMT certification, so they're automatically helpful."
The gathered team already show signs of time spent in the early morning surf, ready to open the tower and get to work. While the camaraderie and cohesion are apparent with the guards prepping and kidding around with each other, Captain Bowen said when it's "go time," they are ready.
"When they're hanging out, it's having fun, making quips, joking, etc.… But, when needed, these guys put on their game face and they are going to give you everything they have until they don't have anymore," the captain said emphatically. "Then, they're going to push a little bit harder to complete their mission and their goal."
Johnny Young, a Wilmington Island local, is on his third summer as a Tybee lifeguard and takes his responsibilities quite seriously, but appreciates the opportunity. "I was in college and found out about the job through a friend. I decided to train up, so I got in the pool, got running, and I just fell in love with [lifeguarding] as soon as I got out here."
"I rarely have issues with folks, but when I do, it's almost always alcohol-related and being disorderly," Young shared.
He chuckled and added, "The main thing I do is corralling people." It sounds humorous, but he added, "Lifeguards answer a needed function. People obey the lifeguards for the most part. They respect the authority. If folks get too close to the pier or are in the water beyond 50 yards from the shore—that's our city limit on letting people swim out have to let them know. Honestly, it gets busy out here, but you wouldn't believe we get a lot of lost children and lost parents."
When he and other guards find themselves in these situations, Young said, "You have to stay calm. You do your best to keep the parents calm, assure the kids who might be lost, get on the radio and dispatch and describe the person so we can get everyone looking."
Young touted the medical work they also regularly perform. "It may be something as low as a cut needing a Band-Aid to doing lifesaving work out here. I've done CPR twice in three years. It can be serious out here. It's rare because we prevent things from happening."
Johnny plans to continue at least one more summer. He's currently in EMT school working on other forms of rescue work. Which seems to be a consistent career path for the lifeguards patrolling the Tybee beaches.
"A lot of them are looking at this as a career path," Captain Bowen said. "I haven't been doing lifeguarding as long as some of these guys, but even if I was starting out wanting to be in a fire department, EMT, or even police, lifeguarding is an incredible start to any of those careers. It gives you the very basic medical knowledge as well as being involved in public safety. It matures you up very quickly."
Sitting nearby the hardworking lifeguards on the day of this interview was Kerry Hithley, visiting Tybee Island from a small farming community in Indiana. Ironically, she was a lifeguard 55 years ago.
Hithley watched the Tybee crew and stated one of the biggest differences in lifeguarding today compared to when she did it was, "There's better training, for sure. We didn't have to know CPR, first aid, or any of that," Hithley explained. "I was already a Girl Scout, so I knew those types of things."
In a further comparison of now and then, Hithley said in her time, people were "better behaved to a certain point. Parents seemed to be more receptive to authority than they do today. I didn't lifeguard more, but I was a teacher and there are a lot of similar experiences."
Hithley said her two-year stint as a lifeguard wasn't in the ocean, rather, she trained at a dark, murky reservoir. "It was fun, but challenging. It was tiring just sitting on the chair and looking all day—nothing like what these folks are doing here on Tybee—but it was a job with responsibility."
She added, "I think I got paid a buck-fifty an hour."
Hithley has been visiting Tybee regularly and greatly respects the lifeguard group she sees. "They're good, very good, at what they do. They are quite patient from what I've seen. This is our 15th year visiting—we come at least two times a year—so we've seen them come and go. It's not an easy job and I wouldn't want to do it at all, but these guys have great training and know-how to get it done."
One such guard, Caelan Schrama, 22, is an enthusiastic Savannah local who drives out every day for his first-year lifeguarding on the island, although it will be his eighth year doing the role that he loves.
Schrama explained why he enjoys lifeguarding.
"Honestly, it's the adrenalin. It's so much [satisfying] to do the things I'm actually trained for. Some people like to sit around in a chair and be preventative, which, of course, we want to prevent stuff. But, getting the opportunity to get out there and get someone… the rush of that is so much. I've had to do it. And I've helped. I helped them."
He continued, explaining the satisfaction of a job well done.
"It's kind of just like once you know something's happening, you snap into gear. It goes by so fast that you don't realize all of your actions until you're done. Until you're out of the situation. You go out, you pull the person in, and they're like, 'Oh, my God, thank you,' and you realize, 'I did this'"…he trailed off for a moment as if reliving the experience. "It's crazy. The instincts kick in and you just… go. There's thought to what you do until the situation has de-escalated. You don't have to worry because you're always—always—prepared for any situation."
Schrama said, "I don't think I could ever live without the beach, but first responder work is something I do want to continue. I'd like to increase my training by moving into EMT, paramedic, and firefighter. That's what I'm aiming for."
"As young as a lot of these guards are, they are incredibly mature," Captain Bowen said. "They know coming into this [job] that human lives are at stake—to include their own—and they take pride in what they do. I couldn't ask for a better group. You can tell they have fun, but are serious about why they're here."
With the formal start to summer around the corner, the Tybee Lifeguard group shared advice to visitors and locals.
"Stay off the sandbar. Please. Really, please," Todd Robbins requests firmly.
To echo his sentiment, Johnny Young agreed.
"The biggest issue is keeping people off the sandbar. We need help getting the word out. We need people to stay off it… it's never safe. Ever. Please believe it. If you're coming to this island, please help us out, and don't go out on the sandbar."
Bowen explained more.
"The sandbar [at South Beach] is usually our biggest issue. It's very enticing because of how large and beautiful it is, but it fools you." he said. "In low tides, it's usually crossable through sand paths. The major problem with the sand bar is due to how much the tide swings, people will get back out there on the far side and it could take you 20 minutes to walk to the other side. They won't pay attention to the tide that rushes in there. If they attempt to swim, usually the current between the shore and the sandbar is so strong that even our most seasoned and best swimmers struggle. That's where the majority of drownings happen on the island – on the sandbar."
Robbins pointed out, "There's a 7-foot tidal change here. I didn't realize how dangerous Tybee was with the strong waters – the push and the pull. They're equally dangerous. They can pull you out to sea or push you under. I think it's the panic that causes people to get into trouble because they don't know what to do. The water's always going to win."
Even a lifeguard with the proper flotation device and equipment could be in a lot of trouble, Bowen said, "We stress how important it is not to go too far out. Have self-awareness."
"Enjoy a safe and happy day at the beach," Schrama said in agreement with his boss. "Know your limitations. Always know your limitations. If you're not a strong swimmer, don't think you can do it. Just enjoy being at the beach and sit back. The worst thing is getting out to [rescue] someone who tells me, 'I'm not a good swimmer.' I have to wonder, 'Then why did you try? Why did you go out there?' Like, you know better than that," Schrama said. "We do try to de-escalate any situation, but there can be times where someone may have had a little too much to drink, doesn't want to listen, people can get aggressive out here. Just keep a clean record and everyone stays safe."
In addition to the dangerous sandbar, Bowen added, "We also get rip currents. You'll have folks who don't know what a rip is or how it works and they'll get pulled into it and panic. That tends to happen out there. However, our guards are very vigilant and observant and on top of it. They are always watching. I couldn't ask for better people."
Bowen added they are ready for what he feels is a continued trend for people to visit the island regularly.
"We expect to keep seeing people wanting to get out of the house and escape reality. The beach is that escape from reality. It's amazing and cheap to hang out on the beach all day to enjoy the sand and water. We've already seen a large increase in beach population even in the early months [of 2020]," he said.
While the captain enjoys taking his kayak out to his secret trout hole on his time off, he is grateful for where he is, the team he has formed, and the opportunities.
"Moving here was the best move I ever made. It's got the small-town feel, but it's also a vacation destination for the books. We have a huge following of people who come every year, but more newcomers. I'd recommend to anyone to put Tybee Island on their bucket list. It's got the beach vibes that everyone craves and wants. It's a neat, one-of-a-kind place. It's like… 'Your vacation is my Monday.'"
He said, "Come out and enjoy the beach, for sure. Keep it clean and just be smart. Enjoy the beach, but enjoy it safely. Wear sunscreen. You need sun protection, even on a cloudy day."
So, as Emerson offered, Tybee certainly answers the call to, "Live in the sunshine, swim the sea, drink the wild air."
Just stay off the sandbar. Seriously. They'd appreciate it.
For more information about Tybee Island Lifeguards, beach and tide reports, as well as other important local information, visit @tybeelifeguards on Facebook.