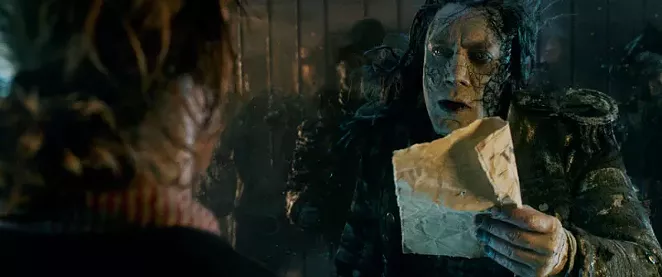 PIRATES OF THE CARIBBEAN: DEAD MEN TELL NO TALES
*1/2

The least sea-worthy – make that see-worthy – film in the deathless franchise, Pirates of the Caribbean: Dead Men Tell No Tales is the sort of big-budget extravaganza that's exhausting in the worst possible way.
Whereas the brightest blockbusters leave audiences feeling happily drained thanks to a real sense of adventure and plenty of adrenaline-pumping excitement (think Raiders of the Lost Ark or the original Jurassic Park), the poorest ones wear viewers out through a bullheaded combination of unnecessary bloat, tiresome developments, and – to paraphrase that Shakespeare guy – unrelenting sound and fury, signifying absolutely nothing at all.
After sitting through a movie like Dead Men Tell No Tales, you don't want to rush out and tell your friends to see it. You just want to take a nap.
It's been six years since the last Pirates of the Caribbean picture drifted into theaters, and a full 14 years since the original film made its debut. Like all that have preceded it, this fifth entry is primarily built around Johnny Depp and his character of Jack Sparrow, and why not?
It was the first Pirates feature that turned Depp into a genuine movie star and earned him his first Oscar nomination, and he's always been the bloodline of this franchise. Unfortunately, that blood is running thin these days – with Depp having spent the last several years playing caricatures rather than characters (The Mad Hatter, Tonto and more), there's no longer any novelty to what was once a blazingly original creation.
His Jack Sparrow is now just a Jack-in-the-box, popping out at regular intervals to amuse the kids.
Brenton Thwaites, the bland hero in last year's Gods of Egypt, is the bland hero here as well, playing the son of Will Turner and Elizabeth Swann (original series co-stars Orlando Bloom and Keira Knightley).
For reasons too convoluted to explain, he's but one of many people seeking the fabled Trident of Poseidon, joined in his quest by Jack and an astronomer named Carina (Kaya Scodelario). Captain Barbossa (returning Geoffrey Rush) is still on the scene, and there's a new villain in the form of Captain Salazar (Javier Bardem), a murderous spirit who blames Jack for his present ethereal state.
For a movie that never stops moving, Dead Men Tell No Tales is astoundingly dull, choked to death by expensive CGI, lumbering set-pieces, and a script seemingly cobbled together even after production was underway (late in the film, Salazar is revealed to possess a power that sure would have come in handy at countless earlier points).
There are a few clever moments strewn throughout – intentional or not, Jack's first appearance is a nice homage to Charlie Chaplin's intro in City Lights — but these bits are too few and too far between.
A couple of the earlier films featured Keith Richards as Jack's father. Figuring that a Rolling Stone cameo should be matched by a Beatles cameo, this one showcases a brief appearance by Paul McCartney as Jack's uncle.
It's an apt inclusion, since a message to the makers of this past-its-prime franchise can be found right there in The Beatles discography: Let It Be.