John Lytle Wilson is a Birmingham, Alabama-based artist known for his colorful murals and paintings. Taking inspiration from 80s era cartoons and movies, Wilson paints robots, animals and storylines into existing works of art for his Corrected Painting Series.
Some of Wilson's work has been featured in New American Paintings, and his murals can be found on several noteworthy buildings, such as the Birmingham Museum of Art, the University of Alabama-Birmingham's Specialty Care Clinic and Facebook's Data Center in Huntsville, Alabama.
In July, Wilson's Exhibit "SPLASH!" will be available for viewing Plant Riverside District's Grand Bohemian Gallery until the end of the month.
Was art something you always wanted to pursue?
Pretty much. My folks growing up were very encouraging, and from about the time of late elementary school or middle school, I was definitely considering doing something with art. My mom taught elementary school and my dad was a political science professor at Winthrop Univ. They were kind of encouraging me to think about teaching art and I did that first. That's sort of what I did initially. It turns out that I never really expected that people would find my work. I thought that the teaching piece would have to be a part of my career, and I enjoyed teaching, but it came to the point where I was having trouble doing both.
So, you've been doing art full time for the past four years?
Before that, I was teaching at Birmingham Southern College here in Birmingham, which is my alma mater. I'd been there five years and just got to the point where I came to the realization that I was able to do art full time, I was probably a better artist than I was a professor. So, I sort of took the plunge and It's been gratifying.
Is there a particular reason you use robots and animals as your main subjects?
I have a master's degree from Florida State and when you're working on your masters, they make you cook up this elaborate artist statement that's the basis of your thesis. I was really interested in animal imagery, animal symbolism, the use of it and different religions and cultural traditions so I was sort of playing with those ideas. At the same time, I really just wanted to have fun and paint robots! The first thing I did as soon as I finished grad school was paint a giant robot on fire. Over time, it's come to be a duality. The animals, particularly the monkeys that I paint, sort of symbolize the Id and the robots maybe the superego. At the same time, they could be bookends of evolution, intelligent life. It's also my opportunity to play with the kind of images that I fell in love with as a kid in the 1980s.
What kinds of images from the 80s?
Transformers, gummy bears, My Little Pony are all the things that we were bombarded with in front of the television in that era. I don't use those characters specifically in my work, but they definitely are the ingredients. I was obsessed with Star Wars too, but that's less of an ingredient in what I've done. I think when I was painting robots, I wanted to be painting transformers. My style is influenced by the early kind of cheesy sci-fi movies. It's also kind of influenced by modernism and reductive, simplified images and forms.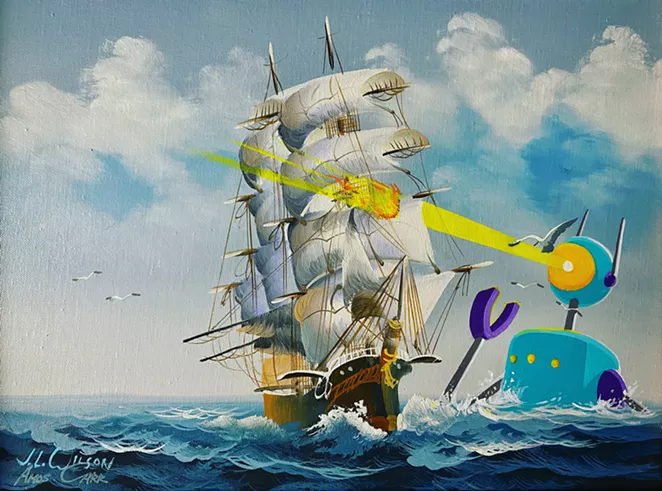 Are there any ideas or issues you're trying to convey through your work?
My art has become more and more about the corrected painting, the types of pieces where I put the robots and animals into existing landscapes. It's become a conversation between my work and the previous piece. The original idea was to have these robots come in and destroy these cheesy sentimental landscapes. If I get my hands on a really good painting, I love adding to it because then it becomes more of an interplay between what the artist set up and what I can maybe bring to it.
Your exhibit "SPLASH!" is coming to Plant Riverside next month. Is the theme of the exhibit aquatic based?
It definitely is. That's what we wanted to do being that Savannah is a coastal city. I really have gotten interested in doing water-based things. Not long after Coronavirus shut down everything, I received a commission to do a giant painting of dolphins splashing in the surf, and I had the best time painting the splashes. My work references a lot of 80s themes, so I thought about the movie 'Splash' and went with that for the exhibit's title.
For more information on Wilson and his work visit johnlytlewilson.bigcartel.com.