"Rockabye" a new and original musical production written and composed by Sushi Soucy and directed by JinHi Soucy Rand will debut at the Bay Street Theatre from September 2-4. 'Rockabye' is a BIPOC and queer led horror-comedy musical about an up-and-coming teenage rock band of misfits that gets hired to sing an eldridge horror to sleep.
"I've always been a Lovecraft fan, and the show is about Lovecrafty and lore, and I just thought that the premise would be funny," said Sushi Soucy.
In the show a teenage band gets hired to write a lullaby for the eldritch horror, Azathoth. In this particular eldritch horror, Azathoth, is that if it wakes up, reality as we know it will cease to exist. Soucy started writing the script in the beginning of the summer and finished it in a few months.
"I didn't write the lyrics first. I wrote the script before I wrote most of the songs. I actually came up with the synopsis for the show first, then I came up with a script, and then I came up with the songs and the lyrics," said Soucy.
The cast of 10 consist of Soucy who will be playing one of the main cast members in addition to their other roles on the production. Snippets of some of the music Soucy composed in the show will be shared online ahead of the show.
"I'm actually not sure when I'm releasing the actual soundtrack but I am going to be releasing snippets of it on my TikTok and my Instagram so that you guys can get a taste before the actual show comes out," said Soucy.
The character development for this show was more of an improvised process for Soucy. Starting out blind as they created the characters but developed them more as the script edit process went along. Diversity was also an important factor that went into this show.
"As someone who is both part Korean and queer, I find that I am not exactly represented in a lot of media that I see and the media that I watched and loved growing up. So I decided that I'm going to make my own. I'm going to make my own representation for myself and my friends," said Soucy.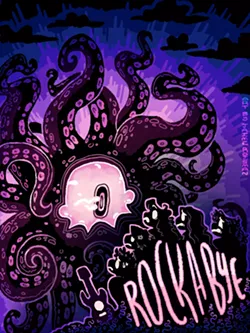 Soucy has been composing music for over seven years but this is their first show that is being produced, and the emotions are flowing.
"I'm really excited, but I'm also very stressed and nervous, and it's a very nerve wracking process, but it's also, like, a lot of fun. I've got mixed feeling," said Soucy.
The show runs September 2-4. Friday and Saturday's performances are for those aged 21 or older but on Sunday the shows are for 18 and older.
For showtimes, tickets and more visit clubone-online.com/events