THE Savannah Rock 'n' Roll Marathon and Half Marathon returns this weekend with a few enhancements, culminating in a free concert in Forsyth Park Saturday afternoon from Michael Franti.
Marketed as "The Beautiful Marathon," Savannah is the smallest market for Rock 'n' Roll Marathon. Still, with roughly 15,000 runners, from all 50 states, participating, the local event is no small thing, and is a major boon for the local hospitality industry.
The Savannah event has a few key selling points for Marathon runners in addition to the scenic beauty.
The Savannah Rock 'n' Roll Marathon is the last qualifier race for the Boston Marathon, and its combination of comparatively flat terrain and generally pleasant weather makes it easier to log a really good time.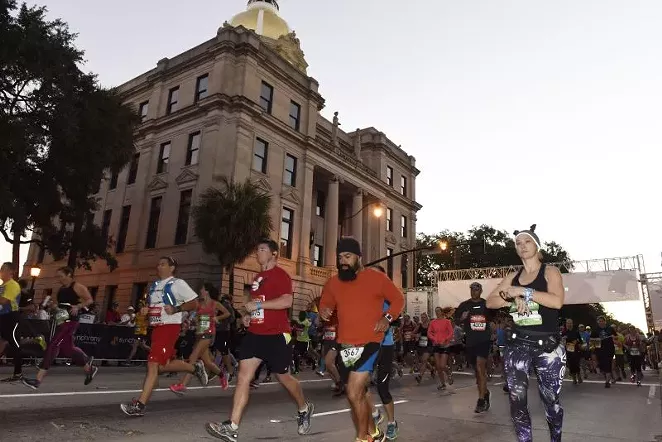 That said, organizers say about one in five participants has never run a marathon before.
This year, ownership of the event has been taken over by Ironman.
"We're excited to be there as a team and bring fun to the run," says Ironman's Keats McGonigal.
In bid to make the event even more "runner-focused," McGonigal's Ironman team broke down the event into three segments: The running experience, the music, and community.
"For the runners, we're bringing more activiation on the course. We've increased the number of bands," explains McGonigal. "The other piece that's new is with the mile markers. In the past that's been a static sign. But this year we're actually setting up a mile marker structure that shows the distances and also has speakers for music."
McGonigal says there will be a new start/finish arrangement of the corrals, "that will help in terms of pacing. Runners will have more flexibility and freedom to run with people who are at their own pace, without needing to mix with people going either too fast or too slow."
McGonigal explains the ongoing, and growing appeal of marathons and half-marathons to the general public.
"You'll always have that very small, elite group" of hardcore marathoners, he says. "But the majority are what you might call average participants. The draw for them is to have the motivation to live a healthy lifestyle. They put time and effort into training for these event, whether the half or the full marathon."
This year, McGonigal says the age range of participants in the half-marathon range from 12 to 81 years old. "Ultimately, everyone has their own motivation as to why they get involved."
He says the community aspect of the event specifically is for non-runners.
"That translates to our many volunteers, for example. And the Michael Franti concert is open to the public. There will be music in Forsyth Park from 8:30 a.m.-3:30 p.m., for the enjoyment of everyone."
For the first time, Humana is the title sponsor of the Savannah Rock 'n' Roll Marathon.
"I participated in the Rock 'n' Roll Marathon in Atlanta, and it was a lot of fun," says Katherine Walker-Robinson, MarketPoint Sales Consultant for Humana. "It really helped me both with my physical and mental health."
Walker-Robinson says Humana's sponsorship of the Marathon this year "embodies our commitment to everyone living a happier, healthier life. We deliver care for the whole person."
cs