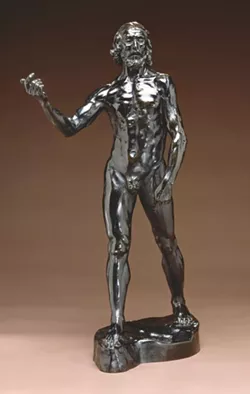 ARTISTS TODAY owe a lot to Auguste Rodin.
"Rodin: The Human Experience," opening Sept. 1 at the Jepson Center, is an exhibition of 32 Rodin sculptures and is presented by the Iris and B. Gerald Cantor Foundation.
2017 marks the centennial of Rodin's death, and the Jepson is just one of the museums around the world commemorating the French artist's life and legacy.
Rodin is considered by many to be the father of modern sculpture for his willingness to think outside the box. Instead of portraying the human body exactly as it appeared, Rodin instead chose to capture the vitality of the human spirit in his sculptures, an unusual approach that was not well-received at the time.
"Rodin was coming of age at a time when the Telfair Academy had just been founded, so you can look at our early collection and even our plaster casts and think about the different ways the world of sculpture was operating," explains Courtney McNeil, Chief Curator of Collections and Exhibitions.
"We had this traditional perspective at the Academy; the way to learn about sculpture was to study works from Greek and Roman antiquity. Then you have Rodin, who's interested in classical work but also interested in creating modern sculpture by considering a fragment of the human body as a fully-formed sculpture. Some of these were accidents—the plaster got broken in the casting process—and he would take an accidental fragment and say this is now a purposeful work of art."
This unconventional approach to sculpture was unpopular at the time and won Rodin more criticism than admiration. While he was commissioned to create "The Gates of Hell," the entryway to a museum that became one of his most popular works, the piece was never used for its intended purpose.
"He experienced decades of rejection and failure, but then he got this big commission," notes McNeil of "The Gates of Hell." "In Rodin's time, the most prestigious work was a public monument or commission, and 'The Gates of Hell' was his first major commission and his way of breaking into the art world."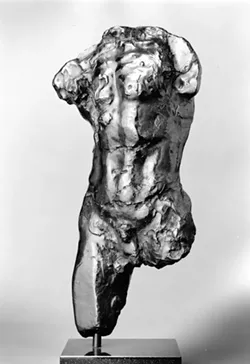 During Rodin's lifetime, McNeil notes, the concept of "limited edition" runs were uncommon.
"Rodin was very savvy about the commercial market," she says. "This was at a time when the middle class was growing and this whole class of collectors was coming up that hadn't existed before. During his lifetime he did not control the amount of works that were cast, like 'The Kiss.' He was so happy to sell as many of those works as he could that during his lifetime at least 319 casts of 'The Kiss' were produced."
While Rodin's art was largely misunderstood during his lifetime, his art later became an important tie between traditional and modern sculpture, and his willingness to defy norms opened the door for other artists to think differently about their work.
"He really provided a jumping-off point for modern sculptors who came after him, but he was just so influential in countless ways," McNeil says. "Once he broke down this idea that sculpture had to be literally representative of the human form, so many people took this idea and ran with it. He opened the floodgates for people to go in other directions; he was definitely a trailblazer."
CS