Have you ever thought about using a luxury portable restrooms with 40-inch flat screen TV and automatic sinks, soap dispensers, and propane power water heater; well if you have Royal Restrooms has your back with their many different luxury portable restrooms. Royal Restrooms was founded in 2004 by David Sauers, who handles the business on the national scale, and Robert Glisson, who manages the local Savannah office for RR. According to their website, with a successful business model in place for the Royal Restrooms flagship office in Savannah, the two turned their attention toward national franchising opportunities as Royal Restrooms Management Corporation. The business has expanded to 47 offices and 16 different cities in the U.S. and Canada. Royal Restrooms is fully equipped to have their client's bathroom experience be one they don't forget. You may be thinking, 'What makes Royal Restrooms different from a porta potty?' "Well, you're not going to have a problem sitting down on my toilet," Sauers said. "Royal Restrooms provides a bathroom for the 21st century." Royal Restrooms is Centers for Disease Control and Prevention approved, they are the nation's leading provider for their high-quality, luxury portable restrooms and that has helped them stop the spread of COVID-19 in the Savannah-Metro area. During the pandemic, they set up outside of COVID-19 testing sites, hospitals, and emergency response with their portable restrooms and Sink Trailer. Inside these trailers they have signs to remind guests to wash their hands for at least 20 seconds.
In the midst of the pandemic, Sauers and his team were ready to come up with new ideas for Royal Restrooms to be safe but still luxurious. In the new creations came the motion hand washing station called the Sink Trailer. The Sink Trailers come with a custom painted steel frame with locking diamond plate utility doors which house the water heater and pressure pump. The trailers are built onto a commercial grade trailer chassis for easy towing to your next event. Inside the sink trailer are eight touchless sinks, paper towels and soap dispensers. In addition, the trailer features televisions that advertise the clients brand or special occasion for the guest inside the restroom, telling the guest "Thank you for being there." "Every event is different and kind of caters to the individual needs, and people should expect the service," Sauers said. He explained that with Royal Restrooms you'll be treated like royalty. Clients will be guided with their special occasion in mind, by making their experience personal but effective. They have many different portable restrooms to choose from to make your guests' personal needs fit your special occasion, from small to large events like weddings, festivals and corporate events.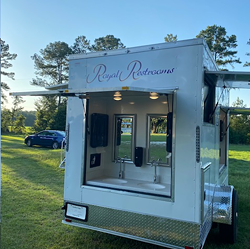 "We are trying to make our trailers where each individual has their own room from the outside," Sauers said. They are always looking to grow their business, not for themselves but for the safety and comfort of their customer. The founders of Royal Restrooms believe in the community and think about safety more than ever before. The core value of the company is bringing customers great service and making them feel comfortable, even in the midst of a pandemic. Sauers said that when you call to book them, you will speak to Kim McCarty and she will make you feel like you are talking to a friend and it will turn into a relationship. Sauers and his team understand most people are ready to come out to gather outside this summer and believes Royal Restrooms is a great way to do aid in doing so while staying within the CDC guidelines. This summer Savannahians can find Royal Restrooms facilities at weddings, sporting events, or maybe the local COVID-19 testing site. The facilities will bring peace of mind to any special occasion. "Royal Restrooms plans to make these available at fairs, sporting events, golf tournaments, food truck events, camping sites and disaster relief operations as the world starts to open up and people start back attending events," Sauers said.
For information on this royal, luxurious experience with Royal Restrooms, visit royalrestrooms.com or contact Kim at 912-234-6800.