THIS WEEKEND, Savannah Children's Choir will pay tribute to a monumental moment in music history: the Sacred Concerts of American music legend Duke Ellington.
Duke Ellington's Sacred Concerts, which the musician called "the most important thing I've ever done," is a series of three concerts written in 1965, 1968, and 1973 before the composer and pianist died in 1974. Now, the concerts mark a historic melding of jazz and religion and are considered a landmark achievement in American music. As the critic Gary Giddens put it, the concerts showed Ellington "bringing the Cotton Club revue to the church."
Savannah Children's Choir co-founder and Executive Director Roger Moss first became familiar with Ellington's Sacred Concerts in college.
"It was my theatre professor," he recalls fondly. "He said, 'Roger, I want you to listen to this.' It was a piece called 'David Danced (Before the Lord with All His Might)'—it's a tap dancer...I heard that and thought it was just the coolest thing ever. I went on and listened to the entire piece and it's stunning. Ellington was just such a musical genius that he knew bits of numerous styles. You hear some classical, you're going to hear jazz."
Moss has hoped to pay tribute to the treasured works for some time now; finally, the right moment has come.
"I've been wanting to do this for years," he says. "I never dreamt that I would do it with the Children's Choir."
Moss's old friend Roland Carter, a conductor, pitched the idea when the two ran into each other at a conference a couple of years ago. At the time, Carter was planning his 75th birthday tour and wanted the Sacred Concerts to be a part of it.
He set to work rearranging the pieces, originally written for an adult choir, so that the Savannah Children's Choir could sing them. The respected conductor has received the Tennessee Governor's Arts Award and was selected to conduct the inaugural concert of the African American Music Series at Carnegie Hall.
The Best of Duke Ellington's Sacred Concert is more than a musical performance: it's a true experience. Not only will the show feature beautiful singing from Savannah's youth, they'll be joined by award-winning singers and tap dancers, too.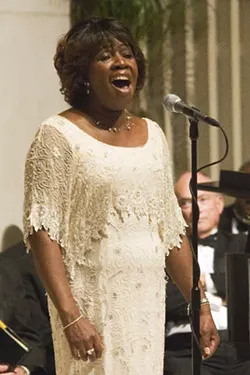 Soloist DeVonne Gardner has a special tie with the show's program. The singer was discovered by Duke Ellington himself when she was just sixteen years old; she sang in his Second Sacred Concert at the Cathedral of St. John the Divine in New York.
Robert Sims, a lyric baritone specializing in African-American folk songs and spirituals, took home the Gold Medal prize at the Savannah-based American Traditions Competition. He has performed in recital with the legendary folk revivalist and civil rights activist Odetta, The Mormon Tabernacle Choir, and respected opera and concert singers like George Shirley, William Warfield, Simon Estes, Benjamin Matthews, and Jubilant Sykes.
Sims has paid tribute to Ellington's Sacred Concerts with David Baker and Mercedes Ellington and gave the very first all-spiritual and folk song recital at Carnegie Hall's Zankel Hall in 2005.
In 2009, he performed at Carnegie Hall upon invitation from opera singer and recitalist Jessye Norman to participate in Honor! A Celebration of the African American Cultural Legacy.
Jazmine Thomas is a special addition to the evening. An alumna of the Savannah Children's Choir, Thomas has shared her gift around the world and has even performed at The White House with the Howard University Gospel Choir.
"I am so proud of her," Moss beams.
Tap dancer Aaron Parkhust will bring the movement of the music to life with nearly two decades of tap dance experience. Parkhurst has spent the last ten years teaching and performing in New York City.
Local jazz pianist and arranger Eric Jones will lead the 14-piece big band, and Savannah State Chorale and Johnson High School Choir will lend their voices to the evening. Audiences might recognize the narrators, as well, including Rabbi Robert Haas and mayor pro-tem Carol Bell.
Moss is proud of the mix of national and local talent that the Sacred Concerts will bring together.
"We are an intentionally diverse choir," he says. "I want an intentionally diverse audience that we don't see a lot of in Savannah. This has such appeal across racial lines, and I'm looking forward to the picture of that on the 30th."
The material has provided an inspiring challenge for the Savannah Children's Choir singers, and Moss has enjoyed watching the students show their potential.
"The arrangements have some tricky rhythms and some challenging chord structures," he explains. "I love watching the kids learn it."
The Choir looks forward to entertaining a lively crowd at The Lucas—stomping, clapping, and, of course, plenty of applause, are all welcome.
"This is suitable for the whole family," Moss says of the performance. "And for people who haven't tried choral music before, this is a very good introduction."
CS