NOTHING ages like a good leather bag.
The folds become softer, the handle worn to the imprint of your hand, every wrinkle and crease reminding you of where you've been and how far you've come.
Anyone who owns a hand-crafted clutch or duffel from Satchel knows the same kind of glamorous maturation also applies to the company itself.
Launched in 2006 by designer and SCAD grad Elizabeth Seeger Jolly, the working studio/retail boutique has steadily evolved into one of Savannah's major success stories. The high-end purse purveyor has weathered recessions and real estate tumult, and its unique accessories regularly earn national press, including glossy nods from Lucky magazine, Travel + Leisure and Southern Living. Even Money magazine has recognized the artisanal expertise that recently took Satchel to the finals of Garden and Gun's "Made in the South Awards" for its shearling-lined rifle case.
But Seeger Jolly takes the accolades in stride, or rather, from behind her sewing machine.
"We've had our noses down, working the whole time," she laughs. "It takes a long time to become an overnight success."
It's true, the last decade has been more of a climb than a flight. A native of Covington, Louisiana (a hop across Lake Pontchartrain to New Orleans), Seeger Jolly inherited her mad stitching skills from her mother, who used to pass on scraps of leather and canvas for her daughter's projects at SCAD.
"My senior collection was upholstery remnants and silk," recalls Seeger Jolly.
Buoyed by an unflagging love for her college town and a fierce entrepreneurial spirit, she opened Satchel almost immediately after graduation, setting up shop on Broughton Street with a couple of vintage machines and some bolts of cowhide. In 2010, she hired gifted seamstress Mahala Lewis to keep up with a regular inventory of beautiful bags and custom requests, which grew to include extra pockets and longer straps and other exclusive items like guitar straps, tassels and beer koozies.
The sartorial team brought on Georgia Southern intern Mary Kate Moorman full-time in 2013 to help produce the twice-a year collections in-house, and Seeger Jolly's older sister, Alison Seeger, keeps up with a growing side demand for slipcovers and furniture casings. SCAD Fibers grad and former Coffee Fox manager Katherine Dagen joined up in 2014 to take on the full-time duties of operations and communications. Twenty-five percent of products go towards Satchel's wholesale business, showcased for the international retail community at America's Mart in Atlanta.
"There is always something to do," sighs the boss, whose impeccable personal style belies the frazzle of business ownership. "It's just never slowed down."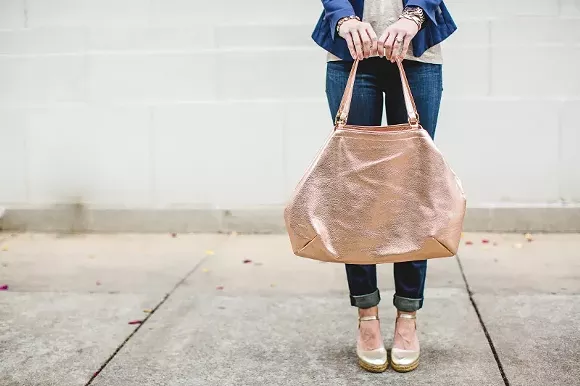 The prominent main street locale helped elevate Satchel's visibility, but when many of Broughton Street's properties were plucked for development in 2014, it became one of the first casualties of the Ben Carter exodus.
"The building got bought out and I couldn't afford the rent," says Seeger Jolly, who settled the shop two squares south on Liberty Street in the charming small business enclave that includes The Book Lady, Roots Up Gallery, Fabrika and Stitch.
"I was so worried that no one would find us again. But it's all worked out really well."
Indeed, the growing commercial district now pulls tourists up the Bull Street Corridor, and plenty of soigné shoppers turn the corner to seek out Satchel's luxury leather goods. Seeger Jolly has transformed the former Home Run Video into a bright, airy workshop, the walls enlivened with abstract paintings by Savannah artist Shea Slemmer as the sewing machines hum.
She makes lunch for her staff every day and often treats them to champagne in the afternoons, living out the philosophy she learned as a child.
"My parents raised me to believe that if you find something you love to do, you'll never work a day in your life."
She still finds time to indulge her passion for exploring the Savannah's marshes and creeks by paddleboard, and the former Ms. Seeger married longtime love and fellow adventurer Brian Jolly in a glorious affair in Louisiana last fall.
Sadly, that joyful occasion was followed by the sudden passing of her father, Al Seeger, in April.
One of the first to fly the supersonic F-102 interceptor planes in the National Guard, Mr. Seeger spent 32 years as a commercial airline captain. He retired in 1997, vowing to stay on the ground and drive around the country in an RV with his wife, Mary Ben. The couple was visiting Savannah when he suffered a heart attack, and the doctors at St. Joseph's Heart Hospital weren't able to help him recover.
A tireless champion of his youngest daughter's creativity and business acumen, Capt. Seeger never doubted that his investment in her education would pay off.
"He was always bragging about my grades when I was at SCAD," she remembers with a misty smile.
"And he was really proud that not only did I get a job in my field, I created one."
In tribute to his career and service, Seeger Jolly has tailored Satchel's 10th anniversary event to honor the former TWA and Air Force Reserve pilot. The theme of the Friday, June 3 party is vintage airline travel, hearkening back to a time when men and women dressed with class, even in coach.
Featured items include "Dad's Jacket Bag," evolved from a prototype crafted from her dad's old leather outerwear, and the "Stewardess Tote," a roomy foldable number inspired by the empty bag her mom used to send with him so he could bring back sourdough bread from his layovers in San Francisco.
The shelves will also be stocked with the ever-popular "Pilot Duffel," and if you're willing to wait eight weeks, the classic style is available for custom order in ultra-modern leathers like acid-washed cowhide, python print and mesmerizing metallic.
The evening will offer nibbles and bubbly, with a portion of sales donated to St. Joseph's Candler Heart Hospital and Hospice Savannah.
With a decade under her finely-crafted leather belt, Seeger Jolly is already looking towards the next ten years. Keeping up with demand while retaining her commitment to local production is the biggest challenge, and she's met with other area designers to explore how to meet that need.
"Sewing has been outsourced, and there's generational gap in that skill," she says.
"It would be great to train a local work force and give people a sustainable career."
It's an exciting and high-level idea, but a risky one. Could Savannah become a nexus for made-in-the-USA goods and a fashion production capital, utilizing the abundance of talent here while capitalizing on consumers' quest for quality?
In a world that seems to favor fast fashion and cheap goods, Satchel validates a strong, local market for bespoke bags that last a lifetime.
"Clothing trends can come and go," muses its proprietor with a grin.
"But no matter what, we'll always have to carry stuff around."
cs