If you've been in this area for any amount of time, chances are, you've heard of the Savannah Adult Recreation Club (SARC). A local business dedicated to providing sports leagues and events for adults still wanting to compete in athletics, SARC offers leagues in kickball, softball, flag football, volleyball, basketball, poker and more. Its popularity is growing rapidly around the area, and according to owner Andrew "Waldo" Webster, SARC is now a year-round business that the community has come to depend on.
The club began roughly 15 years ago when former owner Andrew Jones got together with some buddies to begin playing sports once a week in a very loosely organized fashion. Jones sold the business to Webster in November of 2019, just a few months before the country shut down in response to the outbreak of COVID-19 cases.
Having played in SARC leagues since he moved to Savannah from Florida in 2016, Webster had noticed that the business was capable of doing much more with the right changes. He bided his time and put together a plan to revamp the club with an emphasis on social media strategy and a sleek new website where players could register with a few easy clicks. Simply put, Webster was ready to hit the ground running once he got control.
"I took over in December (of 2019) just before COVID sort of shut everything down. It was definitely something we had to navigate early on," said Webster during a May 19 phone call with Connect Savannah. "There were things I wanted to implement right away when I bought the business, but unfortunately we weren't able to do a lot of that stuff after COVID hit.
"It wasn't something that worried me, because I already knew the opportunity for (SARC) to develop and grow was there. We just had to adjust a few things and alter some of the rules and that's what we did."
Social distancing and recreational clubs don't exactly go hand-in-hand. But SARC managed to get through the shutdown, thanks in large part to its utilizing Chatham County facilities while the City of Savannah had its rec fields closed. Now on the other side of the pandemic restrictions, the 32-year-old Webster says SARC has never been more popular than it is right now.
"I remember when I first got the business, I kind of had to beg people to sign up," he said. "But since we've re-launched, we've seen tremendous growth and a substantial rise in demand for nearly all of the sports we offer.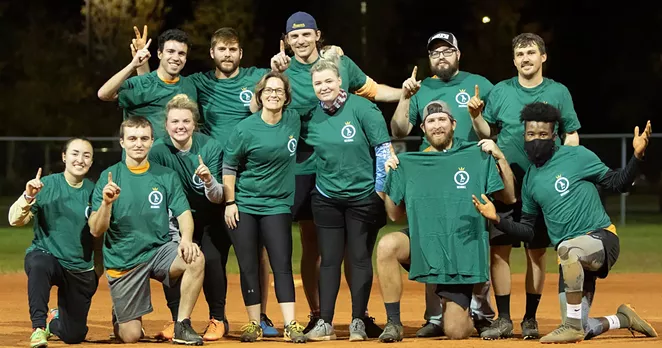 "Our number one complaint right now is that we fill up our leagues too fast. People are always contacting us wanting to play volleyball or kickball or whatever it may be, but our registrations usually sell-out quickly when we open them up."
Indeed, Webster said registration for a June kickball event was opened last week, and it filled up (75 spots) within three hours.
"Growing pains," Webster says.
You can learn more about SARC by visiting the website at savadultrec.com and by finding them on Facebook/Instagram.
Follow Travis Jaudon on Twitter/Instagram @JaudonSports. Email him at travisLjaudon@gmail.com. Listen to him talk sports weekly on the Hot Grits Podcast.