You probably remember the first time you saw the 1939 film "The Wizard of Oz."
The world of black and white suddenly bursting into color. The music. The dream. The magic. And, the transformation into another world and another place: escapism at its best.
The Savannah Ballet Theatre company is ready to bring this fantastic and memorable world to Savannah again.
"People need to be in the theatre now together, suspending reality, and enjoying themselves," said Abby McCuen, production manager for "The Wizard of Oz," presented in ballet.
"Everyone needs a little happiness in their lives and this is the perfect production for it."
Savannah Ballet Theatre's board voted in 2016 to create ballets based on books, including this, L. Frank Baum's best seller.
"I'm going to step out on a limb here and say this is my favorite production that we do," McCuen said.
"Obviously, it's based on a book that is also a movie that's even more famous," she noted. "We combined both of them to create this original ballet. It's a timeless tale and we've made it into an American fairy tale… at least, that's how I think of it."
McCuen loves talking to people about their version of Oz.
"Everyone has a different story about their memories of seeing the movie growing up. My dad always told me it came on TV once a year, around Thanksgiving, and it was this special occasion. So, we hope to play off that. Folks are so happy and it's nostalgia galore. It's such a positive experience for both the dancers and the patrons. The dancers can feel the happiness and they feed off it."
"The Wizard of Oz" production is a completely original piece for the Savannah Ballet Theatre. While other ballet companies do similar versions, this one was created right here in Savannah.
Savannah Ballet Theater was able to achieve what they call a "digital pivot" in order to provide entertainment during the COVID-19 pandemic.
"We've been rotating through shows for the past couple of years and putting it out as digital presentations. Through COVID, we weren't able to perform to live crowds. We're thrilled to be back in the theatre and it's special to us."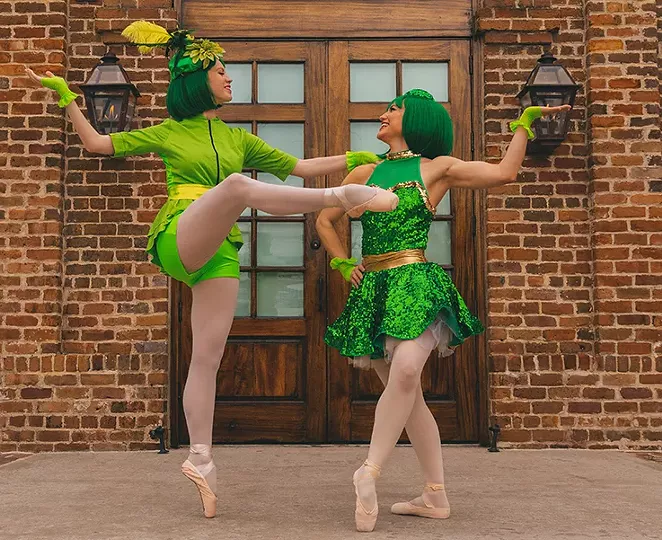 McCuen said with restrictions lifting and everyone trying to get back to a more normal type of life, she hopes both visitors and residents will turn to what they're offering.
"The arts are very important for us because we're social beings who are meant to be out and about talking to each other and sharing experiences," she said. "As a company, we had a lot of success during the pandemic with virtual classes and virtual productions, but there's nothing like live theatre."
"The Wizard of Oz" is a unique ballet company. "We have our professional dancers and then we have our trainees who are mostly college-aged students who learn alongside the professional dancers, as well as the students of our school. We have people from five years to 35 years participating. It's an incredible community production," McCuen said.
The company has dancers from all over the United States.
"This year, we have ten dancers – post-COVID, a lot of dancers haven't wanted to move or travel – which is a perfect number," McCuen said. "It allows us to use more people from the community and more of the younger dancers. The professionals have degrees in dance and bring a lot of talent to this amazing city."
Rebecca Dugal, a native of Savannah, is not only the production coordinator, but she is also a member of the company. One could say she has a foot in both the production and the management.
"I'm a company dancer, so I'm in the production dancing three different roles," Dugal shared. "I'm in and out of rehearsals, practicing. Then, I switch gears in the afternoon as the program coordinator working behind the scenes. I assist with the dancers, liaison between the company and the theatre, sort of whatever tasks need to be done, I do it." She laughed and added, "I take care of most of the underground tasks people tend to forget about. I help the director with anything she needs. One minute, I'm painting props, the next I'm signing contracts."
But Rebecca wouldn't have it any other way. As a native of Savannah, she feels her life has come full circle with the production.
"Our director, Suzanne Braddy (Artistic Director of Savannah Ballet Theatre), taught me to dance," Dugal shared. "I literally grew up in her studio. Then, I went to Birmingham Southern and danced in college and afterward. I dance for three different companies and had a fun career in Alabama. My husband and I moved back to Savannah two years ago to raise our family and I'm happy to be able to still dance and participate."
In addition to wearing several hats backstage, Dugal shares her roles in the production.
"I'm in the first scene in Kansas as one of the farm girls and I'm also in Emerald City…which is a very fun piece that has an old-school, theatrical Broadway feel to it," Dugal said. "I'm also the Poppy Queen, which is one of the lead roles."
Dugal's excitement shows as she shares her favorite part. "It's been a lot of fun to play the Poppy Queen. I come out and put Dorothy and Lion to sleep and the Tin Man and Scarecrow duel me and it's awesome."
Through these trying times, Dugal agrees the arts and entertainment are an important part of our lives that we need to get back to.
"Performing arts in general—particularly dancing—is very emotional," she said. "You can watch ballet on the screen, but it doesn't mean anything until you see it in person. You can see the sweat on their brow, watch them breathe, see the artistry and emotion, the dancers catching their breath, and overall, just telling a story through dance. It reaches people differently and connects them."
"We've needed this since we've literally been boarded for two years," she said with a laugh.
"As humans, we have to connect on a personal level. Reaching people through art is a wonderful way to do it. Whatever the emotion is… you enjoy getting it from the audience and sharing the moment with them."
She continued, "People getting out, seeing live performances and such may encourage people to try out for the ballet next year or perhaps sign up for a class or go to school and learn more. You never know where inspiration will come from or who you might inspire by doing something you love."
When asked why this particular story hits the mark with the audience, McCuen said, "This story resonates because… it's not where you go, it's who you meet along the way. There's no better tagline for a story. Dorothy is seeking something throughout. She could have given up and gone home at any time, but she made the friends and took the journey her way. It's just going to put people in such a good mood and make them happy."
When the Savannah Ballet Theatre puts on a production of this magnitude, the audience can expect the most spectacular costumes, innovative set design, and incredible dancers.
"Every production we do, we source music from non-traditional ballet soundtracks," McCuen explained. "If you go see Swan Lake, you'll hear Tchaikovsky; if you go see Cinderella, you'll hear Prokofiev. You come to see this production, you're going to hear more modern composures like Hans Zimmer and John Williams, and it moves the ballet along in such a beautiful way."
Professional costume designers assisted by working one-on-one with the director, producer, and design team. "We love to use a lot of colors and designs. With this production, we use a lot of digital backgrounds," McCuen said. "We're not going to use the traditional backgrounds that fly in and out. Images are from the high-resolution projector. Things will move. It's going to elevate the production."
"Every time we've performed this," McCuen said, "it has sold out in advance. We're anticipating the same this year. I love sitting in the theatre and watching the young kids coming in who are enamored by it. There are also the older patrons who are nostalgic from having seen the movie and it's really for all ages."
After each show, the theatre offers a free meet and greet with the characters.
"We bring out the majority of leads into the lobby. We let people touch costumes, ask questions, get pictures made… just to feel a part of everything," added McCuen.
Dugal dashes from rehearsal to backstage, but is excited for opening night.
"We hope folks will come to the show and join in on the fun. It's just a great story… the books, the movie… we're telling the same thing only through our original dance. We've tweaked the performance since we last performed it and there are some surprises. It's just a feel-good show and we're anxious to entertain people."
McCuen says the production lasts about 85 minutes with an intermission. "It's an experience from start to finish. We need this experience right now in our lives. A shot of happiness."
Showtimes for "The Wizard of Oz" are Saturday, April 23 at 2:00 p.m. and 7:00 p.m. Tickets are available online savannahballettheatre.org or go to savannahboxoffice.com