HERE in Savannah, funny business is booming. With numerous comedy open mics and showcases, touring comedians cracking up audiences at local bars, and inventive theme shows, what began as an underground rarity has grown into a movement all its own.
"About a year and a half ago, we had one weekly open mic and two monthly ones," recalls local comedian and promoter Steven Mayes. "Now, we have three weekly open mics, one biweekly, and two monthly all over the town."
While local standups hone their craft at open mics and entertain Savannahians and visitors alike, some famous faces have graced the stages, too.
Last year, while filming Baywatch, standup comedian/writer/actor/producer Hannibal Buress (The Eric Andre Show, Broad City) performed a set at Barrelhouse South and even hit up the open mic comedy night at Chuck's Bar on River Street after as an audience member.
While filming The Do Over, actor/comedian David Spade popped into The Wormhole's Comedy Planet showcase on a Saturday night, hopping onstage to do a set.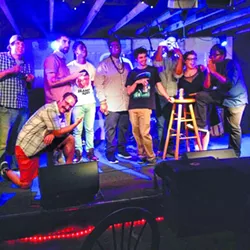 Just last month, Dave Chappelle, who regularly sells out arenas, hit the Wormhole stage while filming an episode of Walking Dead star Norman Reedus's travel TV show Ride with Norman Reedus. Local comedians Tara Scott, Chris Islame, Keegan Ray, and Derick Marchel kicked off the night and got a hell of an addition to their resumes.
It's all happening—and the scene's thriving due to the hard work of a lot of folks.
"Savannah is in a really ideal location compared to a lot of big cities when big people go out on tour," Mayes explains. "It's an easy stop to make."
For a while, comedy bookings in Savannah were a little slow, Mayes says; however, with so much talent stopping through and a rich local scene, it's getting easier to entice comedy greats and bring them to town. Venues like The Wormhole welcomed the art form with open arms, helping the scene grow by taking a chance on young talent.
Mayes started booking because he was "tired of nobody else doing it and waiting for people to start it," he laughs.
Thanks to his efforts, comedian Doug Stanhope returns to Savannah on Sunday, April 23 along with Brett Erickson.
"This will be his first time back here in three years," Mayes says. "We hope he has a good time."
Stanhope, an acid-tongued anarchist with a hysterically cynical outlook and DGAF attitude, has been doing stand-up since 1990. Throughout his career, he's hosted Comedy Central's The Man Show and has appeared on The Howard Stern Show, Comedy Central Presents, NBC's Late Friday, and much more. Twice, the "comic's comic" has been voted "Best Comedy Performance of the Year" by Time Out New York.
"He's very gritty," Mayes describes. "It's almost like talking to your friend at the bar when you watch him. He never got that 'Oh my God, it's Doug Stanhope!'—he's still a normal guy, which is going to fit in perfectly with the Savannah scene. I like that he talks about social issues a lot, and he gets very crass at times, but when you look last that at what he's saying, they're very good messages and interesting takes on things. Louis CK said he's the best standup right now; Ricky Gervais, who wrote The Office, says he's the hardest-working comic out right now."
Bringing in renown acts like Stanhope helps put Savannah on the map. Plus, when locals get to open shows for touring stars, they encounter a whole new demographic outside of the usual open mic circuit.
"The past year and a half has been a lot of legwork, and with the new venues, new people are finding out about the scene," Mayes explains.
In addition to the standard open mic formats, hosts are playing around with form and designing unique shows. Surrogates: Interactive Comedy Show, hosted by Ian Aber, involves pairing audience members with some of Atlanta comedians, outfitting the audience members with ear pieces, and putting them onstage to act out the comedian's routine, fed to them line-by-line. Dad Joke, a booking entity that typically sets up punk rock shows, invited comedians and visual artists to perform alongside bands for Monday Night Mix-Up.
"It can get monotonous: bar, work, bar, maybe sleep," says Mayes. "This is a way of giving people more of an outlet."
Interested in trying out comedy yourself? Mayes recommends finding an open mic, giving it a shot, and not getting discouraged.
"The first time I performed at The [Sentient] Bean, I imagined they were going to need an ambulance—I was just gonna murder it," he laughs. "It didn't go that way...but at the same time, you have to have that drive. You're not going to hit a home run every time, but you can't quit because it wasn't a home run. Ask, 'Why wasn't it a home run?' Take something and improve it."
Whether you're watching and cheering or taking a chance and trying it for yourself, there's no better time to check out all Savannah's comedians have to offer.
CS