It's 5:30 P.M. on a Wednesday in Thunderbolt. Just past Tubby's Tankhouse, members of River Drive CrossFit jog past the Wilmington River as shrimp boats bob in the water in the afternoon light opposite them. Opened in July, 2019 by Savannah natives Trent and Danielle Williams, River Drive CrossFit draws on the couple's combined nine years of CrossFit training and experience with which the two have built a vibrant space where fitness and community are mutually supported. River Drive's own Sophia Hofeling recently qualified for the CrossFit Open Semi-finals, placing in the top 10% of over seventy thousand entrants. The Williams met through CrossFit and began dreaming of opening their own gym not long after, drawing on Trent's training and gym management experience as well as Danielle's business and marketing chops to create their own mark on the Savannah fitness scene. When asked what they wanted to present to the community, Danielle said, "We're not 'gurus' of fitness, not doctors or Yodas or big-wigs of the fitness industry. CrossFit works, we know it works, and so we're going to do CrossFit. This is where you get to play as adults, to hang out with friends. It's meant to be fun." As if on cue, a class of twenty or so adults hop onto the monkey-bars and adjust their grip in preparation for the next exercise. Trent turns up the music and the reps begin. It looks intense, but it looks fun, too.
River Drive offers fitness consultations to all comers and a scaled workout system where anyone can show up and either complete the prescribed Workout of the Day or a tiered equivalent which focuses on the same movements and muscles. The tiered approach makes CrossFit more accessible to all, Danielle likens it to basketball, and said, "Lots of people love to play basketball with their friends - basketball is not the NBA, but that's all that people see." This simple reminder that CrossFit is not just elite athletes at the top of their game but rather a cross section of all of us with our own personal or fitness goals sets a tone of inclusivity and support among the membership.
"This is where you get to play as adults, to hang out with friends. It's meant to be fun." — Danielle Williams, River Drive Crossfit

tweet this
Hofeling came to River Drive while attending nursing school at Georgia Southern University after it was recommended by a classmate. At first, she traded her time working in River Drive's childcare facility for membership; later she worked the front desk and helped clean the gym. "It's been an evolution, they are my family. They are invested in me and I in them" she said. Since graduating, Hofeling has worked nights and said River Drive helped her develop the mental toughness she needs to work as a nurse. "No matter what is going on in my life, I can come here and destress," she said. "This place has given me confidence and a sense of self that I hope everyone can experience." Danielle complimented Hofeling's personal drive and dedication, but in Hofeling's own words she credits Trent, saying "I just show up and listen to Trent." The gym itself is a large former warehouse with natural light pouring in over the rows of equipment. The space feels open, and every surface seems to reflect intention and care, with hand-painted motivational signs, workout routines, leaderboards and a whole section of chalkboards filled with feedback, jokes and gratitude from the members. There's even a section of recommendations of where to eat and drink in town — solid suggestions, too. Danielle said she came upon the location by accident, seeing a for sale or lease sign on a property she was certain wasn't listed online. She was worried about its size however, understanding that gyms which opened with too big a space often suffered because of it. All that extra space became a boon for River Drive when pandemic precautions shut so many local businesses down. For a moment, she was terrified, she thought, "after eight months in, this is it." That fear of having too large a space turned out to be a blessing for the gym and River Drive reopened with five-person classes in the large, sunlit space. Hofeling did temperature checks at the door and not a single transmission occurred between members.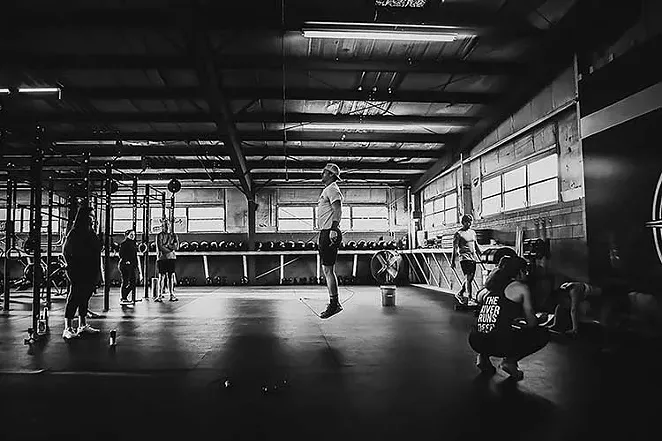 As one class wraps up, the next starts to filter into the gym; they're palpably excited. I hear a sailor with an Australian accent express her excitement that she found a local boat to crew on and could stay here to do more CrossFit. Another member shared matter-of-factly that she just cancelled her other gym membership. I asked if they would share their thoughts on the gym and how this space made them feel; over and over again I heard that their time at River Drive makes them feel strong, empowered and more appreciative of what their body can do rather than what it looks like. Looking ahead, Danielle said her and Trent want to maintain what's been forged at River Drive. "We've fostered community and health here, it's not about big, huge or lofty or being the best — we want to maintain," she said. "We want to build community rather than our wallets, it's been community from the start."
Fitness consultations and childcare is available on site, with classes available from 5:30 to 8:30 a.m. and 3:00 p.m. to 8:30 p.m. Monday through Friday with additional events on the weekends. Yoga classes are available and there's even a massage therapist on site from from Low Country Massage and Wellness, instagram.com/lowcountrymassageandwellness. For additional program information and schedules check out riverdrivecrossfit.com or follow them on instagram at instagram.com/riverdrivecrossfit.