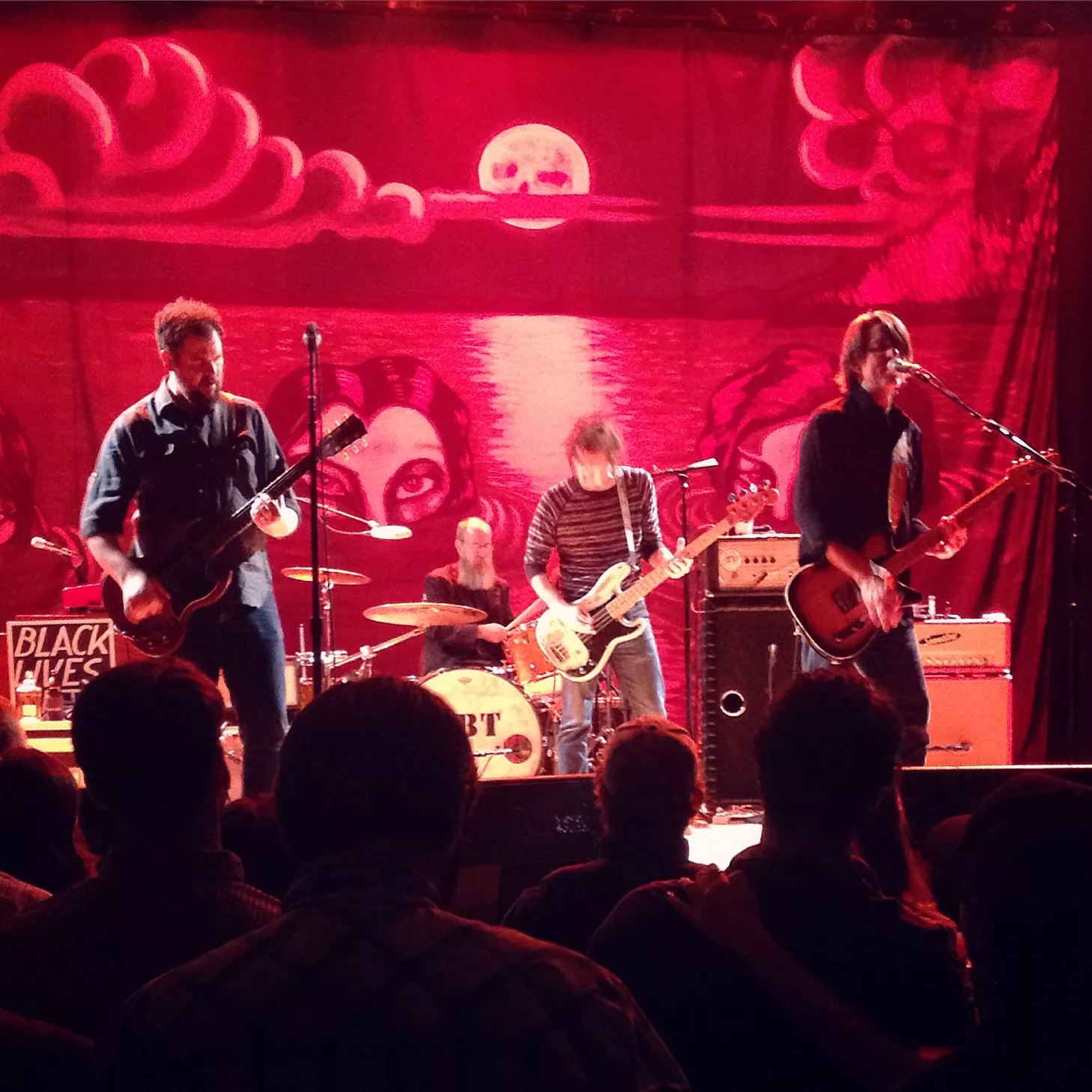 THE much-anticipated return of Drive-By Truckers to Savannah had a bittersweet feel Wednesday night, with the death of American music legend Merle Haggard announced earlier that day.
The walk-in music at the Trustees Theatre was all Merle, and as the Truckers took the stage their first song was a brief take on "Okie From Muskogee."
(A few hours earlier, former DBT bandmate Jason Isbell simply posted, "Merle Haggard was the best country songwriter there ever was.")
While some apparent issues with the mix meant that for the first several songs you could barely hear the Haggard-influenced lyrics of Patterson Hood's vocals, Merle's spirit was still very much in the house.
DBT and Haggard have more in common than just music. Haggard, who always maintained that "Okie" wasn't an endorsement of the song's more reactionary lyrics but rather a character's point of view, became something of a political anomaly in the country/western world in his later years.
With insights into Barack Obama, racism, and a pronounced dislike of the then-very popular George W. Bush, Haggard pushed envelopes in message as well as with his jazz-influenced vocal phrasing, a trait he shared with fellow Outlaw Country great Willie Nelson.
Despite – or because of – their Deep South roots, Drive-By Truckers have always espoused a clearly progressive take on social issues, the most obvious example last night being the large "Black Lives Matter" poster on the side of Jay Gonzalez's keyboards.
That said, DBT are also the most dynamic heirs to the Southern rock tradition still actively touring today, and their deep roots in that classic '70s genre are never far away.
In the old days music critics would bandy about the phrase "Southern Guitar Army." It referred to the penchant for the great old Southern rockers like Lynyrd Skynyrd, the Allmans, Molly Hatchet, and The Outlaws (for whom the phrase "Guitar Army" was initially coined) to feature not two, but usually three, and occasionally four electric guitarists.
In these days of self-conscious twee minimalism, the guitar armies of yore are pretty scarce. (Nashville's Diarrhea Planet famously hews to the approach, but despite their home base aren't particularly Southern in style or spirit.) But seeing DBT live really brings home their provenance and authentic approach.
For all of Hood's well-deserved reputation as a Haggardesque Southern storyteller and working man's wordsmith, this show was more of a rave-up, with very minimal stage patter and no more than a few seconds between tunes. Hood, Mike Cooley (who shares lead vocals in an almost 50/50 split with Hood) took turns tearing up old-school leads, with Gonzalez coming down front and picking up a guitar on at least half the tunes.
(And wow do these guys tour with some beautiful guitars! Hood played a Gibson SG for most of the show, with Cooley strong on his Telecaster and even - gasp - a Flying V!)
The issues with the mix plagued the guitarists as well, with some of the most tasty licks from all three gentlemen virtually disappearing in the wash. While a hallmark of the Southern rock sound is a wall of guitars, you're at least supposed to be able to hear the solos.
That said, this was a most appreciative crowd and everyone came to have a good time. Within a couple of songs, the ticketing system went to the winds, and the fairly spacious area between the Trustees stage and the front row quickly filled with standing and dancing concertgoers.
Interestingly, this all happened the same day some social media unrest was making the rounds about the Music Festival's tendency to be fairly aggressive in forcing concertgoers to stay seated for the entirety of a show – even more spirited rock/Americana shows which usually happen in less formal venues.
The DBT show was listed as one of the concerts – Sharon Jones being another – in which dancing and standing were encouraged, so this audience wasn't told to sit down and shut up (which would have likely been a futile effort anyway).
There does seem to be a forming public consensus that the Festival might more closely consider employing this option more liberally in future editions, for the acts that clearly warrant it.