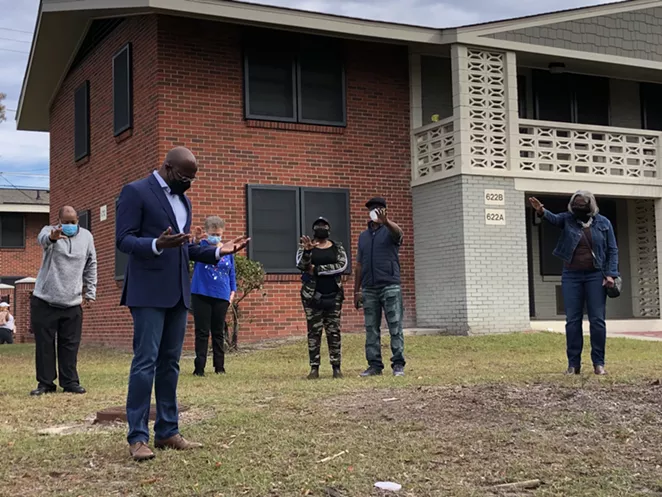 Democratic U.S. Senate candidate Rev. Raphael Warnock, a Savannah native, is projected by the Associated Press to prevail over Georgia's incumbent Republican Sen. Kelly Loeffler in one of the Peach State's two nationally prominent Jan. 5 runoff elections. Warnock's projected victory would make him the first African-American U.S. Senator from the state of Georgia, and according to his campaign, he will also be the first Savannah native to be elected to the U.S. Senate in 150 years. Warnock was raised under humble circumstances in Savannah's Kayton Homes public-housing project along with 11 siblings. He attended Sol C. Johnson High School, where he participated in the Upward Bound Program, before moving on to graduate from Morehouse College.
Since 2005 Warnock has served as senior pastor at Atlanta's Ebenezer Baptist Church, where his hero Rev. Dr. Martin Luther King, Jr. once served. Warnock is the fifth senior pastor in the history of the church, and the youngest pastor ever selected to serve in that position, according to the Warnock campaign. During his campaign, Warnock repeatedly visited the Savannah area and spoke to supporters at multiple Democratic rallies, including
one in Garden City on Jan. 3 when he appeared with Democratic Vice-President-elect Kamala Harris
and Georgia's other Democratic U.S. Senate candidate Jon Ossoff, who ran to unseat incumbent Republican Senator David Perdue; as of noon on Jan. 6, that race remains too close to call. "Georgia, I am honored by the faith that you have shown in me, and I promise you this tonight, I am going to the Senate to work for all Georgians, no matter who you cast your vote for in this election," Warnock said in a victory speech. If Ossoff wins the race against Perdue, the U.S. Senate will be split 50-50 between Democrats and Republicans for the next two years, giving Harris the tie-breaking vote for Democrats.