Another summer, another Coastal Plain League Championship for the Savannah Bananas. Last weekend at Grayson Stadium, the collegiate summer league's champs celebrated a second straight title and a third since the franchise's inception in 2016.
What can be said about their success that hasn't already been said? Probably not much. The Bananas have had success on and off the field at seemingly every turn. Everything they touch turns to yellow gold. They are truly "on a heater," as the kids say.
We know this. We know about the Fans First mindset, the marketing brilliance and the level of excellence from the on-field product. A new age of baseball has been displayed primarily at a stadium built in 1926. It has worked to perfection for owner Jesse Cole and nearly everyone involved.
Cole is always looking ahead, searching for the next "thing" to bring Banana fans across the globe. In the spirit of that, it's natural for some to wonder about the future of the team, and more specifically, how its relationship with the city and with historic Grayson Stadium will look in years to come.
Because the past is obvious, but the Bananas' future in Savannah is anything but.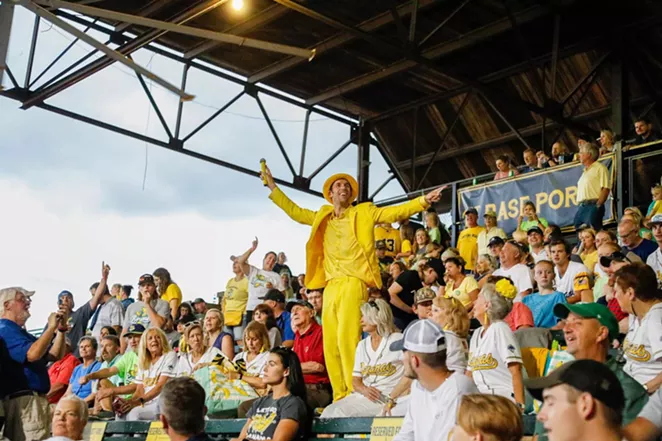 Cole and Fans First Entertainment agreed to a five-year stadium lease with the City of Savannah a few years back. The agreement began on October 1, 2020 and runs through September 1, 2025. It includes an opt-in faucet which would allow the Bananas another five-year extension to remain at Grayson beyond the fall of 2025. Cole and company would need to notify the city by May 2025 if that extension is to happen.
There is nothing about the Bananas and nothing about Cole which suggests they would leave Savannah. In fact, everything Cole has said in the past points to the opposite being true.
"Savannah is our home; Grayson Stadium is our Disney World. That is our focus," Cole told The Savannah Morning News in September of 2020 after news on the five-year lease agreement surfaced. "We're putting everything we can into making Grayson Stadium nicer, more beautiful, a better destination for more people. That's all we're focusing on for right now. I don't think we're interested in setting up another team in another location or any of that."
That's a nice thought. After all, everyone loves Disney World. But given the recent and constant expansion of the "Banana-Ball" and "World Tour" aspects of Fans First, it's fair to wonder if the Bananas are on pace to outgrow their Disney World stadium, and the city which leases it to them for essentially $75,000 annually.
Without the Bananas, Grayson Stadium would almost certainly deteriorate quicker than it already is. The city maintains the field and the general stadium upkeep, but they do so because they are collecting nice monthly payments from Grayson's current tennant. Should that tennant decide to move on, the city would be much less inclined to keep up with maintenance at the Victory Drive venue.
So while Cole contends the team has no plans of leaving anytime soon, the fact remains that the city needs the Bananas.
But do the Bananas need Savannah?
One glance at the success of sold-out events in stadiums and cities across the country would give you the answer to that question. It's a resounding no, they don't need Savannah.
"If we could sign a 100-year lease, we would sign a 100-year lease," Cole told the Savannah Morning News in 2020. "We believe in this community. We believe in what we can do."
Again, the actions by Cole and his brand have backed up that sentiment of loyalty to Savannah. But it is becoming increasingly clear that Cole's bunch can have success all over the country, and that gives the Bananas leverage they didn't have in 2016.
Could you imagine being the Mayor or city council member responsible for letting the Bananas leave Savannah? That's something that no Savannah politician wants on the resume.
So, when the current lease expires in three years, it isn't too crazy to think the Bananas will want more from Savannah for things like helping to restore Grayson. And why shouldn't they ask for more? They've held up their end of the bargain and then some.
Their leverage grows with every sellout and outgrowing Disney World is a real possibility.
SPORTS NOTES
Local high school teams, coaches and players spent time previewing the 2022 season at the Optim Orthopedic & Prep Sports Report Football Media Day on Saturday, August 6 at EnMarket Arena. Of course, Benedictine is the main attraction entering this season after Danny Britt's Cadets won the Class 4A State Championship in 2021. When the BC head coach addressed the room from the podium, he made sure to remind anyone listening that his 2022 team will have to make an identity of its own. "The goal is not repeating this season," he said. "We don't even talk about it. I tell (the players) and the coaches, 'don't wear your rings around' because that year is gone, most of those players are gone. This is a new team."
A rising junior at Calvary Day, Will Hampton committed to play baseball at Vanderbilt University last week on his Twitter page (@will_hampton18). As a sophomore pitcher/first baseman for the Cavs last season, Hampton posted a slash line of .368/.495/1.058 OPS at the plate. On the mound, the lefty was 4-1 with a 0.75 ERA. Hampton is the second LHP from a Savannah private school in recent years to commit to play at Vandy as Benedictine's Carter Holton just wrapped up his freshman season in Nashville.