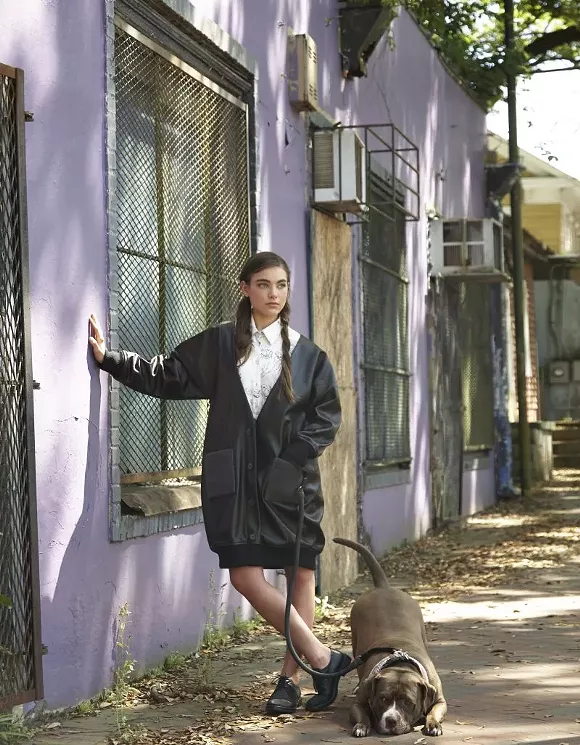 FOR MANY, fashion is means of creative expression. Some turn that style into a career. An elegant few manage to elevate the act of getting dressed to a high art.
All are combing their closets for the perfect ensemble to wear to State of the Art: Savannah Style, one of two local fashion events happening Saturday, April 30. (See the related story on the Savannah Bazaar Fashion Show, page 30.)
Set in the stunning ivory temple of the Jepson, the Telfair Museums' annual runway show offers a chance to see what Savannah's fashionistas are wearing as it affirms fashion's firm stance as part of the contemporary art world—each element swirls around the other, influencing trends on the canvas and the mannequin. The urbane event also pays homage to the nationally-acclaimed designers who live and work right here at home, showcasing the city's rise as a well-heeled player in the international fashion scene.
This year's celebration of local couture brings together four women creating garments, accessories and jewelry in their Savannah studios that can be seen on the streets and on Instagram accounts all over the globe: Designers Brooke Atwood, Merline Labissiere, Tatiana Smith and Meredith Anne Sutton.
Earlier this month, SCAD graduate and season 14 Project Runway contestant Merline Labissiere (her lingerie look won a production run under Heidi Klum Intimates brand) returned from showing the 2016 Fall/Winter line of her Provoke Style line at Los Angeles Fashion Week to delve into the project. Labissiere gears her geometrically-inspired dresses and coats towards creative women seeking an edge to their professional wardrobes, though she alludes to a different kind of collection for Saturday's show, to be paired with a site-based installation influenced by the Jepson and her own architectural studies.
"In the middle of all the craziness happening in my studio, I am able to create a line that is pure fashion art," she wrote on her blog last week.
Labissiere will adorn her models with the bold jewelry of Tatiana Smith, a SCAD Metalsmithing designer who contributed her signature wares to Labissiere's looks at LA Fashion Week. The friends share a love of geometrical shapes and philanthropy, and Smith featured Labissiere on her "Sunday Stamping" web series, where she interviews local creatives and makes them a piece of custom jewelry.
Designer Brooke Atwood is also fresh from presenting her Fall/Winter collection, showing at Nashville's Fashion Week the first week of April. Known for her cropped leather t-shirts and rock 'n' roll aesthetic, Atwood has refined her vision this year with tailored suits and silk dresses, though the punk vibe still represents in long leather cardigans and muscle tees.
She also keeps it whimsical with houndstooth patterns and a print featuring a likeness of her beloved hound, Hank. (Yes, Hank has his own Instagram account, @hank_leon_barlow_atwood.)
"What can I say, he inspires me!" laughs Atwood, who brings Hank along to her photo shoots.
Her collaboration with jewelry designer Meredith Anne Sutton is meant to enhance the dozen separate looks she's contributing to the show. The strong lines and high polish of Sutton's leather-and-silver lanyards and metallic cuffs echo the garments, giving a layered effect that complements each bangle and bustier.
"With Brooke's collection I'm focusing on creating pieces that are sophisticated but edgy, much like her style," says Sutton.
Pop-up shops from all four designers are part of the evening, and many of the items worn by the lovely local faces from RISE Model Management can be procured at the event or ordered online.
In keeping with the fashion-forward evolution of the annual Telfair Museum event, this year's coordinators have eschewed a typical runway format for a dynamic path that routes models down the dramatic staircase, through the Jepson atrium and around the galleries. Attendees are encouraged to take their time with the Jepson's current exhibition, State of the Art: Discovering American Art Now, a sweeping snapshot composed of a diverse collection of artists and media that reflect what's inspiring America today. Much like the collaborations between the designers, the exhibit and the fashion show mirror and augment each other.
"Contemporary art can be a powerful and meaningful form of communication that effectively reflects the time and place in which it was made," says Molly Taylor, Telfair Museums' Director of Development.
"The artists from the exhibition strive to find innovative ways to engage and connect with viewers on a personal level. We believe this fashion show will do the same thing."
As fashion and art converge, the conversation about how culture is reflected in contemporary design continues:
Whether you wear it on your body or hang it on the wall, it's a dialogue that is definitely au courant.
cs