SAVANNAH Stage Company, known for its red-hot productions of literary classics, lights it up with its upcoming production of the musical Cabaret.
With recent community wins in Connect Savannah's Best of Savannah 2018, the company shines with accolades Best Local Theatre Director (Jayme Tinti), Best Local Actor (Wesley Pridgen), Best Local Actress (Ashley Cooke), and Best Local Vocalist (Lexi Balaoing).
The crew relished their achievements but quickly got back to work on their most ambitious and sultry production yet.
"Winning was inspiring for us," says artistic director Jayme Tinti, "It felt great to know people are paying attention, that they're watching and liking what we do. It also adds a sense of pressure to really deliver with Cabaret."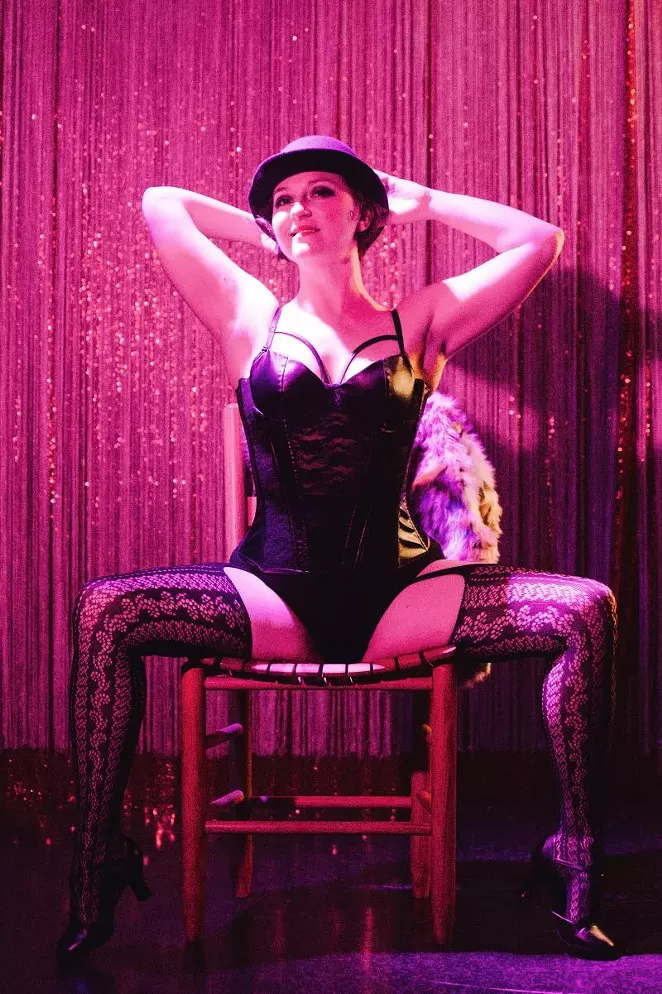 Right now, Savannah Stage Company is on fire.
In its sixth year SSC has come a long way from its humble beginnings. Past productions were performed at Ampersand and Space Cat Books (both now defunct), Sulfur Studios and Service Brewing Company—all great community spaces but only large enough to hold audiences of 50 or less.
For Cabaret, SSC partnered with the Pop Up Play House at 115 East Lathrop Avenue in Savannah. With a fresh stage, cabaret-style seating, and 100-person capacity, the venue allows the crew to bring in and reach larger audiences.
Not only is the Pop Up Play House their largest venue to date, but with a 14-member cast and five-piece backing band, Cabaret is set to be the company's largest production.
"We knew we wanted Cabaret to be something extraordinary, " says Tinti, "I've been thinking about it since the beginning of the season, how the production would look and sound. We knew it would be a big undertaking, especially since the story runs parallel to so many current events happening today."
Cabaret tells the story of the Kit Kat Club in seedy, sinful 1929 Berlin. American writer Cliff Bradshaw travels to Germany in search of inspiration and pleasure and finds both in nightclub performer Sally Bowles.
Just outside the club's doors, though, the Nazis' impending rise to power threatens to tear apart their indulgent lifestyle.
Lexi Balaoing plays Sally Bowles.
"Most people are familiar with Cabaret and Liza Minnelli's portrayal of Sally. I wanted to stay true to the nature of that character but dig deeper to make Sally more than someone just guided by sex and alcohol," says Balaoing, hinting at the fact that Cabaret's characters are based on real people.
Key to it all is Christopher Isherwood's 1939 autobiographical short novel Goodbye to Berlin, which inspired John Van Druten's 1951 play I Am a Camera. Druten's play, in turn, became the basis for Joe Masteroff's book Cabaret, the foundation of the musical itself.
"Each role I take on in the company challenges me to grow as a person and performer," says Balaoing, "in this production we wanted to understand these characters as the people they were in life."
And so, the cast began rehearsing in May to uncover the motivational nuances of their characters. SSC is process-based, which means the actors work with each other to explore physically, emotionally, psychologically and spiritually the nature of their characters and how they act, react, and interact with each other in different circumstances.
It's all for the sake of being as genuine and honest as possible, to connect with the audience and with each other on stage.
"I learn so much with each performance," says Wesley Pridgen, who plays the Kit Kat Club Emcee, "it's challenging to tell someone's story in a way that honors that person and comes across as genuine to the audience. For this role especially, I've been working on speaking with convincing, German-accented English."
Not only has Pridgen been voted Savannah's Best Local Actor two years running, but he's also a founding member of the company.
"Several of us in this cast have been working together for six years now, we have this camaraderie that's like a sixth sense around us pushing us toward success."
That kind of intuitive teamwork goes hand in hand with SSC's mission, which is all about serving the community and bringing accessible, high-quality theater to Savannah audiences.
Tickets to SSC's productions have always been $15 or Pay-What-You-Can to ensure no one is priced out from attending a performance.
The production also showcases choreography from Wendy Penatello Denny, cofounder of The Savannah Sweet Tease Review, and an orchestra triple the size of SSC's usual accompaniment.
The orchestra features music director Diane Houseman on keys, Andrew Lukin on percussion, Rodney Singleton on saxophone and clarinet, Chris Tillis on bass, and Jonathan Trulock on trombone.
Opening night July 20 also boasts a big community party both before and after the show, with a food truck from Bowtie Barbecue, craft cocktails, custom sweet treats, and a photo booth.
Indie media funsters Brandy Kennedy and Ryan Koch of the Kennedy Koch Show will be there, too, hosting and entertaining the crowd.
"We believe theater can change the world," says Tinti, "and we have a civic duty to be change-makers in our community. Cabaret is such an important story to tell right now, and given our current political climate, far too relevant."
cs