SINCE 2014, Savannah State University has hosted an exciting Chinese culture program that enriches the lives and cultural understanding of its participants.
The Confucius Institute serves to promote intercultural understanding and educational exchange between the U.S. and China. The worldwide organization has been around since 2004, and Savannah State is one of the participating colleges.
Led by Peggy Blood and Dengfeng Wu, the organization works hard to further the mission of the institution and teach Chinese culture to American students.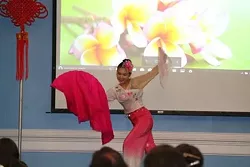 One of the ways the organization does that is by offering beginner Chinese classes. The classes are free to both Savannah State and Georgia Southern students, and are $60 for non-students. This is a fantastic deal for anyone to participate in, let alone college students.
The Confucius Institute also partners with the Savannah-Chatham County Public School System in three schools—Heaven Elementary School, DeRenne Middle School and Myers Middle School—to teach dual language and immersion programs.
Students who learn a second language enjoy academic benefits and proficiency, and being proficient in Chinese helps better prepare them for the global community and job markets.
The Confucius Institute also hosts summer camp programs, where the participants travel to the Confucius Institute Headquarters, or Hanban, and to Jiujiang University in the northern Jiangxi province in China.
cs