A SET from Priests is sure to be a rollicking good time, and it might also make you think.
The D.C. three-piece is set to release their third album, The Seduction of Kansas, on April 8 via Polygon Records. The title song name-checks the Koch brothers and White Castle over a synth beat.
We spoke with vocalist Katie Greer and guitarist G.L. Jaguar last week about restructuring their lineup, being provocative, and getting pigeonholed.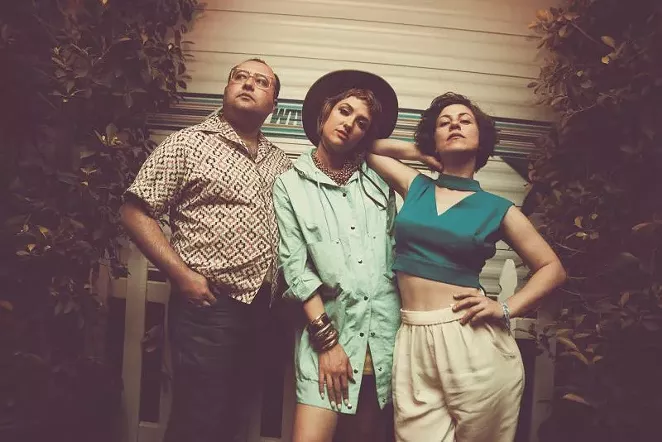 What was it like going into the album?
G.L. Jaguar: As a band, we went through a lot of changes. We lost our bandmate Taylor [Mulitz], who decided to pursue his other project full-time. There's only so many hours in a day, so it was back to the OG Priests lineup, which was [drummer] Daniele [Daniele], Katie and myself.
But it was interesting because we've been a band so long in that iteration. We basically had to relearn how to do everything. It was very much like a "rip it up and start again" mentality. There were some stumbles and false starts, but we got to the groove of it. We had some interpersonal drama, but we've all been working on it. I think the one thing that's really great about this whole process is that it's definitely made us come out stronger on the other end of it.
Let's talk about the name of the album.
Katie Greer: The song and the title is inspired by a Tom Frank book called "What's the Matter with Kansas?" where he talks about the history of the political climate in Kansas, how it's often been a state that can predict the ideological direction the country is moving in. It's leaned dramatically left or super conservatively right and different times in history.
People often think of the word seduction in a romantic sense, but we were trying to think of it with a more nefarious connotation with the way a politician might try to seduce the populace with their speaking. We had all kinds of ideas for the title. It took so long to get the title we wanted.
GL: There were a lot of different names that didn't make the cut, but at the end this just kind of fit.
Is politics usually in the forefront of your writing?
Katie: Often, we're so pigeonholed into being described as a political band that we actually really push back against that as a descriptor because it can feel a little bit objectifying. One thing we told people a lot on our last record cycle was there's a political dimension to almost anything you want to talk about. So, what it often feels like people are saying was they're finding our lyrics very provocative, and that's cool. That's a compliment. It makes people think.
I think a lot of my subject matter focuses on power dynamics, and I tend to write in a way that, for me, feels like writing a movie script and squeezing it into a song. I like to come up with characters—that's something I really leaned into for this record, was drawing out these really larger-than-life characters and making songs around them.
GL: We're always reading books or going to the movies together. We listen to podcasts as a band—we really like Intercepted with Jeremy Scahill. We're always listening to or reading or watching, there's always something we're absorbing.
Katie: We'd rather people just think of us as a really fucking great band. We play rock music, we write cool songs, that's what we do.
What's the writing process like?
Katie: Musically, we write the songs together. Sometimes maybe one person comes in with a skeleton demo idea, and people will flesh out an idea or parts, but if you hear me singing, I typically wrote the lyrics. There are two songs on this record that Daniele wrote the lyrics to and sings, and I just love those. I'm excited for people to hear that.
Then we actually had one song that was a lyrical collab between me, Daniel and our fourth instrumentalist, Janel Leppin.
What can people expect from a Priests show?
Katie: We'll play our songs to the best of our ability, and we're going to be having fun. I can confidently say I think we put on a good show. I think it's a smart purchase to buy tickets for our shows.
GL: Good consumer value!
cs