Trusted travel icon Samantha Brown is the host of her Emmy award-winning and eponymously-named PBS show "Samantha Brown's Places to Love." Now in its sixth season, the show follows Brown as she explores exciting locales around the world, discovering little-known secrets and meeting with interesting people along the way. Recently, her travels have taken Brown and her camera crew to the Hostess City, which shines on screen in an upcoming episode of the show's current season.
Brown shot the Savannah episode last year during a four-day visit that began on April 1, but it wasn't her first time in town. She's been to Savannah quite a few times over the last two decades, and she wanted to shoot the episode here to show viewers a new side of this historic city.
"Everyone knows Savannah, Georgia. Either you've been there or you want to go. . . I think people see Savannah and how beautiful it is, the squares, the whole thing with Oglethorpe, the river. We hear all these stories of the Spanish moss dripping and how it's just this beautiful city, but there's so much more to it. And so, our show 'Places to Love' was there to really go a little bit deeper than what a traveler or tourist usually does when they go to Savannah, to find out who the people are. Really what the soul of Savannah is and how we as travelers can interact with that," Brown expressed.
During her visit, she sought out opportunities to interact directly with locals, stopping by several popular and historic sites. She kicked off her trip by paying a visit to SCAD graduate, Amelia Jamerson, at her quaint gallery 18 Loves Art, which is located in Savannah's thriving Plant Riverside District.
"We're thrilled that Samantha Brown featured one of Plant Riverside District's partners, Amelia Jamerson and 18 Loves Art in a special episode focusing on Savannah. It's an honor for Plant Riverside District to be included with other local landmarks like the Juliette Gordon Low Birthplace, the Pin Point Heritage Museum and the Davenport House Museum in such an informative travel segment that will air nationally," said Scotty Henley, Director of Entertainment JW Marriott Savannah Plant Riverside District.
Among the many interesting and iconic places Brown visited, one of her favorite experiences was joining a run club that took her to veteran-owned Service Brewery.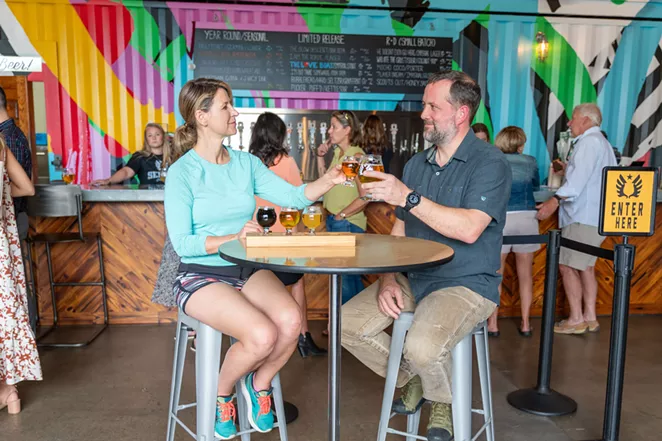 "The thing that I learned about Savannah is that people are kind of obsessed with running there. . . So, I thought that was a great way to meet other locals, to do a run club, and then to tie it in with Service Brewery where proceeds from the beer poured go to veteran-operated charities. . . I thought that was an amazing mission business-wise. As travelers, there's definitely a trend of how important our consumer dollars are in terms of benefiting others and keeping it within the community. So you're not just having a great beer with some locals. What you're doing has far greater reach than that," she explained.
Another new experience Brown enjoyed was her first oyster roast, which took place at The Wyld Dock Bar. There, she met with blacksmith and sculptural artist Gilbert Walker, who is a part of the region's Gullah Geechee community.
"We learned about that history as well and met modern-day Gullah Geechee people, learning directly from them," Brown recounted.
She also learned a lot of surprising facts about Savannah's Jewish community during a tour of Congregation Mickve Israel.
"I'm from New York City. I just thought all of Jewish history centered around New York City, and not true. I wasn't even close," she exclaimed.
She spoke with Rabbi Robert Haas and learned about the rich and long-standing history of one of America's oldest Jewish congregations. Congregation Mickve Israel received a letter from George Washington back in 1790, and they received several others from sitting presidents through the years.
"They have the first Torah that came to the United States. And of the first 13 Girl Scouts, eight of them were from that congregation as well. So just the history of acceptance and how Savannah was a more accepting colony because that was the only place in the United States where Jewish people could be considered real citizens. . . I love to go to places that reboot my history. I'm learning directly from the people . . . the stories of these cities and who gets to tell that story becomes really important. And we found the perfect storytellers," said Brown.
For travelers interested in visiting Savannah, Brown has this advice:
"I think the first thing you want to do is find out what SCAD is doing and how you can interact with that incredible college. I think that's what makes Savannah such a vibrant and young city. It's different from Charleston in that respect. There's a lot of history in both cities but what makes Savannah new and exciting and innovative is that college," she explained.
The Savannah episode of "Samantha Brown's Places to Love" will air on GPB-HDTV on Sunday, Feb. 19 at 6:30 p.m. And viewers can look forward to seeing Savannah featured in her show again on an upcoming episode about makers, artisans and craftspeople.
Brown added, "One great thing I never knew about Savannah is that it's where Benedetto Guitars are made, and they're considered the best jazz guitars in the world. They're all made by hand in Savannah, and I think they range from something like $4,000 to $45,000. . . We shot the scene there while we were in town, so we featured Benedetto Guitars and their master luthier Damon Mailand."
She also met with Benedetto Guitars CEO, Howard Paul, who played Johnny Mercer's "Moon River" for her on his acoustic guitar, which she says "just melted my heart." The Benedetto Guitars workshop is not open to the public, but viewers can get an exclusive look into this world-renowned Savannah-based business on that upcoming episode.
"It was so wonderful. . . It might be something that people in Savannah don't even know about. So make sure you watch the makers episode for that little historical lesson in there too," she added.
For more information about the show, visit samantha-brown.com/.