THIS YEAR's edition of the Savannah VOICE Festival – the sixth – has kicked off, and this week offers another round of high-quality events. Here's what's next:
Savannah VOICE Festival presents Gian Carlo Menotti's "The Telephone"
This 30-minute comedic opera written in 1947 explores a scenario all too familiar and still relevant today— how being able to communicate with someone miles away interferes with speaking to someone in the same room. The opera tells the story of a young woman smitten with the new tech of the day, her telephone. So infatuated is she that her boyfriend can't get a break to propose to her.
Returning from last year's festival are baritone James Wright and soprano Meechot Marrero. Marrero is a young rising Puerto Rican star who joined the Deutche OPer Berlin in 2016. Wright has been building a strong opera career with his warm tone and charismatic presence.
The performance features pre-opera entertainment with other telephone-related pieces.
Savannah VOICE Festival—Camp VOICE Showcase
Catch tomorrow's best opera talent today at the Camp VOICE Showcase, Stories of Old and New. Every artist has a story, and some of them are just beginning. Director Jessica Ann Best presents young singers in their final performance featuring fresh takes on classic songs and scenes. Stories of Old and New takes place 2:00 P.M. Saturday, August 11 at the Yamacraw Center for the Performing Arts.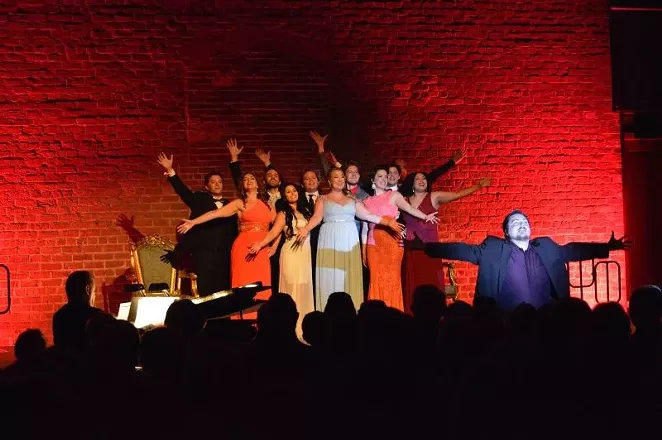 Savannah VOICE Festival Presents Broadway Tales
Join the SVF artists in a lively 90-minute review of stories that have crossed over from opera to Broadway. Artists bring to life how La Boheme became Rent and how Madame Butterfly became Miss Saigon. Pianist Dan Gettinger leads one of the most popular concerts of the festival.
It's A Funny Story—Marco Nistico in Recital
Experience for yourself why the New York Times praises Marco Nistico for his "vocal aplomb and comic pizzazz" on Sunday, August 12 when he presents a dynamic recital that showcases his range of style and drama. Nistico also coaches Italian diction in the Festival's training program and will be joined by two of his mentees during the evening's performance which features works by Italian composers Verdi, Tosti, and more.