The Savannah VOICE Festival returns for its eleventh season August 6-20. Over the course of these two weeks, the Hostess City will enjoy more than 25 performances taking place at venues across the Coastal Empire. SVF is a special celebration of classical voice highlighting artful sounds of opera, musical theatre and popular song. The festival is the product of renowned operatic baritone Sherill Milnes and his wife, soprano Maria Zouves.
"The Savannah VOICE Festival . . . is all rooted in the legacy of great singing left behind by its co-founders and presidents. . . .The festival grew out of its sister organization, VOICE Experience, which started in 2000 and aimed to mentor young, aspiring singers in the craft," said Chad Sonka, SVF executive director. "The Savannah VOICE Festival grew out of a need for a place for those artists to exercise that craft, and the Hostess City was a fabulous place for that because there was a need for something like that here."
This season's theme is "A Lasting Legacy," honoring the artistic legacy of the Milnes VOICE programs.
"'A Lasting Legacy' is really about highlighting the legacy of great singing left behind by Sherill and Maria — that we are honoring a legacy of singing that moves so many people and really trying to cultivate that in young artists as well as instilling that in patrons to seek it out as much as possible," said Sonka.
This year, SVF will feature more than 40 participating artists, presenting an exciting range of experience and ability.
"What I love about the VOICE programs is that they speak to all levels. We have study grant artists who are here to build and hone their skills all the way through professionals who are out singing all over the world including Broadway and [international] opera houses. We have a wide range of wonderful talent as well as brilliant production staff that help us," he expressed.
Each year, SVF presents an array of compelling performances as a part of the Savannah OPERA season, and this year, festival goers are in for a real treat. This year's Savannah OPERA package comprises three spirited performances including English Baroque composer Henry Purcell's "Dido and Aeneas," Wolfgang Mozart's "Don Giovanni" and Giacomo Puccini's "Madama Butterfly."
"All three of these operas speak to our season beautifully because they are the cornerstones of what we know opera to be, which is the Olympics of singing. It truly is the total art," said Sonka.
Beyond the opera package, Sonka also highlighted the "As Time Goes By" tribute to post-World War II music taking place at the National Museum of the Mighty Eighth Air Force in Pooler, which is happening for the first time at SVF. Other festival firsts for this year include new venues and partnerships.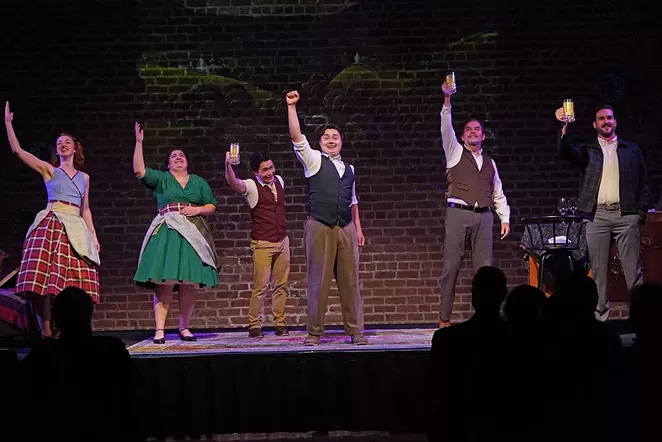 "We are going to be at the Savannah Cultural Arts Center, which is where 'Madama Butterfly' will be taking place. We are also partnering with the Hilton Head Symphony Orchestra for the first time to do a concert we're calling 'Voices Under the Stars' out there in Hilton Head, which is one of our musical neighbors. . . We are engaging with partners and venues that we've never done before, which is really healthy to the vibrant musical community that this area has to offer," he explained.
Though there are a few exciting new additions, the main appeal of the VOICE Festival remains unchanged.
"People should attend this year's festival for the same reason they always should, which is the voice. We are the Savannah VOICE Festival. The unamplified singing voice is something so powerful and so visceral that when you hear it, you can't help but have an emotional connection to it. We always want to highlight the beauty of these voices that come from all over the world to perform here in Savannah," said Sonka.
He added that SVF works to make these experiences accessible with subtitles, translations and program descriptions for foreign language performances, and he encourages the community to come out and enjoy everything this season has to offer.
"Our artistic director Jorge Parodi and I are really excited to further the legacy that Sherill and Maria have built over 10 years ago," he stated. " This is our 11th season here in Savannah, so we're just excited and honored to further our lasting legacy."
To learn more about the Savannah VOICE Festival or to purchase tickets for this year's season, visit savannahvoicefestival.org