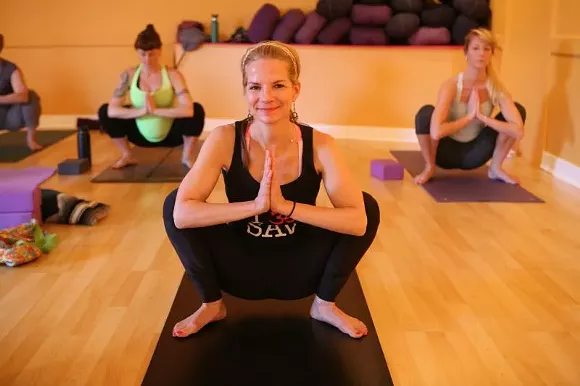 BACK IN 2003, opening a yoga studio in slow Savannah was practically a radical act.
Native daughter Kelley Boyd had fallen in love with the practice after discovering an old White Lotus VHS tape. She knew she just had to share it with others, so she stretched past her comfort zone.
"It wasn't mainstream then, no, but Madonna was really into yoga," laughs Boyd, the proprietor of Savannah Yoga Center, the city's longest continually operating yoga studio.
"I figured there had to be other people like me here, who wanted to be in their bodies but weren't into high-impact sports."
She traveled to Asheville for her foundational training, then to New York to receive her advanced certification. Then she took a big breath, rented the living room in a house in the Starland District, bought some mats and opened the doors.
"The place was so small, a super slammed class was 20 people," recalls the prana pioneer.
"We would all sit around and drank tea together afterwards."
Since then, Savannah Yoga Center has moved to its airy, multi-roomed studio on Bull Street, offering more than 50 classes a week in diverse disciplines. It has graduated hundreds from its teacher training programs and raised thousands of dollars for local charities through its community classes and member donations.
This weekend, SYC commemorates 13 years of sun salutations and tricky asanas with an afternoon event on March 13. Beginning with a "mash-up" class taught by Boyd and some of SYC's most popular teachers at 4:30, the transformative bliss continues with a kombucha happy hour with the infused flavors of Asheville's own small-batch brewery, Buchi.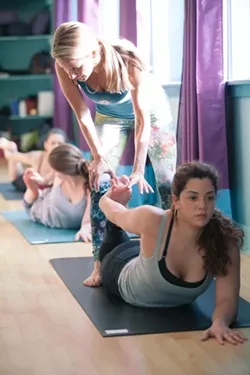 Then comes the chanting as Prema Hara brings their joyful devotional music to the party. Using chimes and sitar, the dynamic duo sets the tone for a meditation that Swami Ramananda calls "a kirtan experience that melts the heart and touches the spiritual Self."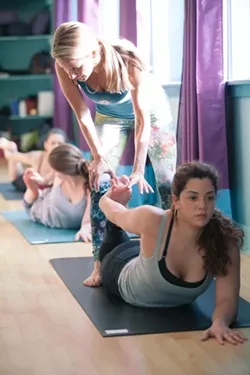 Boyd has partnered with local charities from the very beginning, and a portion of the proceeds from Sunday's event will go to Habitat for Humanity.
"This is my home, so I've always wanted to give back, but our members allow us to do that on scale I couldn't do by myself," she says.
Yoga is hardly the esoteric endeavor it once was, and all kinds of practices have popped up in town since SYC was the lone outpost.
"The culture has definitely changed," notes Savannah's original yogini.
"When we first started, people used to say, 'oh, it's way too slow, I'll never get a good workout doing that.'
"Now they say it's too fast-paced!"
cs