It's hard to keep secrets about food these days. I've mentioned it in this this space before, but I'm regularly amused when people ask about 'hidden gems' and 'off of the beaten path' spots.
Social media makes it hard for those to really exist anymore. When a new spot opens and it is very good, word will travel very quickly. The path will become beaten in short order.
There is, however, a spot in town that gets very close to fitting the bill.
It's The Steakhouse on Whitemarsh Island.
That's what it is called because that is what it is, and that also gives you a solid glimpse at everything you need to know about this no-frills tucked-away-at-the-end-of-the-strip-mall joint.
It's a steakhouse on Whitemarsh Island which very easily could qualify as one of Savannah's best kept dining secrets.
Truth be told, the word got out really about a year or so ago. But really only among the locals.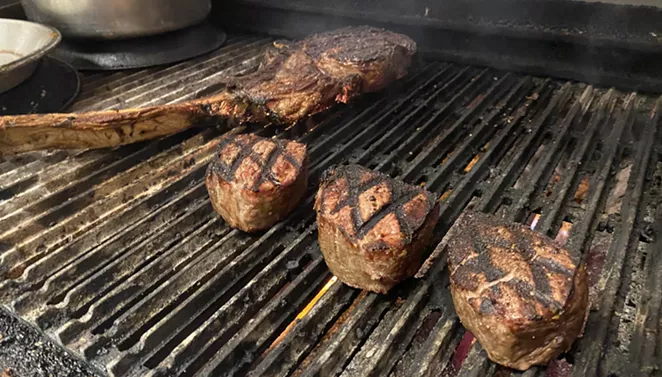 "We get very little, if any, tourists in here." Says Chris McGary, owner of The Steakhouse on Whitemarsh. "We don't cater to tourists. We don't market to them. If they'd like to come see us, sure, but we are easily 98 to 99% locals."
I'm guessing that is refreshing to a lot of you. This column isn't a who, what-when-where on tourism, but I can tell you the vibe at The Steakhouse is different because it is more than obvious when you walk in that this is a roof full of your neighbors enjoying a great steak.
Yes, the steaks are great.
Chris and his wife bought the place a few years ago from a friend who got in over his head. They'd been in the business before. They'd owned five restaurants around the country along the way.
"We sold our last one in 1999 and swore we'd never do it again." Chris says. "But this was just the right opportunity at the right time. We live around the corner and we know everyone on the islands. It was just a good fit all the way around."
His secret to a full house practically every night they are open? Making sure they offer great value to every customer. Don't overthink. Don't re-invent the wheel.
"We keep it simple. Nothing foo foo in here. We are a steakhouse. We offer a great steak at a great price. We don't charge extra for sides. It is all included. Some of our competitors will charge you an exorbitant amount of money for a bowl of mashed potatoes. We don't do that. We just include it in the price."
Chris tells me believes there should be more value out there for your dining dollar, but once again he understands why there isn't.
"If you can charge $50 for a piece of meat that you should only charge $25 for and get it? Then more power to ya. I don't think it's right, but it is what it is."
Now if I were you and I'd never been to this spot, I'd be wondering what the catch is. You know, if it sounds too good to be true, it probably is? Well in this case, it's kinda-sorta.
The menu at this steakhouse is on the short side. Generally, you are dealing with filets and ribeyes.
Their three-pound tomahawk for two is a crowd pleaser. Sliced tableside, the phones all come out when one of those guys is floating through the dining room. Chris says they go through about 15-20 of those a week.
Beyond that, the sides. There are two choices for potato. His very popular garlic mashed and roasted potato. That's it.
One vegetable per night. That's it. The last time I was there, it was corn. Again, that's it. They keep it simple because they believe you are there for a well-made steak.
"Salt, pepper and put it on the grill and let it do its thing." He says. "You do your crosses and serve it."
"It's a really easy process but people want to complicate it with all this stuff."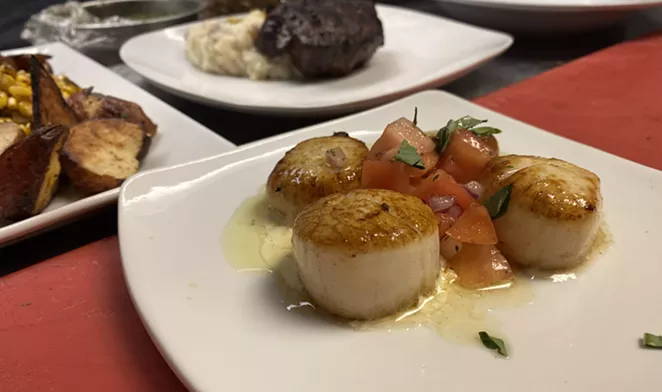 All that 'stuff' he refers to? I personally understand and appreciate at a traditional higher end steakhouse. But if you walk in here knowing that this is not that, then this is a very enjoyable meal. The room feels like you've stepped back into 1981. No frills to speak of and they love it that way.
"100 percent." He says. "100 thousand percent."
There's a shrimp and pasta dish, a fish and a couple of salads and apps. That's it. He said they keep it simple and they do.
The same goes for their wine list. You will find some usual suspects on there plus a few goodies.
Chris knows his wines so he tries to keep a little something in stock for everyone. Again, at a decent price.
"I don't see the point of marking up a bottle $100 like the corporate places do." If I can make a few bucks on something and keep our guests coming back, then I will do that."
It's a formula that is working very well.
"We've been very fortunate. Our clientele has followed us around town. We have a good following here."