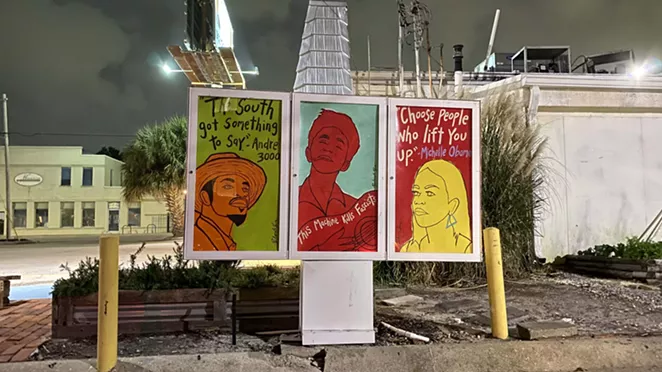 Michelle Obama, Woody Guthrie, and André 3000 are the subjects of three new paintings by Panhandle Slim now on view at Savannah's Drive Thru Art Box. This unexpected space for public art is a perfectly poetic way to frame Panhandle Slim's free-range paintings. The installation radiates messages of love, freedom, and political engagement − the ethos of Panhandle Slim's paintings. In 1943, Guthrie infamously painted "This machine kills fascists" on his guitar as a declaration of his belief in the power of music and patriotism. In 1995, at the Source Awards, André 3000 made the prophetic declaration "The South got something to say." And, in a 2011 ABC News interview, Michelle Obama recounted advice she gave her daughters for falling in love: "Choose people who will lift you up. Find people who will make you better." Panhandle Slim is a cultural icon, former professional skateboarder, social-justice advocate, and a self-proclaimed "soldier in the war on poverty" who lives in Savannah. While he was not available for an interview, Emily Earl with Sulfur Studios – which organized the Drive Thru Art Box display – explained, "Panhandle Slim has been eyeing the box for a while. We're excited he created these paintings specifically for this installation."
In a reductive way, you'd call Panhandle Slim a painter. His usual method is pretty straightforward: a colorful portrait and an inspiring political message on a piece of wood or paper. Panhandle Slim prefers his work to be outside, fastened to telephone poles, fences, and trees instead of being exhibited on what he describes as a museum's "indoor sterile white walls." Similarly to the lifework of many of his subjects, Panhandle Slim's art lives out in the world. His paintings move around, weather, age, and bear the marks of being exposed. This is not only fine with him, maybe, in fact, it is the point. As you walk through Savannah, keep your eyes open for his work – it just seems to appear. Yet the reach and impact of his art extends far beyond Savannah. Recently, one of Panhandle Slim's paintings of Hank Aaron was held by Aaron's grandson at the baseball Hall of Famer's funeral. Jimmy Carter once sent a handwritten thank-you note for one of his paintings. Even Lucinda Williams projected an image of a Panhandle Slim piece during a recent European tour. Back in Savannah, The Drive Thru Art Box is presented by Sulfur Studios and Green Truck Pub as a public art exhibition space started in 2012 by Matt Hebermehl, James Zdaniewski, and Mike Williams as a part of the SeeSAW (See Savannah Art Walls) Project. Located in the rear parking lot of the Green Truck Pub (2430 Habersham St., Savannah), The Drive Thru Art Box is a converted drive-thru menu box that now serves up an ever-changing free art display.
Don't miss this opportunity to check out the three Panhandle Slim paintings currently on view through March 5 at The Drive Thru Art Box, open 24 hours a day, seven days a week – just pull up and pause. Instead of thinking about what you'd like to order, take a moment and recognize what you're being given. Visit
sulfurstudios.org
for more information on the Panhandle Slim Drive Thru Art Box installation. Sulfur Studios is selling the original paintings for $250 each, along with posters of all three images available for $25 or $40.