STEPPING into Hayley Gaberlavage's studio is like a breath of fresh air. The clean white walls and natural light that streams through the windows perfectly complements Gaberlavage's crisp, colorful portraits.
That body of work, "Sultry Summer," is on display this Friday at the Rat on Bull as part of the First Friday festivities.
Born and raised in Opelika, Alabama, Gaberlavage came to Savannah for grad school in 2001 before moving to New Orleans. She calls herself a "vagabond of the Deep South," and that title is well-deserved—her paintings capture the essence of a Southern summer.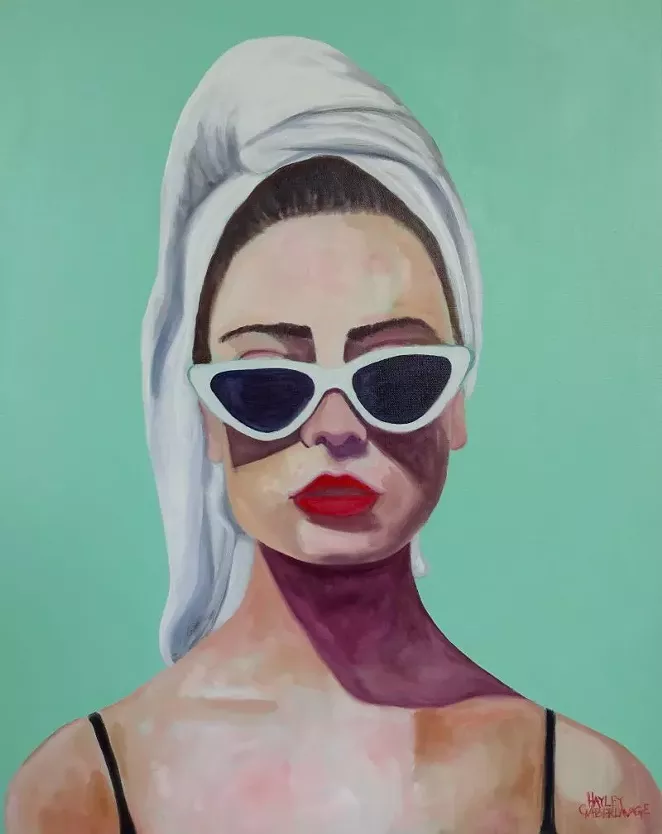 "I paint a lot of portraits," explains Gaberlavage. "I usually paint older women. I use a lot of images that I find—that one's from an old Kodachrome. I find them from all different sources, sometimes from pictures I've photographed. I love the photography from the 1950s and 60s. It was so cool back then! Everyone was just lounging around, nobody cared."
Gaberlavage works in bright, bold colors, notably using a turquoise for the background of many of her portraits instead of including a scene. The pop of color in the background bolsters the 60s retro feel Gaberlavage strives to convey through her paintings. It's also clear through Gaberlavage's paintings that she has a background in design—the work is definitely meant to hang in a home.
Gaberlavage and her husband moved back to Savannah nearly two years ago. Since then, she's had art shown at Location Gallery and at the Bohemian.
The Rat on Bull is a fresh addition to the expansion of the Bull Street corridor. The store primarily sells men's apparel and is curated with intention.
"It's a really fun spot," says Gaberlavage. "It's kind of like a vacation, resort-wear store, which fits with my work. Hopefully we can get some people in there."
As it begins its foray into an art space, the Rat on Bull enlisted Ava Pandiani from Everard Auctions to help curate monthly shows for the spot.
"I think it'll be a lot of fun," Gaberlavage says. "We'll sling some tropical drinks, have a fun little playlist."