The Savannah College of Art and Design's Museum of Art showcases an eclectic and evolving collection of artworks from internationally acclaimed and emerging artists. About twice a year, the museum's dynamic gallery spaces transform to present new works, and this month, SCAD MOA has displayed three new exhibitions as an introduction to the fall 2023 exhibition season. The museum hosted special programming that included a panel discussion and artist talk followed by an opening reception on Aug. 17. The exhibitions will be on view into the winter months, presenting the public with another opportunity to engage with artworks that inspire.
"We're so excited to share this great group of exhibitions with art enthusiasts and guests of the Savannah community," said Daniel S. Palmer, SCAD MOA's chief curator. "The SCAD Museum of Art has something for everyone, with new exhibitions by some of the world's most important contemporary artists and the debut of new artworks in all media that are sure to impress."
SCAD MOA makes world-renowned art accessible to the local community through these exhibitions and the corresponding programming. The new exhibitions each reflect a diversity in perspective, method and media that viewers will appreciate.
Nevin Aladağ: "Refraction"
On the museum's exterior wall, within the giant glass vitrines, which the staff charmingly refer to as jewel boxes, are four newly commissioned works by Turkish artist Nevin Aladağ. The artworks expand on her "Social Fabric" and "Pattern Kinship" series. In "Social Fabric," Aladağ amalgamates disparate pieces of carpet from around the world into complex collages. And her "Pattern Kinship" works involve overlapping colorful laser-cut acrylic layers featuring distinct motifs from abroad as well as ornamentation referencing Savannah's historic buildings.
"We're presenting two different bodies of work. One that Nevin is very well known for, and the other is this new exploration in laser-cut acrylic," said Ben Tollefson, SCAD MOA curator.
Interestingly, the acrylic works were cut at SCAD, further imbuing Savannah's essence amid a symphony of global cultures.
In both series, Aladağ's bold use of line and color invoke a playfulness and vibrancy. She draws from many locales and cultures, which is emblematic of her experience as an immigrant, uniting them to create a collective sense of meaning and beauty.
These unique artworks are her largest pieces to date. "Refraction" will be on view through Jan. 15, 2024.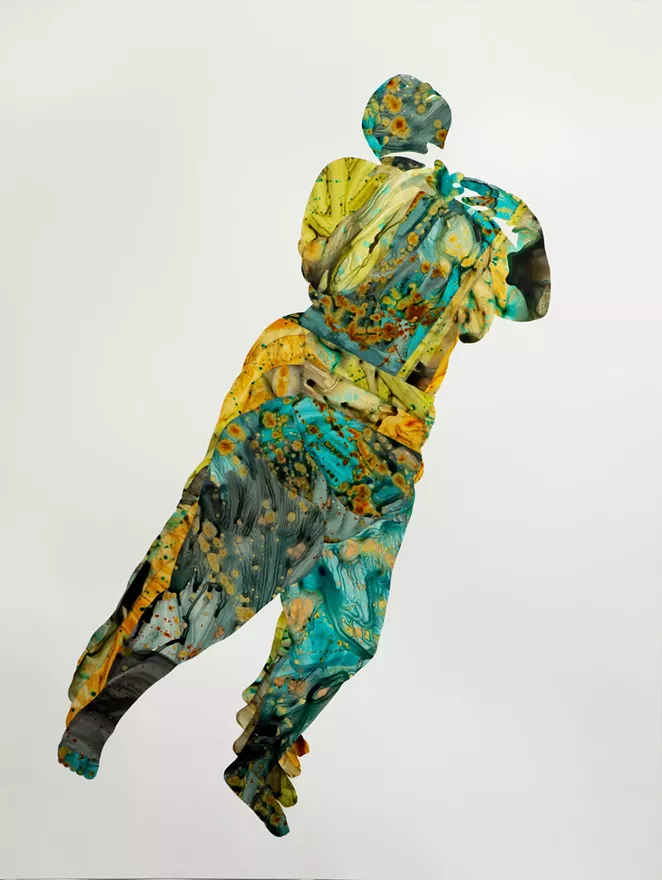 M. Florine Démosthène: "Mastering the Dream"
In her "Mastering the Dream" exhibition, Haitian-American artist M. Florine Démosthène presents an entirely new body of work that centers and explores the Black female body in abstract collage and experimental sculpture.
"Her work involves transforming the body into something a little more transcendent. She uses her own body as a reference for all of the works," said Tollefson.
Working with paint, ink and glitter on Mylar, Démosthène creates collages featuring silhouetted figures that are cut and assembled onto white voids, evoking a splitting of self to "get into the core of who we are," said Démosthène during her artist talk. The resulting forms are otherworldly artworks that are celestial and spellbinding.
In addition to the collages, Démosthène's exhibition includes a shrine of 3D printed sculptures that are akin to altar pieces she encountered during her years in Ghana. The shrine sits on an authentic Ghanaian hand-dyed textile called Batakari.
"The shrine is the center of the spiritual world. It didn't feel right if I didn't have the shrine there," she said.
"Mastering the Dream" will be on view through Jan. 8, 2024.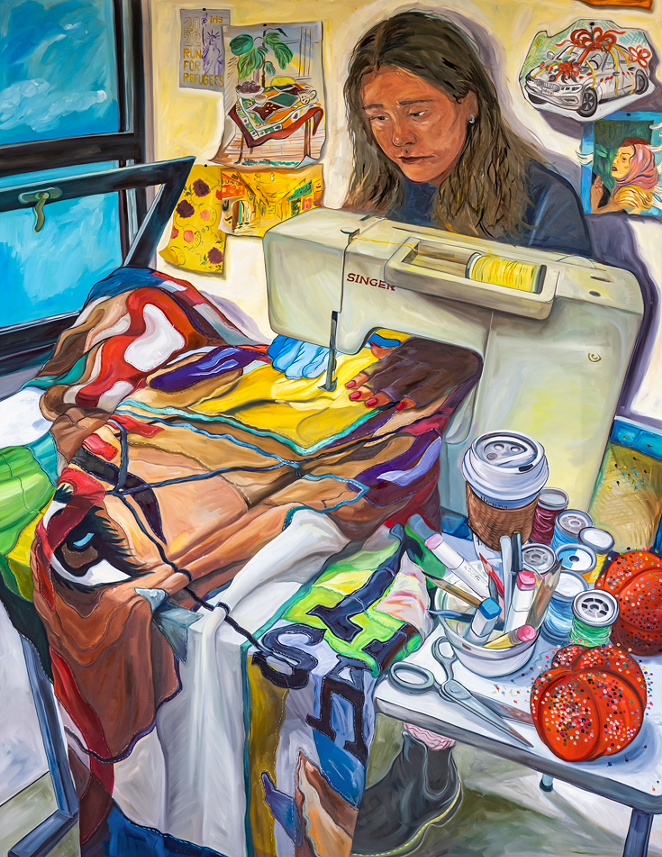 "Likewise: Artists Portraying Artists"
"Likewise: Artist Portraying Artists" is a multimedia group exhibition in the museum lobby featuring artworks from the SCAD MOA permanent collection. Each of the works is a portrait of another artist, offering insight on depicted artists and the relationship that exists between portraitist and muse whether it be romantic, amiable, professional or parasocial.
"The concept of this show is all of the different ways that artists portray other artists, rather than their family or historical figures. These are usually pretty intimate explorations of the psyche of another working artist," said Tollefson.
Featured artists include painters Rebecca Ness and Keith Mayerson and photographer Michael James O'Brien. "Likewise: Artist Portraying Artists" will be on view through Dec. 18, 2023.
SCAD MOA will continue the fall exhibition season with the unveiling of more exhibitions on Thursday, Sept. 21. Programming that day will include artist talks at 11 a.m., a lecture at 5 p.m. and an opening celebration at 6 p.m. All of these events are free and open to the public. For more information, visit scadmoa.org/.