The Savannah College of Art and Design's Museum of Art cordially invites the public to attend deFINE ART, the museum's signature art show. Now in its 14th year, deFINE ART is the university's annual program of talks, tours and exhibitions featuring contemporary works by acclaimed artists from around the world.
"SCAD deFINE ART 2023 challenges students, collectors and lovers of beauty to query the quotidian and question the quixotic. Glowing glass installations, fantasy-inspired painted panoramas and three-dimensional dioramas immerse viewers in ethereal elegance," said SCAD president and founder Paula Wallace.
Featuring paintings, sculpture, photography, fashion, video and more, the artworks represent a diversity of media from a global grouping of gifted artists.
"We are so honored to showcase these incredible artists here at the SCAD Museum of Art. They have created a diverse group of important exhibitions of the highest caliber that . . . will inspire audiences of all types. As always, the artists we work with bring such ambition, thoughtfulness and creativity to their projects here. We are so excited to share their brilliance with our students and visitors," said Daniel S. Palmer, SCAD MOA's chief curator.
deFINE ART is one of the many impactful ways that SCAD makes world-renowned art accessible to the local community. Attendees can look forward to keynote lectures, gallery talks, panel discussions and other engaging events during the show. Almost all of the featured artists will be present at deFINE ART to connect with the local community and share about their art. The programming complements the ten new exhibitions at the SCAD MOA, the majority of which will be on view leading into the summer.
Rejoice!
An exhibition titled "Rejoice!" by the late Ana Bel Lee Washington is currently on view at the museum. Washington was a self-taught artist who took up painting after she retired on St. Simon's Island. Her distinct style is characterized by her singular painting technique, which she uses to create vibrant, joyous depictions of Black life. Georgia novelist Tina McElroy Ansa played an integral role in getting the collection of 18 works to the SCAD MOA, and two of the paintings will join the museum's permanent collection.
"She learned how to paint working in a community center and started painting there. She just creates these beautiful scenes of Black life in the region that I think are so honest, pure and beautiful," Palmer explained.
What a Relief
Josh Sperling's "What a Relief" exhibition features sizable works with free-wheeling squiggles and jolly jigsaw composites. The colorful, eye-catching three-dimensional art pieces adorn the walls in the museum's lobby as well as on the exterior in the public-facing jewel box vitrines. With the exception of one piece, the artworks are newly-commissioned and speak to the dynamism of the museum's lobby space.
"Josh Sperling . . . creates works that are somewhere in between paintings and sculptures. They have these design elements that relate to Memphis Milano and design from the '80s," said Palmer.
There is peace like a river
Just off the lobby in the SCAD alumni gallery is Gyun Hur's exhibition, which features hand blown-glass vessels containing water from the Savannah River and hand-shredded silk flowers as well as intimate drawings, writings and archival photographs.
"Gyun Hur is an incredible artist and a recent alumni who has made work that really relates to Savannah," Palmer stated.
The exhibition is titled "There is peace like a river," which is refrain from a Negro Spiritual that provides the compositional structure for her installation. Through these works, she intertwines experiences of her native South Korea and the American South, reflecting on untold stories while navigating a new course to healing.
The Close of Day
An artist of biracial identity, Chase Hall's work interrogates the realities of face in America through figurative painting and iconography that engages the past and present. He paints on raw cotton canvas, using brewed coffee grounds to create brown pigments. In doing so, he presents a dialogue between brown and white as well as between two commodities that relied entirely upon enslaved labor.
"It's a really powerful way of painting, and the way that these figurative paintings also speaks to themes of community, of labor, and of the history of Black people in this country and his own place in that long history," Palmer expressed.
In addition to paintings, "The Close of Day" features a vitrine and an exciting installation component built in a brick room that includes antique pews and a 1923 Wurlitzer organ.
"He looks at a lot of archival, historical materials and thinks a lot about how people, especially Black people in the history of this country, how they dress and how they comport themselves. And how it really is this opportunity to, and agency to show beauty and express creativity in the world," he added.
Facade
Known for her whimsical, multidimensional installations, sculptor and painter Rachel Feinstein often alludes to fantasy and fiction as well as religion and culture in her works. She uses art as a storytelling medium, using painted panoramas, large-scale wood sculptures and wall relief works in her art. "Facade" always implies something behind, and the exhibition plays on its title. There is a historical depiction of Rome plastered about in stunning custom wallpaper with Mylar elements as well as a reflective abstract sculpture of Saint Michael slaying the dragon. The facade comes into play most prominently in a wooden stage set built from painted jigsawed pieces of wood.
"That piece really starts to speak to major themes in the show of identity and how we present ourselves to the world and also how architecture is really the main way that that is often done," said Palmer.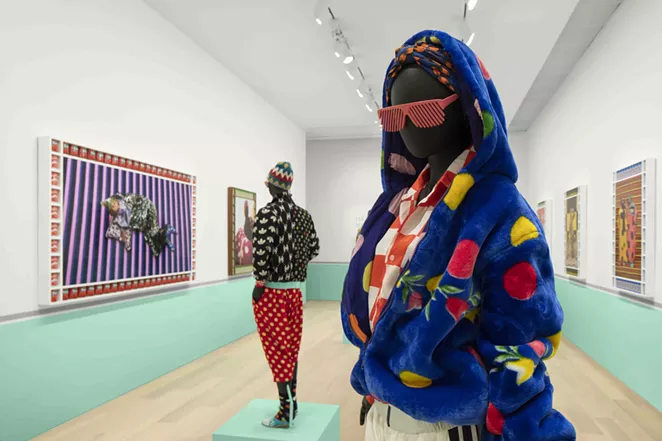 1444
Aptly occupying the museum's Andre Leon Talley gallery space is Hassan Hajjaj's "1444". The exhibition is bold and brilliant, featuring vibrant photographic portraits and busy fashion pieces that catch the eye. "1444" is a joyous celebration of Hajjaj's multicultural identity as a native Moroccan who now lives and works in the United Kingdom. Having been called the Andy Warhol of Morocco, Hajjaj leans into this comparison, framing his works with colorful canned goods and other common products.
"This exhibition really brings together a dialogue between art, photography and fashion. . . There's a beautiful dynamism with all of this that speaks to creativity and fun," Palmer remarked.
Museum of the Lost (Strangers at Home)
In "Museum of the Lost," Leung Chi Wo and Sara Wong contemplate the concept of anonymity by developing characters from unknown individuals in the backgrounds of photos. They take these nameless people and create life-sized photographic prints based on their poses and attire. Wo and Wong also craft detailed backstories for these characters, who were spotted in photos from albums belonging to families in Nagoya, Japan.
"It's just like all of us, when we're out, you take a picture. There's people in the background who we probably don't know. And they don't know you. You have that moment where you're connected through the snapshot. . . But they go off, they live their life and you live yours. What the artists did is almost this archaeological uncovering. . . It's this meditation on what is our role . . . in the bigger scheme of the world and in other people's lives? When you pass somebody on the street, my hope for this show is that it encourages us to be more empathetic," Palmer expressed.
Cosmic Generator
Mika Rottenberg's "Cosmic Generator" is an architectural installation that leads into a single-channel film that explores themes of capitalism, globalization and contemporary geopolitics by following the exchange of commercial goods from China through to the U.S.-Mexico border. The kaleidoscopic film has an ASMR quality to it, drawing viewers into its strange, saturated surreality.
"There's a lot to it that's about the relationship, the transport and the connection of goods and people from these places around the world. And it's also thinking through in a metaphorical way, import exchange of goods and also of transport and migration of people . . . She took these ideas and explored them in a surreal way that is meant to be very strange and cosmic, but it's also meant to hopefully encourage us to reflect back on those things," he explained.
Twelve Moons
In 2022, artist Ann Craven painted en plein air regularly to capture the moon in its various phases each month throughout the year. The end result is an exuberant exhibition that doubles as a lunar calendar. The works on view reveal both the serial nature of the artist's larger endeavor and the mystique and meaning that the moon conveys.
"It's a really powerful exhibition beyond just the paintings being so luscious and colorful. It also relates to an artist's practice, the regularity of painting every day and using painting as a way to explore and almost understand a natural phenomenon like the moon," said Palmer.
JP@SCAD
Jorge Pardo is the SCAD deFINE ART 2023 honoree, being celebrated for his expansive career that includes sculpture, installation, painting, design and built environments. He often takes familiar, everyday items and contextualizes them within the formal setting of the art space, redefining what fine art is in perception. In his exhibition, about 70 hand-blown glass lamps are suspended from the ceiling and scattered throughout the space in a glowing spectrum. Pardo also presents a new large-scale textile featuring digital print collaged from earlier paintings.
"Jorge Pardo is an incredible artist, and for a long time we have been so enamored by the way he thinks about the role of art in society . . . and how it can have many different manifestations. We always choose the honoree as somebody who is a really eminent figure in art, who has had a long and important career, and who we want to bring and invite here to share their brilliance with the community and the school . . . Jorge fit all of those marks," Palmer expressed.
He encourages the community to come out and experience all of the compelling artworks that deFINE ART presents.
"We're bringing all of the most incredible artists from around the world, and artists who are creating such vibrant, powerful, compelling art in different media. . . There's really something for everyone, especially with the artists themselves being here and the vibrancy of this moment. We've really pulled out all of the stops to have these ten exhibitions that are so wonderful and powerful," he added.
deFINE ART will take place Feb. 28 through March 2. All of the programming is free and open to the public. For more information, visit scad.edu/defineart2023.