Any local will tell you that a visit to Savannah would not be complete without a visit to Leopold's Ice Cream on Broughton Street. It is every bit the Savannah icon you would expect it to be. Now Savannah has a new ice creamery that you should make time for. It's called Doki Doki. It's different, it's modern and most importantly? It's also delicious.
Doki Doki is a Japanese term which references the sound of a heart beating. Where it ties beautifully into the name of an ice cream shop is the fact that it also can be a reference to use if you find yourself wishing to express your love of something or someone casually when in a text-based conversation in Japanese.
There is lots of love in this ice cream.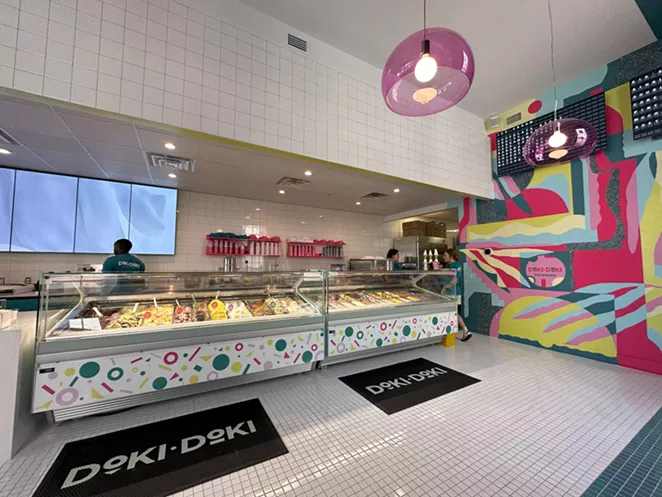 Doki Doki offers both ice cream as well as gelato. Probably more than a dozen flavors of each and 2 flavors of soft serve ice cream. The flavor choices range from more traditional Cookies and Cream and Mint Chocolate Chip to some more progressive flavors you won't find anywhere else in Savannah like Black Sesame, Vegan Chocolate, Chipotle Brownie and Yoghurt Peach. The soft serve flavors on our visit were Cheesecake as well as Taro. Everything we tried was delicious.
Don't overlook the Wild Berry Gelato. Wonderfully tart but also creamy. Fantastic.
The space is colorful and bright. The design was put together by students at Savannah College of Art and Design. They did a masterful job. This space is beautiful. We expect it will be very popular.
For those who don't know, Doki Doki, is the work of Anthony Debreceny and his team at Southern Cross Hospitality. They own The Collins Quarter next door as well as The Fitzroy, Starland's Ukiyo and The Deck on Tybee Island. I would suspect some of these flavors to be served at those restaurants in short order as well.