America's Second Harvest of Coastal Georgia honored a very special volunteer for all of her hard work in the community Shirley Harris has been a long-time asset to Second Harvest in the Savannah warehouse where she was honored on April 26, 2021 of Volunteer week. In celebration of National Volunteer Week, Dunkin of Georgia and their Dunkin' Joy in Childhood Foundation, the charitable organization powered by Dunkin' and its franchisees, guests, vendor partners, and employees, recently donated a $1,000 grant to America's Second Harvest of Coastal Georgia, Inc. along with a well-deserved Dunkin' donation of coffee and donuts. Crouch said Harris volunteers three to four days out of the week. When Harris volunteers, she puts the food on the shelf so guests don't have to sort through the food. "Miss Shirley volunteers in our Agency Marketplace, sorting and stocking canned goods and non- perishables, for the past seven years. We can always rely on her to be here everyday of the week with the most determined work ethic and bright smile anyone could ask for. We are so grateful for her ongoing desire to lend a helping hand and to keep our marketplace in tip top shape." Harris' children flew in from Florida and from Atlanta to watch their mom receive the volunteer award for her appreciated participation. Crouch says that Second Harvest really counts on their volunteers, but due to COVID-19, they haven't had many. When the COVID-19 pandemic hit we did have to suspend her time with us. But as soon as we allowed her back, she came racing in to help with whatever we needed. She wanted to make sure we had the necessary help to feed our community. As Mary Jane Crouch, Executive Director at America's Second Harvest spoke to staff and family members about Miss Shirley she emphasized "always the smile, the quiet calm and the dedication to make it right."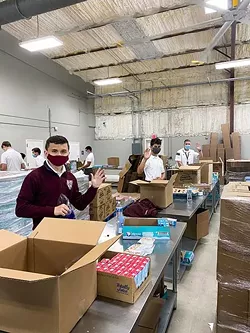 We are so thankful for Miss Shirley and her time well spent helping to end hunger in Coastal Georgia. America's Second Harvest of Coastal Georgia serves as a regional food bank, functioning as the food warehouse and distribution center to more than 295 non-profit organizations and churches in our area. Through food relief programs and collaboration with partner agencies, America's Second Harvest distributed more than 25.4 million pounds of food last year to people in need in our community – children, senior citizens, people with disabilities, people experiencing homelessness and others whose incomes are insufficient to meet their basic needs.
To learn more about how we are leading the effort to end hunger and improve lives in our community, call 912 236-6750 or visit helpendhunger.org.