Efforts to make streets safer for people who walk, bike, and roll have centered on redesigning streets and implementing other measures to protect vulnerable users from drivers. The situation is urgent. Bicycle fatalities rose in 2018 to the highest level in 30 years. The number of people killed while walking in our country has increased by more than 50 percent over the last decade, while overall traffic fatality rates have remained steady and even declined.
The risk of being hit by a car is not equally distributed. Older adults, people of color, and people walking in low-income communities are disproportionately represented in fatal crashes involving people walking, according to an analysis conducted last year by Smart Growth America and the National Complete Streets Coalition.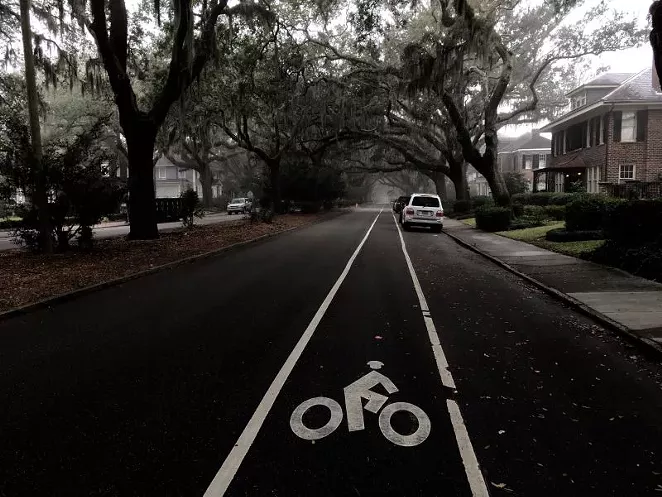 "We know that streets are safer for people biking, walking, using public transportation and driving when there are bike lanes, sidewalks and safe crossing opportunities. We also know that traditionally Black and low-income neighborhoods suffer from disinvestment in that basic infrastructure," said Caila Brown, executive director of Bike Walk Savannah. "This lack of investment and support is a direct result of systemic racism and selective policies that cause our communities of color to suffer."
But for many Americans, cars aren't the only threat they face while walking, biking, or using wheelchairs.
"Just having a bike lane or a sidewalk is not enough to guarantee the safety of a Black person in our community," Brown said. "Whether or not there is a sidewalk, a Black person is at greater risk for harm, harassment and violence than a white person. That's why it's important for transportation and mobility justice to be closely tied with racial and social justice."
Brown, along with Bike Walk Savannah Board co-chairs Michael Edwards and Mike Nadeu, issued a statement on racial justice that reads, in part, "From traffic fatalities to police brutality to a broken justice system, Black people like George Floyd, Ahmaud Arbery, Breonna Taylor and a disturbingly long list are being killed with alarming frequency. This needs to end now. Bike Walk Savannah stands with those fighting against racism in the United States and around the globe. We remain committed to our mission of an equitable environment for biking and walking in Savannah — and beyond — and commit to supporting the racial justice work that needs to be done to get there."
The Atlanta Bicycle Coalition issued a similar statement, saying, "We cannot have mobility justice without racial justice. We are an organization dedicated to reclaiming Atlanta's streets as safe, inclusive, and thriving spaces for people to ride, walk, and roll. We talk a lot about re-envisioning streets as inclusive public spaces. Seeing our streets militarized is the antithesis of what public space should be about."
BikeAthens acknowledged the organization's relationship to the community it serves and committed to "lift up the voices of people of color" in a statement issued last week:
"We recognize that BikeAthens is a white-led organization with predominantly white volunteers and donors. Every day, we see the results of intergenerational poverty among black Athenians that has been brought about by segregation, Jim Crow laws, red-lining, and other racist policies. We see the stark contrast between the people we serve. Many of them are people of color, who ride bikes because they have no other options. We also see the broader cycling community, which is mostly affluent and white. There is no transportation equity without social justice and trust. We must put in the work to learn how best to play a part in that."
The reference to the broader cycling community being "mostly affluent and white," is indicative of how bicycling is often viewed around our state and especially in rural and suburban areas where bikes are used mostly for recreation. And it shapes the way many white Georgians think about what and who bicycling is for.
On May 8, the #IRunWithMaud hashtag was trending as people jogged, walked, and biked to show solidarity with Ahmaud Arbery's family. A post on the Georgia Bikes Facebook page encouraged people to take part and affirmed, "These activities are not safe for any of us if they are not safe for all of us. Racial justice is an essential part of the discussion around transportation and use of public space."
In response to the post, one person suggested Georgia Bikes should, "stick to cycling issues."
The good news is advocates for safer streets in our state reject this narrow view of "cycling issues."
"It is our responsibility to speak out and acknowledge that systemic racism exists in our transportation system," said Bike Walk Macon Executive Director Rachel Umana said in a statement. "We are committed to being an anti-racist organization. We are committed to taking the time to listen and learn during this time. And, we're committed to taking action and doing the work, not just speaking about it."
CS